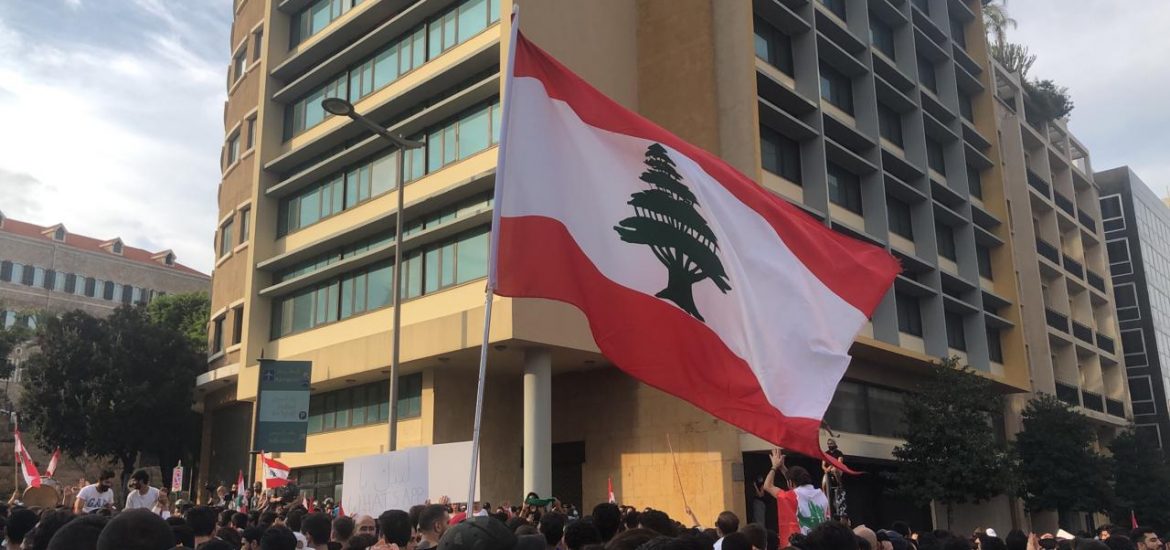 Lebanese president Michel Aoun took to the airwaves Wednesday evening to announce that Lebanon was officially launching its search for offshore oil and gas in its segment of the eastern Mediterranean, amidst a backdrop of political upheaval, mass protests, and the worst economic crisis since the end of the Lebanese civil war in 1990. After a Total-Eni-Novatek consortium received two of ten Lebanese exploration blocks in 2018, Lebanon's newly-minted energy minister Raymond Ghajar announced that France's Total had kicked off the search in Block 4 – well away from the country's disputed maritime border with Israel.
While it will take years to find, develop, and exploit any energy deposits in Lebanese waters, the potential for future oil and gas revenues has already been held up for years as a salve for Lebanon's chronic economic dysfunction. The country's financial situation has grown particularly dire of late, however, with a fatal combination of banking, currency, and debt crises feeding public disgust with the country's political class and calls for revolutionary change to the entrenched sectarian order.
Lebanon's elites may hope new revenue streams from offshore drilling will help them preserve a status quo whose foundations were laid in 1920 and rebuilt after the 1989 Taif agreement. In reality, Lebanon's confessional system – in which the powers of the state and positions in government are divvied up as spoils amongst the country's main religious groups – is precisely why successful offshore exploration won't save the country from its current predicament. Indeed, the rest of the region has already proven that fossil fuel rents are no replacement for structural reform.
Domestic energy woes show the everyday impact of graft
The level of public anger facing Lebanon's leaders may be unprecedented, but it is hardly surprising. The average Lebanese citizen is forced to contend with the failings of the state and its public services on a daily basis. For them, it is readily obvious how the complex web of family, business, and political ties binding Lebanon's various factions together have produced the current state of affairs.
Take Lebanon's electricity network, which was never properly rebuilt after the civil war and is still incapable of providing steady power to a struggling economy. According to the Lebanese government, over $1 billion every year is transferred to the national power company Électricité du Liban (EdL), primarily to cover the cost of fuel oil. Those subsidies are a major component of Lebanon's unsustainable public debt, accounting for roughly 25% of the country's budget deficit in 2018 and adding up to 40% of total public debt as of 2016.
Servicing that debt has left the Lebanese state unable to afford repairs to the power grid, while infighting between political factions in government and pressure from private generator companies have torpedoed attempts at reform. As Lebanon's crisis has deepened, EdL's bad levels of service have gotten worse. January saw major electricity shortages, with some residents of Beirut getting less than a half-hour of electricity over an entire day. That's to say nothing of those living outside the capital, for whom sporadic power is a fact of life.
How Lebanese corruption transcends its borders
Given Lebanon's reliance on imported fuel oil to prop up its failing grid, the government's decision this past December to award a Dubai-registered company named ZR Energy a tender to import 180,000 tons of fuel oil raised more than a few eyebrows. ZR Energy is owned by Lebanese businessmen and brothers Teddy and Raymond Rahme, who separately hold stakes in a number of Lebanese banks. Raymond Rahme, a "former Christian militia fighter" reportedly connected to Lebanese Forces leader and former presidential candidate Samir Geagea, is also implicated in a number of corruption scandals in Iraqi Kurdistan.
These include the murder of American contractor Dale Stoffel, who was gunned down in Iraq on his way to a meeting with Rahme in 2004. Over the course of court proceedings in the United States, the Lebanese businessman was accused of pilfering $25 million due to Stoffel by the Iraqi government. Rahme later took up a position as a board member of Iraq's Korek Telecom, now at the centre of an arbitration dispute between Iraqi Kurdish businessman and Peshmerga leader Sirwan Barzani and two major foreign investors, France's Orange and Kuwait's Agility.
Orange and Agility, who effectively had over $800 million in joint investments in Korek expropriated by Iraq's Communications and Media Commission (CMC), have accused Raymond Rahme of colluding with a Lebanese financial institution, IBL Bank, to borrow $150 million on the company's behalf while falsifying interest rates to Sirwan Barzani's benefit. Rahme is also suspected of using real estate in London to corrupt members of Iraq's CMC and secure their decision to expropriate Orange and Agility's investments.
Those allegations have since pulled in the American law firm Dechert, which handled the real estate transactions in London. The head of Dechert's London office at the time happened to be Lebanese attorney Camille Abousleiman, who is also connected to Lebanese Forces and subsequently served as Lebanon's labour minister before resigning last year.
For Lebanese protestors, enough is enough
The accusations levied against individuals such as Raymond Rahme may shock Western observers, but their ability to continue doing business in Lebanon should come as no surprise given the general sense of impunity enjoyed by the country's elites. The events of the past few months, however, have shown a level of sustained popular anger targeting the status quo that will probably only subside after profound structural changes.
While the country's sectarian leadership may be counting on new revenues to assuage the Lebanese public, there is no telling what the county will look like by the time the country's offshore energy sector actually comes online.
Photo credit: Shahen Araboghlian
Related