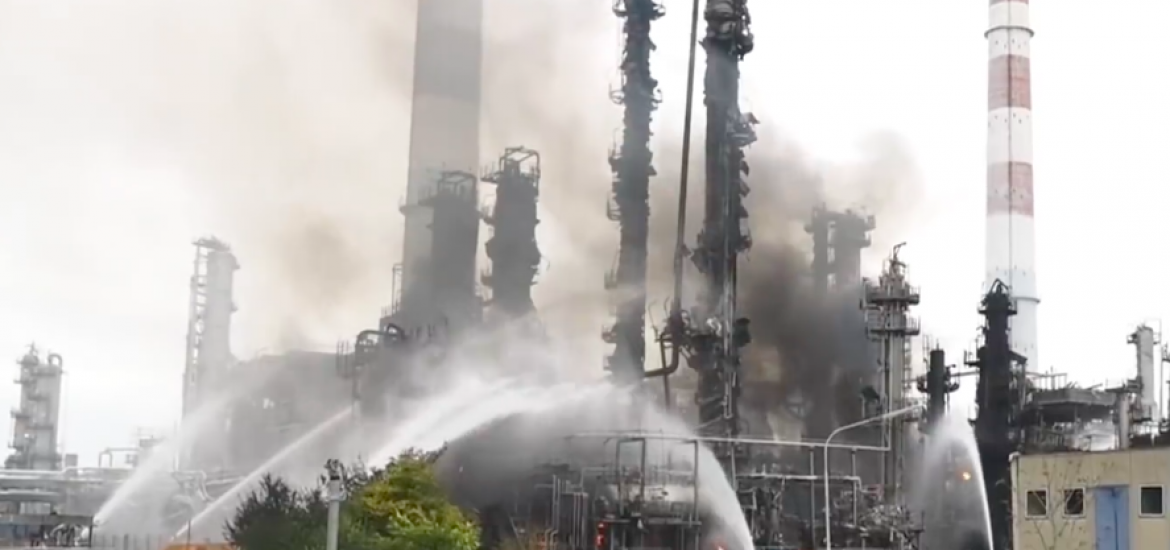 An explosion (pictured) at a Bavarian oil refinery in southern Germany has left several people severely injured and more than 1,800 residents were forced to leave the area. 
At least 10 Bayernoil employees have been injured, four of them severely, in a powerful blast at a 127-hectare German oil refinery on the banks of the Danube, breaking window panes and knocking out bricks from houses in the town of Vohburg near Ingolstadt.
Around 600 firefighters worked to extinguish the fire at the Bayernoil complex.  
Bavarian Interior Minister Joachim Herrmann said the scope of the damage was "terrifying", describing piles of debris at the refinery complex.
"Entire walls have been torn down," the right-of-centre minister said. "Thank God that nobody died."
The cause of the blaze, which erupted on Friday, remains unclear.
More than 1,800 residents were evacuated as a precautionary measure due to heavy black smoke, and the authorities urged everyone within a 20km radius to keep doors and windows closed. 
Air tests later showed it was safe for people to return to their homes.
The Donaukurier newspaper reported that small explosions were heard after the initial blast which was audible several kilometres away.
Bayernoil has been operating the oil refinery in Vohburg since 1967.
Refining capacity
Germany, Italy and Spain have more than 35 per cent of Europe's active refining capacity, yet they rely mostly on imports due to negligible crude-oil production, according to a study by GlobalData. 
It said the three EU members contributed to 5.33 million barrels per day (bpd) of refining capacity in Europe, with other key countries the UK and the Netherlands. 
Germany, Italy, Spain, the UK and the Netherlands account for over 55.1 per cent of European capacity.
Germany leads with 2.13 million bpd of active refining capacity last year, with Shell's Rheiland refinery the largest at a capacity of 325,000 bpd. Italy follows with 1.65 million bpd capacity and Spain with 1.54 million bpd.
"Despite negligible domestic crude-oil production, Germany has the largest refining capacity in Europe. The country heavily relies on crude-oil imports from the former Soviet Union and North Sea for refining," said Soorya Tejomoortula of GlobalData.
"Germany's refining industry currently is at a crossroads due to increasing competition from Russian and Asian refiners and stiffening environmental regulations."
Tejomoortu added: "[Italy] mainly depends on imported crude for refining. Italian refiners are also facing stiff competition from international companies and toughening regulatory environment." 
Albania is the only country in Europe that has a refinery planned for construction by 2022 outlook period. The Albania Petrosonic plant is expected to start operations this year with a 3 million bpd capacity.
Picture credit: YouTube
Related