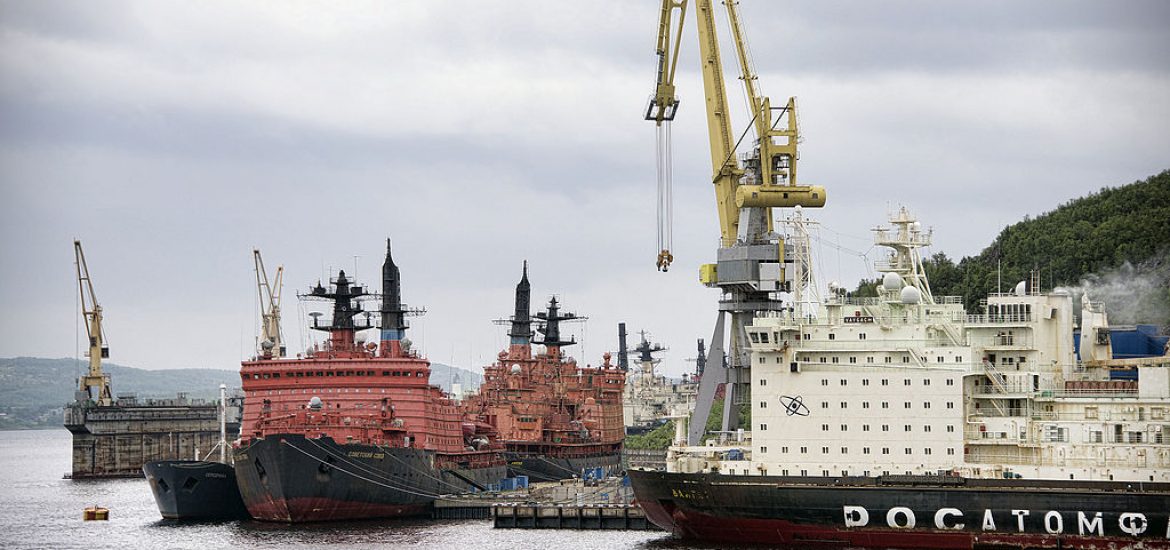 As Russia struggles to build a fleet of nuclear icebreakers, some of its Soviet-era fleet are being overused and setting unwanted records.
The reactor on the Vaygach nuclear icebreaker has exceeded 177,205 hours, or over 20 years, of operating time, beating the record set by the Arktika nuclear icebreaker, which was retired in 2008.
The Vaygach was built in Finland in 1989 and its KL-40 reactor was installed at the Baltic shipyard in St Petersburg.
Russia's state-run media hailed the 21,000-tonne vessel and its sister ship, the Taymyr. "The reactor used by both ships was first tested by the nuclear-powered container ship Sevmorput, while its latest version is used by the Akademik Lomonosov, a floating nuclear power plant currently in construction," state-controlled RT said.
The Vaygach's record was possible because last April Rosatom, Russia's state nuclear agency which is responsible for icebreaker construction, granted its reactor an extension to 200,000 hours.
"The pressurised water reactor was initially rated for 100,000 hours of work, but sound engineering and proper maintenance allowed its safe lifetime to be doubled," said official sources at Atomflot, the nuclear port responsible for the icebreaker fleet.
Meanwhile, the multibillion-dollar replacements have been delayed by western sanctions on the Arctic oil fields they are supposed to help develop.
Russia says the new icebreakers will support its Arctic gas and oil drilling efforts and open the Northern Sea Route between Europe and Asia, which Moscow wants to use to halve transit times to east Asia.
Russia's territorial monopoly along the route gives it an added attraction to the Kremlin.
Two new vessels, the Arktika and Sibir, are due to replace older icebreakers with the same name, and measure at least 50 metres longer. But the completion of both ships has been pushed back numerous times.
Rosatom has also unveiled plans for at least three massive Leader-class vessels to launch within the next seven years.
But the wait for replacements increases the chances of accidents on the older vessels.
The Soviet-era Taymyr suffered a coolant leak in 2011 while at sea above Western Siberia when radiant levels spiked and its crew could not repair it. It was towed back to port by a convoy, including two other nuclear icebreakers, in a week-long rescue effort.
The now-legendary Vaygach had a fire while at sea that swept through its crew quarters, also in 2011, killing two.
Russian Icebreakers in Murmansk. Picture credit: Wikimedia 
Related