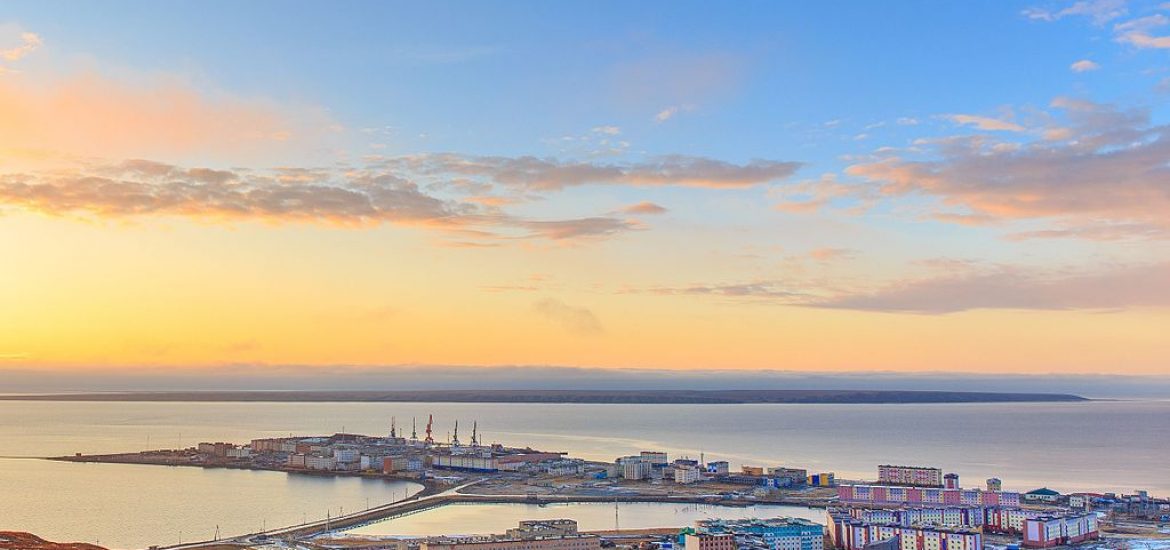 In a move that will add to fears about Arctic pollution, the Russian State Expert Examination Board (Glavgosexpertiza) has reportedly approved the operation of a floating nuclear power station near the Bering Sea in Russia's far east. 
The Akademik Lomonosov got the all clear to operate in the Arctic city of Pevek (pictured) from the regulating body last month, according to Russia's state-controlled media.
The plant also comprises of waterworks and onshore infrastructure, the official Tass news agency reported.
Rosenergoatom, the nuclear power station operator subsidiary of Rosatom, is reportedly running the project.
The Akademik Lomonosov contains two 35-megawatt-equivalent KLT-40S nuclear reactors, like those used in Russia's nuclear-powered ice-breaking vessels.
The thermal energy produced under rated operating conditions is expected to be enough to supply about 100,000 people with power. The main stated purpose of the project is to supply power to large industrial zones, port cities and offshore gas and oil platforms.
The two reactors were reportedly installed on the Akademik Lomonosov in October 2013.
It is currently moored at the Baltiysky Zavod docks in Saint Petersburg.
"Having examined the materials submitted, Glavgosexpertiza has reached the conclusion that the design documentation and the results of engineering surveys on the facility comply with technical regulations and other established requirements," both Glavgosexpertiza and Rosenergoatom said in separate statements. "The project's design documentation concurs with previously conducted engineering surveys," the statements added.
The floating power station would apparently have displacement of 21,500 tonnes and could be used as a water softener, producing 240,000 cubic metres of water per day. The power station's design lifetime was projected at about 40 years.
Investigations had "determined that the estimated cost of the project is sound", both organisations said.
Russia's "unified energy system" accounts for about 15 per cent of its landmass. The authorities say the use of nuclear energy is the best source of heat and energy in remote, frozen areas, which account for around half of Russia's territory.
The power installation is apparently due to be towed to Murmansk in May, fuelled in October and commissioned in November 2019.
The vessel is due to replace the Bilibino nuclear power plant in the Chukotka district on the Bering Sea. The station is currently generating up to 80 per cent of electricity for the isolated Chaun-Bilibinskaya grid.
The first Bilibino reactor is due to be shut down next year and the whole site is scheduled for closure by 2021.
Pevek. Picture credit: Wikimedia 
Related