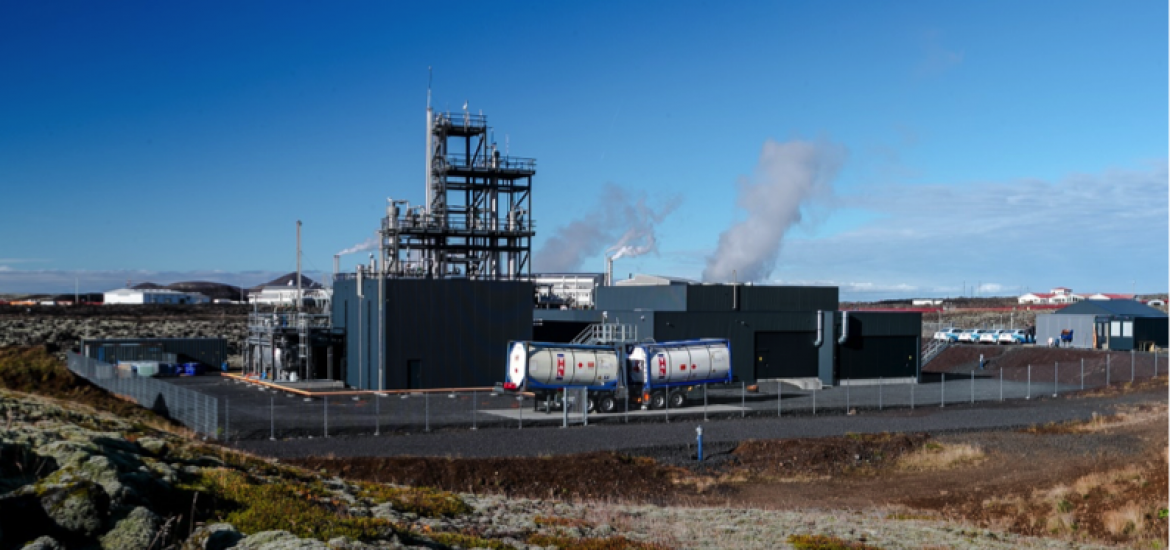 The George Olah Renewable Methanol plant.
Climate change is undoubtedly among today's biggest challenges. The international community has reached a consensus to coordinate efforts to mitigate climate change by reducing the emission of carbon dioxide and other harmful gases. Yet, despite promises by politicians, the outlook for the near future is bleak. Carbon emissions continue to set annual records, rising 2.7% in 2018 to a total of 37.1 billion tons. Meanwhile, the UN's Intergovernmental Panel on Climate Change (IPCC) concluded in October that emissions must fall by 50% by 2030 to keep global temperatures from rising more than 1.5 degrees Celsius. It is therefore more than past time to revisit our approaches to combatting mankind's single greatest threat, which has to include better managing our carbon waste.
Embrace the hierarchy
Managing waste requires a holistic methodology and clear framework. The waste hierarchy is a tool that does just that. It establishes a preferred set of priorities based on sustainability, outlining four approaches and methods to managing waste.
The first and most effective approach to manage waste is to prevent it from coming into existence in the first place. The second is reducing the quantity of waste through either minimising consumption or enhancing efficiency. The third step is to recycle or re-use waste and finally, the fourth, is to remove it in a manner that is least harmful to the environment.
By applying the same framework to carbon emission management, we can identify the methods available to us. The most effective approach, and the most frequently applied, is to prevent emissions from coming into existence to begin with by replacing fossil fuels with renewable energies. Recent technological advances in harnessing wind and solar energy have facilitated a development towards this end. At the beginning of 2018, renewable energies accounted for 30% of the electricity produced within the European Union, compared to 12% at the turn of the century.
Another pivotal approach is to enhance energy efficiency in both the industrial and domestic context. Within that category, the EU has recently introduced innovative energy saving solutions. Along with the swift alteration of consumer behaviour, energy efficiency has significantly reduced emissions.
Recycling and sequestrating carbon
Despite these positive undertakings, renewables and energy efficiency still will not suffice to reverse the trend of climate change. Emphasis also needs to be placed on alternative approaches that have not yet been fully developed, including the capture and utilisation or sequestration of industrial carbon emissions.
In many industrial processes, it is impossible to prevent the formation of carbon emissions, for example in manufacturing aluminium, steel, and carbon fibre. Yet releasing them into the atmosphere is by no means inevitable. A range of technologies exist that capture waste emissions from industrial sources, or even the atmosphere, and recycle them as feedstock for the production of fuel or synthetic materials or to permanently sequester them underground.
Among the technologies that are recycling and disposing of carbon emissions is that of Icelandic technology company Carbon Recycling International (CRI) – for whom I work, in full disclosure. CRI's pioneering Emissions-to-Liquids (ETL) technology solution enables the efficient production of renewable methanol in a one-step catalytic reaction of carbon dioxide and hydrogen. Renewable methanol is a clean burning fuel that can also be used for gasoline bleeding or wastewater treatment processes or to produce biofuels or synthetic materials, and thus offsets the use of fossil fuels in these sectors.
CRI's production facility in Iceland is the world's first industrial scale production of a liquid fuel sourced from CO2, currently converting 5,500 metric tons (mt) of carbon dioxide emissions from a geothermal power plant into 4,000 mt of renewable methanol per year. The company plans to build 30 such plants adjacent to industrial manufacturing sites that have proven hard to decarbonize, including cement, chemicals, steel and other metals. By 2030, CRI intends to have recycled roughly 9 million mt of carbon dioxide emissions from various industrial sources or power generating facilities into liquid fuel, which offsets the use of fossil fuels.
Not easy to clean up
The opportunities associated with the utilisation of carbon emissions do not eliminate the necessity of developing sequestration technologies as well. Sequestration entails injecting carbon dioxide into an aquifer, where hydrodynamic sequestration results in the carbon dioxide dissolving with salts and forming carbonates over an extended period of time. Sequestration, however, has many challenges due to the sheer quantity of industrial emissions that cannot be utilised in this way.
There are also challenges with carbon capture and utilisation more broadly. The low price of carbon, and the high level of energy intensity required for the process all inhibit its growth for now. Another factor is the cost competitiveness of the offtake, which in CRI's case is methanol. How this product compares with gasoline or other alternative fuels will shape the viability of carbon capture and utilisation. Lastly, there is need for a concrete regulatory framework for carbon capture and utilisation across market areas.
Promises made in political settings that address the threat of climate change must be followed with real actions. Public policy, moreover, must facilitate advances within each category of the waste hierarchy and industry leaders and must inspire others to follow in their footsteps by demonstrating what can be achieved in mankind's battle against climate change. With the waste hierarchy framework and innovative minds at our disposal, a bleak outlook today may very well turn into a bright tomorrow.
Related