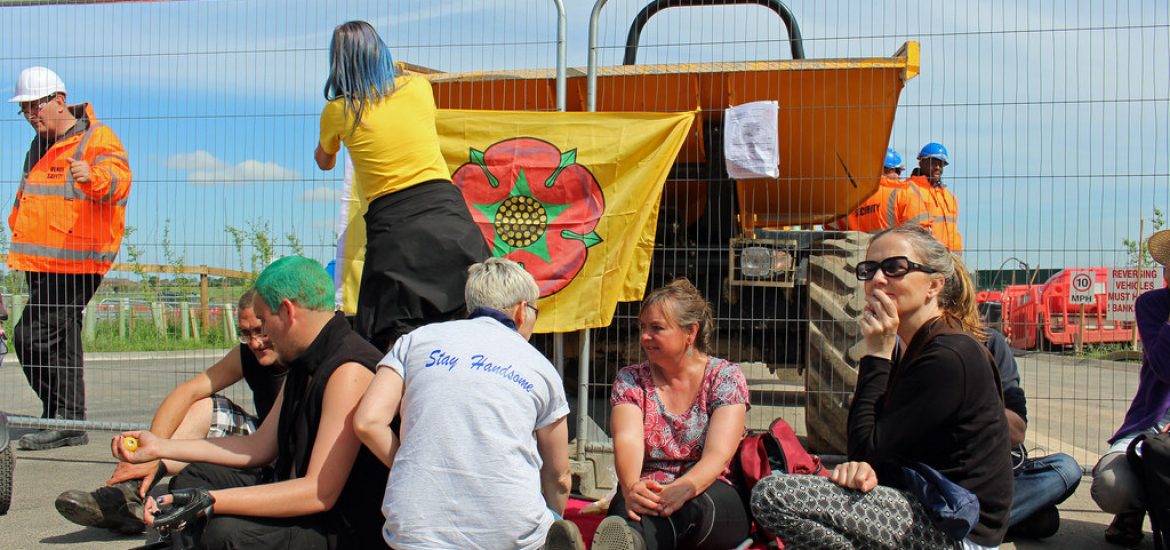 An independent review has been demanded into the increasing costs of policing fracking in northern England, as aggressive and confrontational police tactics have been blamed for damaging public relations.
A study called Protecting the Planet is Not a Crime, by the NGO Netpol (the Network for Police Monitoring) looked at British fracking operations over the last 12 months.
It criticised the size, scale and tactics of policing with costs to Lancashire Police since January estimated at between £6-£8 million.
Netpol said it had seen evidence of "police officers pushing people into hedges, knocking campaigners unconscious, violently dragging older people across the road and shoving others into speeding traffic".
It makes accusations of breaches of fundamental rights to freedom of expression and assembly.
And the report claims the constabulary can no longer fund its fracking operations.
The police force said its officers' responses had always been "consistent, co-ordinated and proportionate".
Green European parliamentarian Keith Taylor said the costs incurred by Lancashire Police were "not sustainable or sensible".
Taylor, an MEP for southeast England, argued that public support for fracking was below 20 per cent, yet "oil and gas firms are taking out authoritarian injunctions against protesters and the government is riding roughshod over local democracy".
He said: "The industry and its backers in the Conservative government are looking increasingly desperate as they attempt to impose fracking on a population that is loudly and resolutely saying 'no'."
The policing of the Barton Moss anti-fracking protests in Salford was also widely condemned by campaigners.
Lancashire for Shale, a pro-fracking group, found common ground on the issue of funding, arguing that the government in London should step in.
"It cannot be right for the council taxpayers of Lancashire to bear the burden of what is essentially a national protest," the organisation said.
An appeal in the spring by Lancashire's police and crime commissioner Clive Grunshaw calling for additional central-government funding to help finance policing operations had not received a reply, his office told the Blackpool Gazette.
Around 150 demonstrators congregated at the Preston New Road fracking site this week for the launch of the NetPol report.
Twelve protesters who took part in direct action at the site this summer have been sentenced this week, including Green Party Lancashire County councillor Gina Dowding.
They were each given a 12-month conditional discharge and ordered to pay court costs and victim surcharges totalling £270 at Blackpool Magistrates' Court. They were convicted for the wilful obstruction of the highway.
Around 300 arrests linked to protests at the site have been made.
The Netpol report said many residents thought the police helped shale-gas exploration company Cuadrilla in its bid to extract gas across Lancashire, rather than remaining independent.
Anti-fracking campaigners in Lancashire, England. Picture credit: Flickr
Related