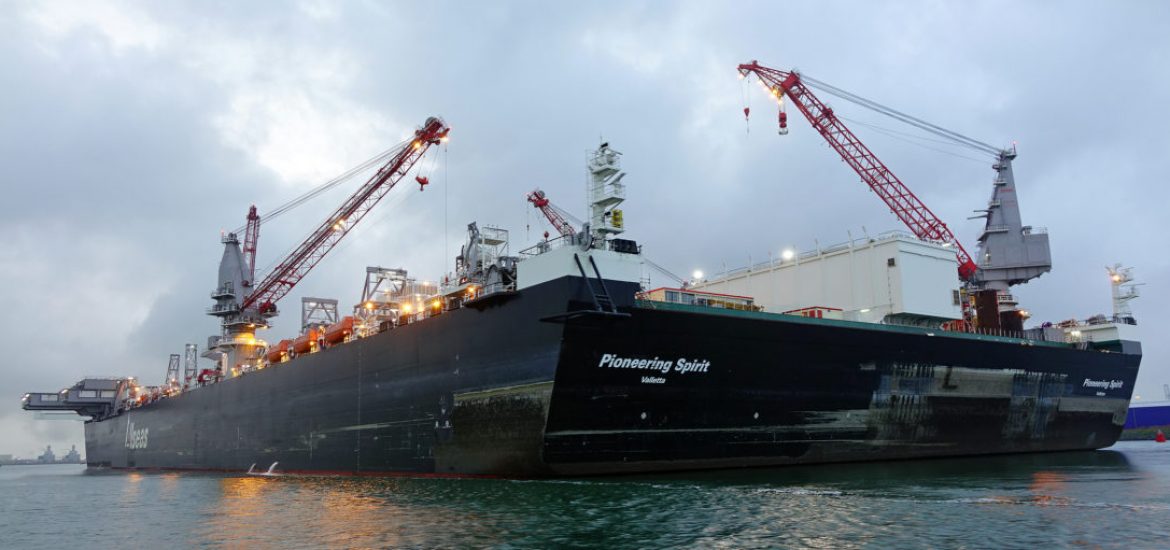 An estimated 30 per cent of the offshore construction for the TurkStream natural gas pipeline has been completed, according to South Stream Transport, which is running the offshore section.
The pipeline will stretch across the Black Sea from Russia to Turkey and reach the Greek border.
The firm said that the world's largest construction vessel, the Pioneering Spirit (pictured), had laid around 555 kilometres of pipe for both of the two TurkStream lines.
The ship travels at an average speed of 5km per day and had reportedly taken seven months to complete the section.
"In total, 555km of the pipeline were laid down, equally divided over the two lines. Construction of 30 per cent of the offshore pipeline section has been realised in less than seven months," South Stream Transport announced.
The TurkStream project's two offshore pipelines are intended to initially transport up to 31.5 billion cubic metres of natural gas per year.
TurkStream is eventually intended to deliver an estimated 47 billion cubic metres of gas to the Greek border with 16 billion cubic metres to be allocated for Turkish use.
The company announced that the Pioneering Spirit would continue construction of the two pipelines close to the Turkish coast near Kiyikoy, around 100km west of Istanbul.
Russia already exports natural gas to Turkey through the Blue Stream and Trans-Balkan pipelines.
Russian state-controlled major Gazprom said it increased the year-on-year supply of gas to Turkey by 20.4 per cent between January to November compared to the same period last year.
"In January-November 2017, Gazprom increased gas supplies to the countries targeted for the TurkStream project, in particular, to Turkey by 20.4 per cent (or 4.48 billion cubic metres) compared to 11 months of 2016, to Greece by 11.6 per cent, to Bulgaria by 6.8 per cent, to Hungary by 22.3 per cent, as well as to Serbia by 26.1 per cent," Gazprom said.
Gazprom's gas exports during the period were 175 billion cubic metres and had increased by 8.3 per cent, compared to last year.
Meanwhile, the US has expressed unhappiness about Russian expansion into Turkey, its Nato ally.
Deputy assistant secretary in the US State Department's Bureau of Energy Resources, John McCarrick, said Washington was opposed to the TurkStream pipeline.
McCarrick said the US did "not see the possibility" that Russia's proposed Nord Stream II gas pipeline to Germany would be built. The project was proposed before the 2014 occupation of Ukraine's Crimean peninsula.
Nord Stream II intended to divert existing flows through Ukraine to the EU and deprive Kiev of transit payments, McCarrick said.
He added that Washington was liberalising rules to increase LNG exports and working with European partners to agree on the necessary infrastructure to drive demand.
The Pioneering Spirit. Picture credit: Wikimedia
Related