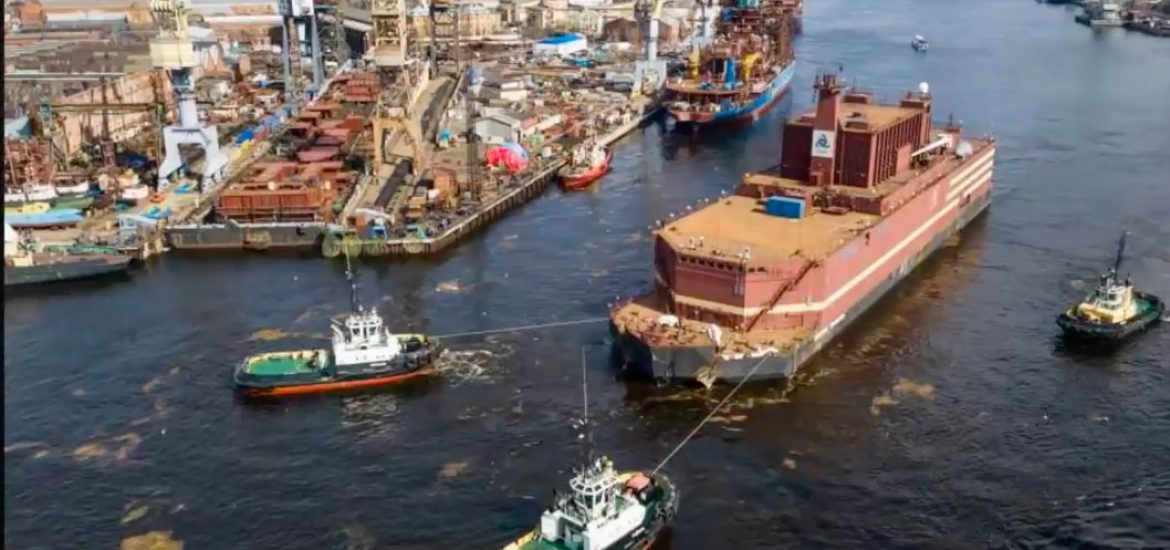 The Akademik Lomonosov (pictured), Russia's floating nuclear power station, has allowed foreign environmentalists from Bellona on board, although safety questions remain.
The US$480-million, dual-reactor barge is due to towed through the Arctic Ocean to the eastern Siberian town of Pevek next year.
It is currently moored in Murmansk, where technicians from Atomflot, which controls Russia's nuclear icebreaker fleet, are fuelling its two reactors with uranium.
The barge is intended to operate for 12 years before it needs refuelling.
Its 70 megawatts of power are eventually due to be connected to the grid at Pevek by the end of next year, making the ageing Bilibino nuclear plant redundant.
The nuclear power plant's two KLT-40S reactors are intended to provide Pevek's remote factories and offshore gas and oil platforms with electricity.
The remoteness of the "Chernobyl on ice", as Greenpeace called it, would complicate rescue operations after an accident and the routine clearing of spent nuclear fuel from its reactors.
Russia's state-run nuclear agency Rosatom, the country's largest electricity producer, however, said the Akademik Lomonosov would be invulnerable to tsunamis and that the Arctic would give it access to infinite supplies of reactor coolant after an accident.
But activists warn that the barge could be torn from its moorings and possibly collide with the remote coast, away from the chilly Arctic waters.
Two state-backed companies in China are already said to be pursing plans for at least 20 floating nuclear power stations, and US scientists have reportedly drawn up their own plans.
Rosatom estimates that a floating nuclear plant would take four years to build, compared with about 10 years for a land-based station.
The Sudan Tribune reported that Khartoum's minister of electricity intended to buy the first foreign floating power station.
Rosatom said it was planning to integrate its existing technology with blockchain and other technologies. The agency's IT chief Evgeniy Abakumov said the company intended to explore three new technologies: blockchain, artificial intelligence (AI) and the internet of things (IoT).
"We are committed to integrating 4.0 technologies on a wider scale. IoT, AI, blockchain and others are to increase the efficiency of the manufacturing process," Abakumov said, according to Strana Rosatom.
He said the firm would be recruiting IT specialists.
The slab-sided Akademik Lomonosov. Picture credit: YouTube
Related