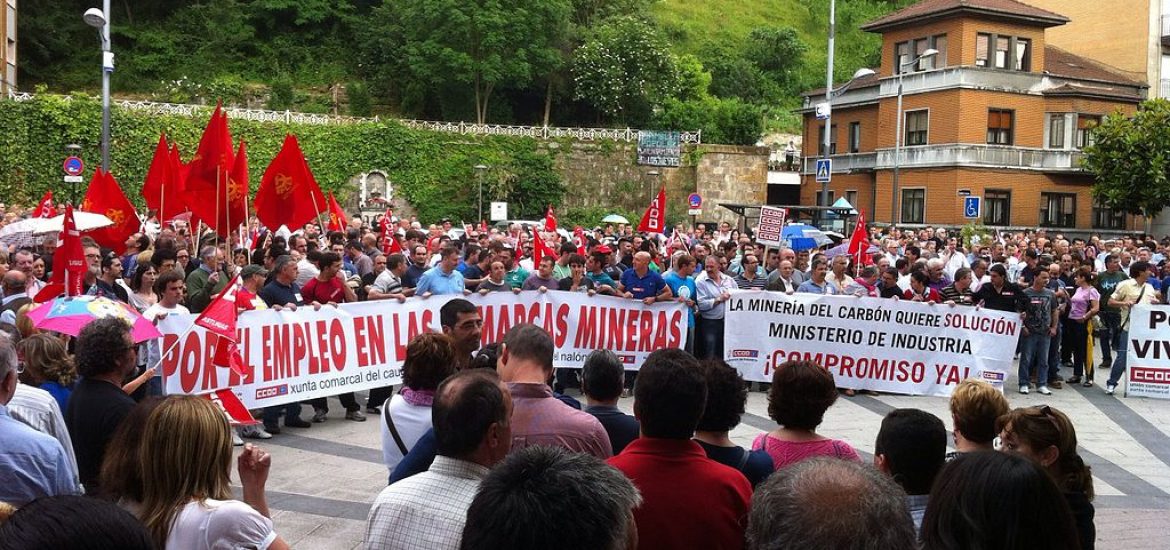 Spanish coal use has fallen in a year to a level that was not expected to be reached until 2030 with Spain's coal no longer being used to generate electricity. 
Spain has cut its reliance on coal-fired power and carbon dioxide emissions from its electricity generation consequently last year dropped by 33 per cent, according to the Red Eléctrica de España (REE), the national power grid operator. 
In the 1990s Spain had 53,000 miners across the country.
Coal provided the main sources of electricity for decades but last year Spain's minority Socialist government announced large subsidies to coal-mining communities to ease the transition away from the dirtiest fossil fuel. 
Last year coal generated less than 5 per cent of total electricity or 86 per cent less than in 2002, when it peaked since records began in 1990. 
This month coal mining stopped in Spain although some coastal power stations will continue to import coal for a few more years.
Despite ambitious plans to move to renewables sources, Spain is still a major coal importer, bucking the trend among European countries to reduce reliance on imports. 
Between January and May last year, Spain imported 263,000 more tonnes of coal than during the same period in 2018, when 708,000 tonnes were imported.
For five days in December, Spain did not use any coal-powered electricity. 
The government last year agreed with the unions to close all of its coal mines in exchange for investment of €250 million in former mining regions by 2030. 
Prime Minister Pedro Sanchez's climate policy, called the "Just Transition", involves early retirement schemes for miners aged over 48, environmental restoration work in pit communities and re-skilling schemes for younger miners in environmental projects. 
Some former miners are being trained in solar or bio-energy industries. 
"It seems that the Socialists have approached this in a sensible way, especially when you look at what happened in Britain during the time of Margaret Thatcher. Coal mining communities were brutally savaged," said Andres Vallina of the San Nicolas mine in Mieres in Asturias.
"But at the same time, I hope this is a just transition for us miners too and they do what they say they will do.
"About 40 per cent of people in Mieres have some connection with the mine. It used to be more."
It is Spain's last remaining coal mine but San Nicolas is no longer producing coal to sell commercially.
Its coal is now sent to thermal power stations where it is used to develop carbon-capture projects or for hybrid energy production. It is also used to heat a hospital. 
Coal miners protest in 2013 in Mieres in Asturias. Picture credit: Wikimedia 
Related