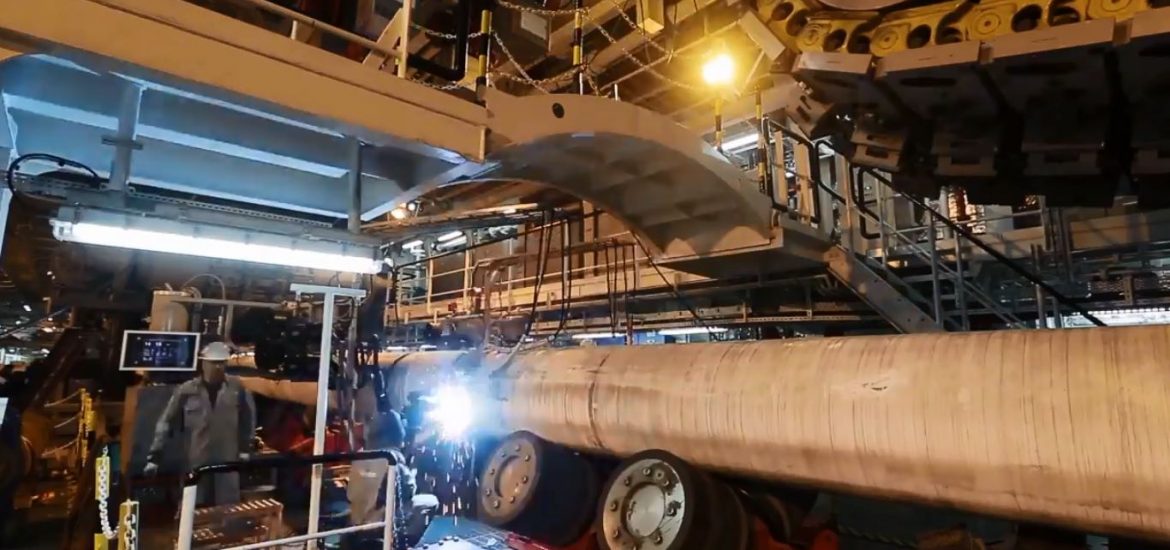 Russian President Vladimir Putin says he hopes the Nord Stream 2 gas pipeline to Germany will be finished by early 2021.
Around 160km or 14 per cent of the 1,230km Vyborg to Lubmin pipeline route is left to lay of the pipeline. 
"I hope that by the end of this year, or in the first quarter of next year, work will be finished and the gas pipeline will start operating," Putin told a Kremlin press conference with German Chancellor Angela Merkel.
Putin said Russia "could complete construction independently without using foreign partners". 
"It is a question of deadlines. That's the only issue."
In December the US imposed sanctions on firms working on the Baltic pipeline, prompting the Swiss-Dutch pipeline-laying firm Allseas to abandon the project. 
"Allseas' construction fleet has left the Baltic Sea and has been demobilised to prepare for other work," the company told the media last week. 
Gazprom, the world's largest natural-gas exporter, reportedly has two vessels that could be used instead, after modification. 
The Trump administration is keen to export to Germany US liquefied natural gas (LNG) – super-chilled to be transported in liquid form and extracted with fracking. 
US LNG is 20 per cent more costly than Russian gas, according to Berlin.
Energy Minister Alexander Novak last month said the pipeline would be finished by late 2020. 
Merkel told the Moscow media that, "despite the sanctions it will be possible to complete Nord Stream 2… There is a certain delay but it will be completed". 
She reiterated that Germany "considers extraterritorial sanctions to be unsuitable and that's why we continue to support this project". 
"I believe that this project is legitimised by new European regulation and that we, therefore, should complete it," Merkel told the media. 
But she conceded that Germany and other European countries "have an interest in the diversification of their gas deliveries and will continue to work in this direction". 
Critics of Nord Stream 2 argue that Russia's 40-per-cent share of European gas supplies is dangerously high.
Germany is the world's biggest natural-gas importer and BASF, the German chemicals giant and investor in Nord Stream 2, consumes more gas than Denmark.
Russia is hoping to use its own pipe-laying vessels to complete Nord Stream 2. S&P Global Platts Analytics said the Akademik Cherskiy is the most likely vessel to be used to comply with Denmark's permit.
Novak said any pipe-laying ship would need time to be prepared and modified and take up to two months to arrive in the Baltic Sea. Last week the Akademik Cherskiy was reported to be docked near Vladivostok on Russia's Pacific coast. 
Gazprom is hard at work on Nord Stream 2. Picture credit: YouTube
Related