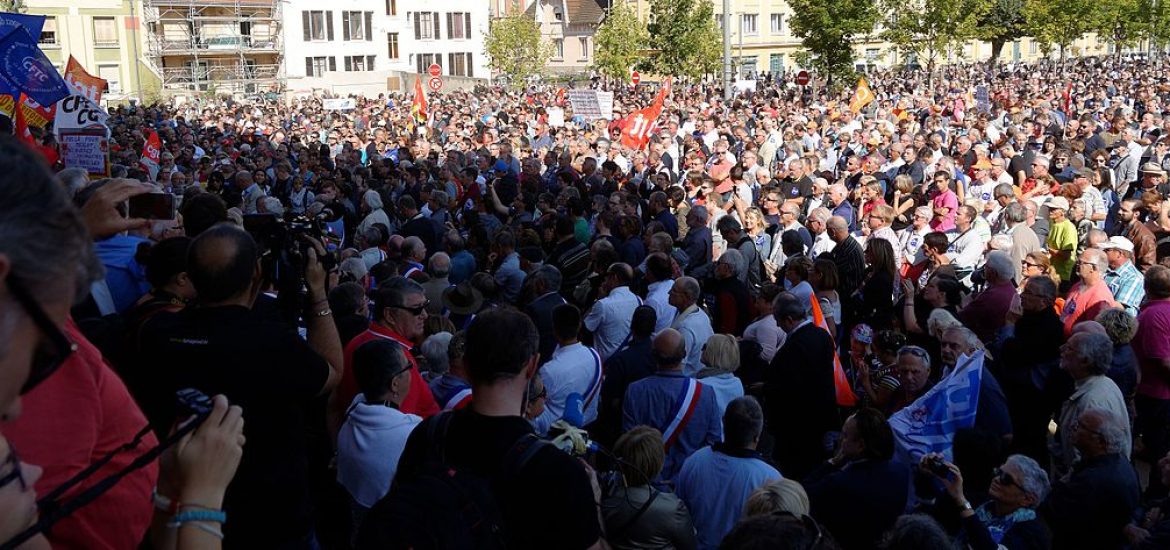 French trade unions and the opposition are furious that US industrial giant General Electric (GE) said it would cut 1,044 jobs, mainly at its gas turbine operations.
GE's draft plan mainly targets Belfort in eastern France, which has nearly 4,000 staff. 
The site handles nuclear, hydro technology, steam, and gas power. 
Earlier this year, the French authorities fined GE €50 million after the company did not create the jobs it had promised when it announced the purchase of part of French rival Alstom in 2014. The deal was overseen by Emmanuel Macron when he was finance minister. 
"The industrial cathedral of Belfort is burning and the government is stoking the flames," unions told the media. 
General Electric has 16,000 staff in France with 6,000 in the power division.
The US conglomerate said up to 792 jobs could be cut at the Belfort gas plant, along with 252 staff with "support functions". The proposed reductions are separate from 1,000 jobs GE said it had cut from its power division in the first quarter of 2019. 
"More than half the number of employees in the gas activities… are going to lose their jobs," mayor of Belfort Damien Meslot said in a statement.
The statement warned of hardship for the region, amid ongoing mining and industrial decline. 
GE has enforced numerous European layoffs as it looks to address losses in its power generation branch. In 2015 the industrial giant announced 6,500 European job cuts and two years later it revealed a further 12,000 redundancies. 
"We're asking the government to stop this scandal, this carnage whose only goal is to move jobs out of France," said trade union spokesman Philippe Petitcolin.
GE originally agreed to maintain jobs for at least three years and add 1,000 staff by the end of last year. In 2017, the French government reportedly threatened the company with fines if it did not meet the commitment.
Although French Finance Minister Bruno Le Maire said he would fight to "preserve Belfort's industrial future", unionists accuse the government of facilitating the cutbacks. 
Le Maire said he would talk to GE's chief executive Larry Culp about the sackings and he committed to "stand by the employees' side". 
In February, Paris fined GE US$56 million for failing to keep the 2014 job-creation promise it made during the acquisition of Alstom Power Systems.
A 2016 protest for Alstom in Belfort. Picture credit: Wikimedia 
Related