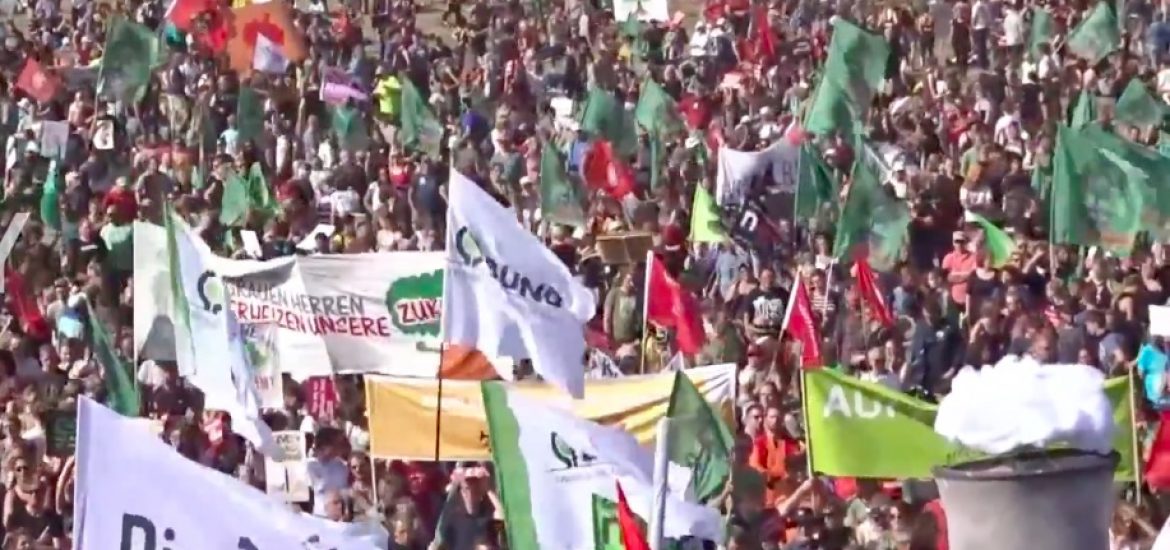 A demonstration of around 50,000 environmentalists (pictured) has been held to celebrate the reprieve of what is left of western Germany's Hambach forest.
The rally between Aachen and Cologne called for the 200-hectares of ancient woodland to be preserved and for filthy lignite to be axed as a source of power.
On Friday a court in Aachen revoked a police ban on the protest over security concerns.
The court ordered that the clearance of Hambach be suspended while a lawsuit calling for the area to be conserved as a special bat habitat is considered.
The forest has been occupied by activists for six years but it appeared to be doomed when the regional authorities last month ordered police to remove the numerous activists' treehouses in Hambach.
"There is a cheerful atmosphere because of the clearance ban by the higher administrative court in Münster," said a spokeswoman for the activist organisation Bund, which is behind the lawsuit.
Germany's largest electricity supplier RWE said it planned to begin clearing half of the remaining North Rhine-Westphalia forest next to the opencast lignite mine by October 15.
The forest is home to rare species like the Bechstein's bat and qualifies as a protected area under European law with the judges saying the authorities must not make an "irreversible" decision to fell trees before they rule on the "complex" case.
Around 90 per cent of the ancient forest has been cleared to mine the heavily polluting fossil fuel in the last 40 years.
Activists say burning further lignite contravenes German commitments under the 2015 Paris climate agreement to cut carbon emissions.
They also said tree felling should be delayed while a national coal commission is currently discussing an exit strategy from the fossil fuel and is due to report soon.
RWE said it did not expect judges to rule definitively until the end of 2020, adding that the delay would cut more than €100 million annually from its pre-tax profits over the next few years.
Its shares were the worst performers on the DAX index of blue-chip German stocks, losing 8.5 per cent in Frankfurt.
Michael Müller, the chairman of ecological activist group NaturFreunde Deutschland, said the weekend protest was about more than protecting Hambach.
"It is about the issue of whether we can prevent the ecological self-destruction of humanity or not. We don't just want an exit from coal, but also from oil and gas," Müller said.
No one in the future should say "we knew that humans were causing climate change but we didn't act".
Saturday's protest at Hambach's opencast mine. Picture credit: YouTube
Related