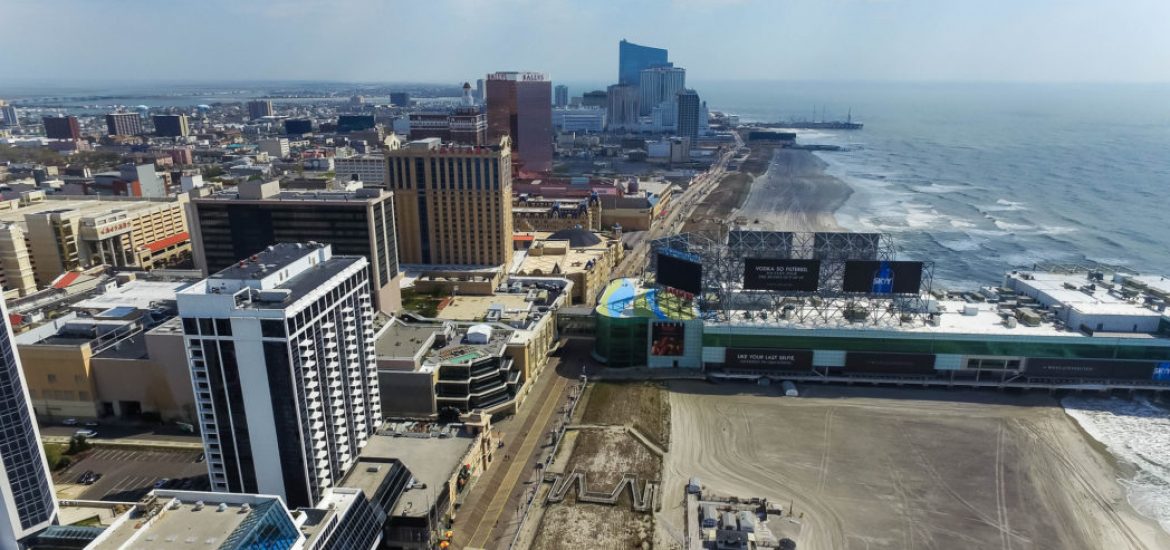 France's EDF (Électricité de France) Renewables and Royal Shell Dutch New Energies have formed a joint venture called Atlantic Shores Offshore Wind to expand New Jersey's wind energy sector.
The lease has the potential to produce an estimated 2.5 gigawatts of offshore wind energy 14km off the coast of Atlantic City.
The project is expected to power nearly a million US homes.
New Jersey Governor Phil Murphy said wind energy was a priority and that he hoped to have 3.5GW in place off the coast within the next 11 years.
Most European oil and gas giants are trying to diversify away from fossil fuels and are investing heavily in renewable projects.
Tristan Grimbert, chief executive of EDF Renewables North America, said: "The opportunity supports the EDF group's aim to double global renewable capacity to 50GW by 2030.
"As the costs of offshore wind are declining, the US offshore wind industry is quickly advancing with strong federal and state support. The industry is well-positioned to meaningfully contribute to the New York and New Jersey economies through employment and supply chain opportunities."
EDF Renewables, which has 2.8GW of offshore wind in development or operation in Europe, says its expertise will help it to expand into the US wind market.
Shell entered the onshore wind sector in the US in 2001 and is now one of the largest power wholesalers in North America.
Dorine Bosman, wind development chief at Shell, said: "Gaining access to this acreage in New Jersey complements our successful entry to Massachusetts and our existing renewable generation business. Building on the strength of our brand and global presence allows us to continue providing our customers with more and cleaner energy."
Atlantic Shores Offshore Wind said it would now begin working to complete a site assessment plan and initiate formal development efforts, subject to a final investment decision. The wind farm could be in operation by the mid-2020s, the joint venture said.
Norway's oil giant Equinor said it also submitted a bid to the New Jersey Board of Public Utilities for an offshore wind project.
Orsted, the Danish wind pioneer – along with Shell and EDF Renewables – has also submitted a bid to the board.
"Equinor has placed a strong bid we hope will help New Jersey meet its clean energy goals: protecting the planet from climate change while building a new industry with good jobs," said spokeswoman Elin Isaksen.
New Jersey's "Boardwalk wind" projects aim to generate at least 1.1GW of electricity.
New Jersey aims to be at the forefront of US offshore wind development. Picture credit: Flickr
Related