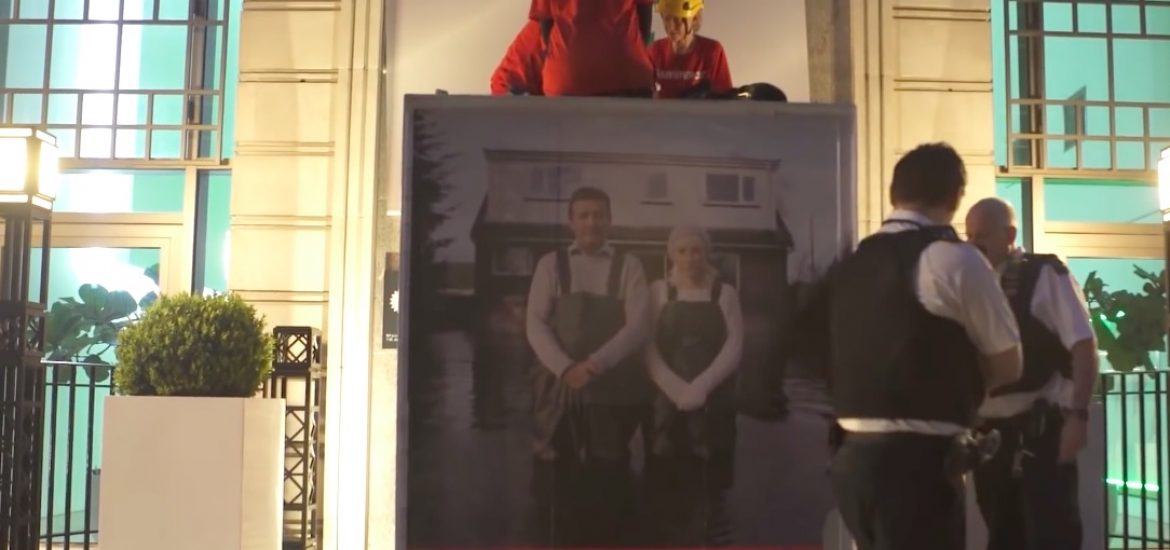 Greenpeace activists have "shut down" BP's London headquarters and say they plan to blockade it for at least a week.
The environmentalists set out a list of demands after a team descended on St James' Square this morning (Monday) at 3am.
Activists locked themselves in five sealed, metal containers, each weighing several tonnes, that were lifted in front of entrances using a crane. 
Greenpeace is campaigning against BP's continued investment in oil and gas.
Two activists are locked inside each of the five containers with enough provisions purportedly to last at least a week. Another 15 activists are occupying the top of the boxes after abseiling down the side of the central London building.
Campaigners abseiled down the building to block windows and unfurl banners reading "climate emergency" in giant letters.
Greenpeace said its "specially designed, toughened containers weighing several tonnes each [were] blockading all the HQ's main entrances and preventing staff from entering the building".
It said the team had enough food and water to keep the building closed for a week.
A similar operation targeted Shell's headquarters during the recent Extinction Rebellion campaign.
Greenpeace said it was demanding that BP "immediately ends all exploration for new oil and gas and switches to investing only in renewable energy". It said BP's business model was "in direct opposition to efforts to prevent catastrophic climate change".
BP said blocking access to its office was "dangerous" and a police issue.
About 300 people normally work at BP's London HQ, which was closed as the firm cited safety concerns.
BP chairman Helge Lund said BP's strategy was "consistent" with the 2015 Paris climate agreement but activists disagree.
BP's annual general meeting starts in Aberdeen tomorrow.
Greenpeace's Paul Morozzo, who spoke to the media by phone from inside a box, said: "We're shutting down BP's HQ because business as usual is just not an option. BP is fuelling a climate emergency that threatens millions of lives and the future of the living world. The science is clear – we must stop searching for new oil and gas if we want a liveable planet. BP must clean up or clear out.
"We've got food, water, a [portable toilet] and some books to read and phone communication. What more could anyone need?"
A BP spokesman said: "We welcome discussion, debate, even peaceful protest on the important matter of how we must all work together to address the climate challenge but impeding safe entry and exit from an office building in this way is dangerous and clearly a matter for the police to resolve as swiftly as possible."
BP headquarters is blocked. Picture credit: YouTube 
Related