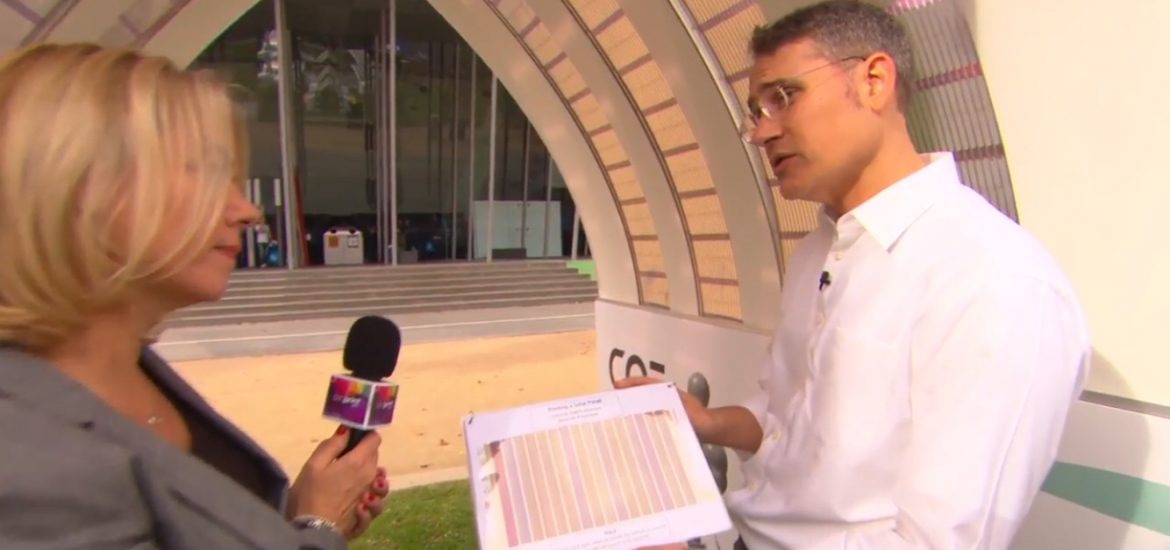 An inexpensive solar power design has been launched in Australia by a physicist who says it could provide a low-cost solar source and make signing up for energy accounts as straightforward as taking out a mobile phone plan.
Professor Paul Dastoor of the University of Newcastle has created organic solar panels that can be printed using conventional printers and electronic inks in sub-millimetre thick plastic sheets. He said the panels can be produced for less than US$10 per square metre and installed in a day.
The panels are reportedly similar in texture to a potato chip packet.
Dastoor used his organic printed solar cells to power screens and displays at a recent exhibition in Melbourne.
First unveiled in May last year, the panels are now being tested in a six-month pilot at a pallet repair business in Australia.
The 200-square-metre installation uses cheap and easy-to-install materials. The design could make signing up for renewable energy accounts a simple online transaction, Dastoor claimed.
"This is the first commercial uptake of printed solar in Australia, most likely the world," Dastoor told the media. "It's a historic step in the evolution of this technology and another example of private enterprise and community leading the charge in the adoption of renewables.
"Our printed solar cells are now considered to be at the 'top of the technology readiness tree'," Dastoor, who has been working on the technology for more than a decade, said. "Those working in technology development use a Nasa-developed technology readiness level or 'TRL' system to determine how evolved our solutions are, with one being the lowest and nine the highest. We are now rated TRL eight and essentially considered 'green lit'."
The printed solar technology is not as efficient as silicon-based panels and degrades much faster but Dastoor said its low production and installation costs would make it competitive.
"The point of this technology is that if you look at it in terms of raw efficiency numbers, it's much lower than typical silicon cells, it doesn't last as long but actually those aren't the important numbers," he said.
"The question is how much does the energy cost? These materials are so cheap to make, manufacture and install that when you calculate the total cost of energy when manufacturing at scale, it's going to give you a competitive product."
Paul Dastoor with a printed panel. Picture credit: YouTube
Related