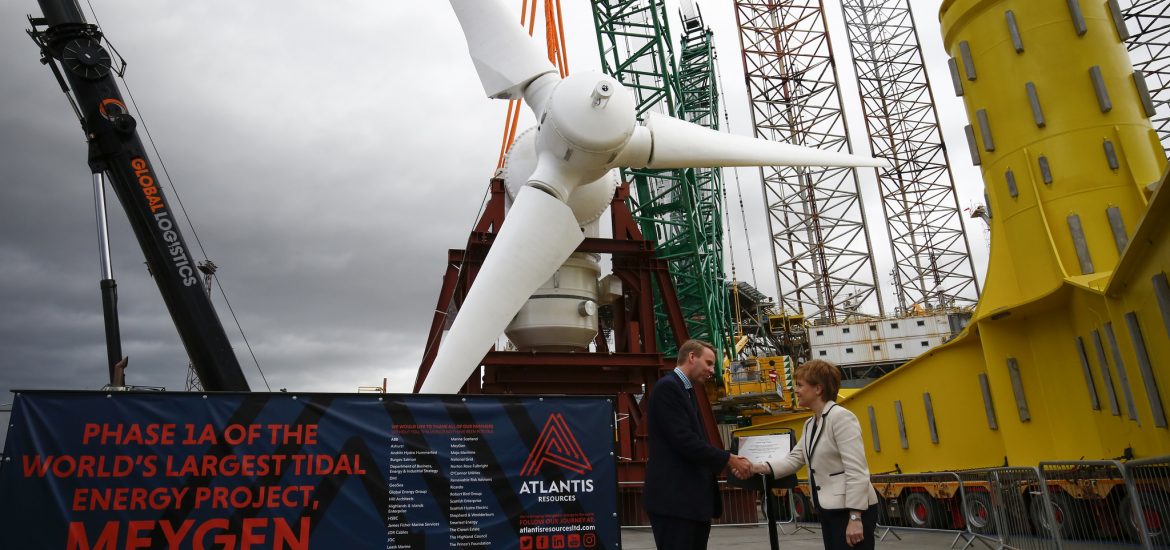 The construction element of the first phase of the world's largest tidal stream array has been completed off the coast in Scotland in a project that could be replicated in other coastal areas of Europe 
The MeyGen scheme in the Inner Sound of the Pentland Firth off the Caithness coast involves four tidal turbines and Altantis Resources, which has been leading the development, said it would begin a 25-year phase of generating electricity.
Tidal-power specialist Atlantis said it was another milestone as construction had been completed on phase 1A of the project with the turbines ­officially entering a 25-year operational period.
The four turbines have a projected capacity to generate 6 megawatts and more of the devices have been proposed at the estuary.
The scheme is receiving backing from the Scottish government, Scottish Enterprise, Highland and Islands Enterprise, Crown Estate Scotland and Department for Business, Energy and Industrial Strategy.
Scotland's Energy Minister Paul Wheelhouse said: "Support from the Scottish government has been instrumental in getting the company to this stage.
"From granting a marine licence in 2014, to providing over £23 million of investment in phase 1A of the project, and to officially launching the project in 2016, Scottish ministers have been actively involved in MeyGen's success from the start."
Last month the project set a new world record for monthly production from a tidal stream array, generating 1,400MWh.
The Edinburgh-based firm said developments would "help to progress the viability of tidal stream energy as a clean and predictable energy source".
The MeyGen project has 392MW of further development capacity, with grid connection deals established.
Tim Cornelius, Atlantis CEO, said: "Seeing the MeyGen project move into the operations phase is another major milestone on the path to commercialising tidal stream energy.
"We would like to thank all our funders, contractors and shareholders for their unwavering support and belief in the project over the years. I would especially like to thank Scottish Enterprise, Highland and Islands Enterprise, Crown Estate Scotland, Department for Business, Energy and Industrial Strategy, Morgan Stanley and Engie.
"We would also like to highlight the invaluable contributions made by the two turbine suppliers, the highly skilled local supply chain in Scotland and the MeyGen project team.
"Their commitment and dedication to deliver the project from concept design to ­commercial operation over the years has been truly exceptional."
He added: "We are incredibly proud of this achievement and this provides a solid platform for building out the full capacity at MeyGen and many other similar sites worldwide."
In December, Atlantis Resources joined the business empire of billionaire industrialist Sanjeev Gupta.
Scotland's First Minister Nicola Sturgeon with the first MeyGen turbines in 2016. Picture credit: Flickr
Related