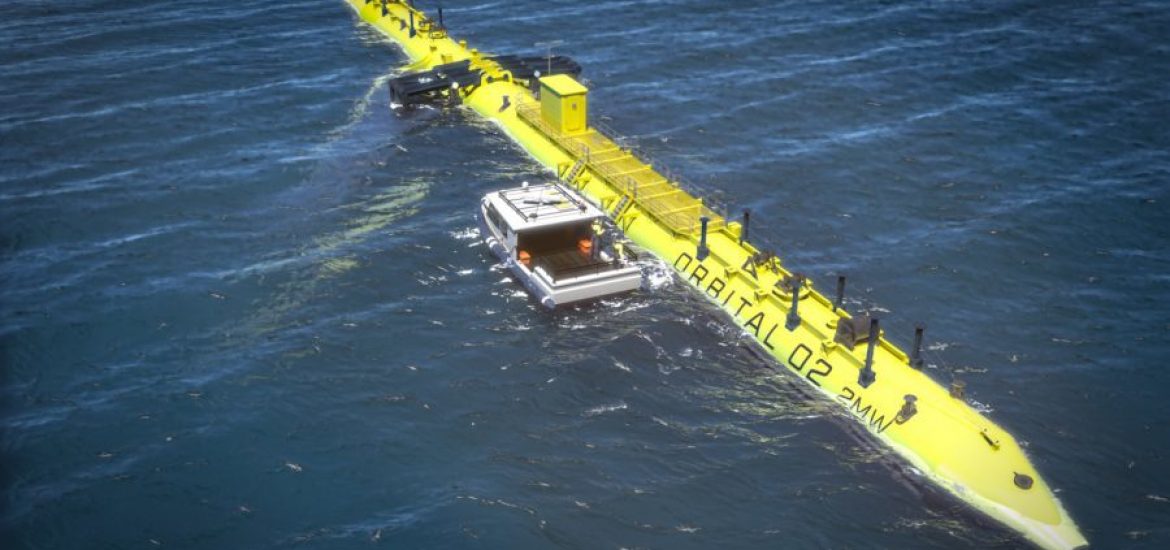 The main manufacturing contract for what has been described as the world's most powerful tidal turbine has been awarded to the Aberdeen-based Texo Group.
Orbital Marine Power said the award of the contract marked the start of "major construction" on the Orbital O2 tidal stream turbine. Texo's work would start this year at its quayside base in the city of Dundee, Orbital said.
The O2 project has received financial backing from several sources, including a £7 million crowdfunding bond, described by Orbital as one of the largest peer-to-peer debentures in the UK.
The Orbital O2 would use a 73m-long "floating superstructure" to support two 1 megawatt turbines on each side and will have rotor diameters of 20 metres. It is scheduled to start operations next year.
At 600 square metres, the rotor area would be the largest on a single tidal generating platform and be focused on reducing the cost of energy production.
The development of the Orbital O2 turbine, with a 2MW capacity, from tidal stream resources, follows the 2016 launch of Orbital's 2 MW SR2000 turbine at the European Marine Energy Centre on the Orkney Isles. The SR2000 produced more than 3-gigawatt-hours of renewable electricity during a year of continuous testing.
The tidal project is also supported by Horizon 2020, an EU research and innovation programme that will make nearly €80 ­billion in funding available by next year to ­support renewable projects.
Andrew Scott, the Orbital CEO, called the O2 a "flagship engineering project for the emerging tidal sector".
"The results that we achieved with the SR2000 over the past two years are a convincing validation of our low-cost approach to generating clean, predictable power from tidal stream energy," Scott said.
"This is a flagship engineering project for the emerging tidal ­sector and we are delighted to be working with Texo Group to showcase the very capable supply chain we are fortunate to have around us in Scotland and the wider UK.
"The Orbital team are really excited to be building on that success with the O2, which we are ­confident will further reduce costs and cement our position at the forefront of this exciting new renewable ­sector.
"We hope the UK government will work constructively with us towards creating a wider future market ­opportunity to harness our fantastic tidal energy resources, in turn creating an entirely new domestic low carbon ­generating industry with ­sustainable export capabilities."
It is estimated that tidal or ocean energy could potentially contribute around 10 per cent of the EU's energy by 2050, according to the European Commission.
Related