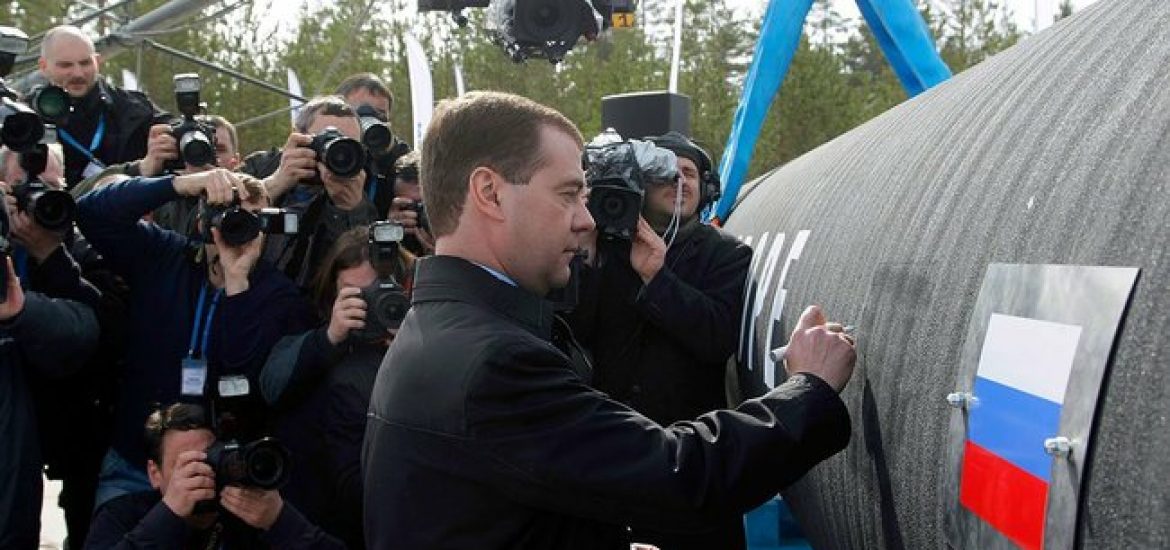 Long-distance, large-diameter oil or gas pipelines have always faced major constraints, most notably their reliance on transit states who can disrupt their flow and render these multi-billion dollar investments ruinous for producers and consumers alike. And with the advent of liquefied natural gas (LNG) and renewables, both of which can compete with pipeline gas, the rationale for building new, long, onshore natural gas pipelines has grown more tenuous in recent years. For these reasons, the planned expansion – doubling its maximum discharge to 110 billion cubic meters (bcm) per year – of the natural gas-pipeline network running under the Baltic Sea from Russia to Germany, Nord Stream II, seems dubious.
Many EU member states oppose the project on the grounds that it would reward Russia's strategy of abandoning its transnational pipelines through Ukraine and increase Europe's dependence on Russian gas. Yet the European Commission continues to try to unify EU members in support of the project and has been negotiating with Russia to complete it by 2019. Political considerations aside, the Nord Stream II pipeline, if operated according to EU internal energy market conditions and allowing third-party access requirements, will make Europe more energy secure, allowing it to continue to phase out coal in its energy mix and reduce its overall energy bill.
A Russian investment in Europe
For consuming countries bereft of domestic supplies, the optimal energy-supply strategy is, like an investment portfolio, diversification. At first glance, Nord Stream II would double Europe's imports of Russian gas, upon which the EU-28 members relied for 29.4% of their total supplies in 2015, and give Moscow further leverage over the continent's energy future.
The truth is more complicated, and these fears are based largely on Europe's perception of Russia as an untrustworthy energy partner than with the pipeline's economic rationale. Though Nord Stream II gas would obviously come from Russia, the resource base would be different. The majority of Russian gas exported to Europe over the past four-five decades has come from onshore mega-fields in the Yamburg, Urengoy, and Medvezhye fields in the northern Siberian basin and transported through pipelines through Ukraine. Nord Stream II gas, on the other hand, would come from the Yamal peninsula and includes onshore and offshore fields, which will enable Russian LNG exports.
Bringing more options and volumes of gas to Europe means greater security of supply, especially since Gazprom can no longer take a monopolistic position. If Gazprom is willing to finance the pipeline, and is receiving €950 million in loans from five European groups to help do so, Europe has little to lose so long as the Russian company adheres to the internal energy market conditions. Nord Stream I is a case in point. Built between 2011 and 2012, the pipeline was only utilized at an average rate of 80% in 2016, because third-party access requirements demand this capacity be reserved for non-Gazprom gas, not for lack of demand.
Declining Dutch production also provides a clear reason for Europe to support the pipeline. On 8 January, an earthquake triggered by gas exploration and production in the Groningen field raised fresh concerns about UK gas-supply security. Groningen operator NAM has called for a substantial reduction in production due to the consequences of further tremors. Production from Groningen has already fallen from 54 billion cubic meters (bcm) in 2013 to 21.6 bcm in 2017 due to earthquakes and natural decline.
New challenges and questions will arise in the meantime, as Russia tries to improves its negotiating position not simply in terms of Nord Stream II but within its wider energy relations with Europe and the United States after the United States imposed new sanctions on Russia in August. In late December 2017, when Gazprom terminated contracts for pipes intended for the Gryazovets-Slavyanskaya pipeline, which would feed gas into Nord Stream II. But such disagreements are unlikely to derail the project.
Nord Stream II in a buyer's market 
Russia's future gas policy faces strong headwinds. With the glut of new supplies coming online from the United States, and other major infusions of supply coming from Qatar, Australia, Indonesia, and Canada, gas is already a buyer's market. After the 2014 Ukraine crisis, Russia pushed hard for greater ties to the Chinese market as an alternative to Europe, investing heavily in the Power of Siberia gas pipeline. Like Nord Stream II, this project continues to stall, as China has other options for imports and is making headway on developing domestic projection of natural gas and alternatives for electricity generation.
Russia's leverage over global gas consumers, in other words, has weakened dramatically since the 2006-2014 period, when oil prices were high and gas prices were linked to them, and Europe had few other options to meet gas-supply needs. During this period, Russian gas was interrupted three times during winter, when gas demand is highest. Though they resulted in European gas-supply shortages, they led to major reforms in Europe, including the creation of the internal energy market, the building of  reverse-flow pipelines eastward from Western Europe, the development of LNG terminals, and the wholesale embrace of renewables.
It is impossible to deny that Nord Stream II would allow Russian gas to fill the void of declining Dutch production and increase its market share, but Russia is unlikely to hold Europe hostage to gas in the future because Moscow needs the European market more than the European market needs it. It is also impossible to deny that Ukraine and southeastern Europe will lose leverage as transit states if Nord Stream II is constructed. At the same time, while Russia's reliance on Ukraine as a transit state made sense during the Cold War when it was a Soviet satellite, it no longer does. Events since 2005 marked the start of a new era, with new geopolitical and market realities.
Europe should begin to view its gas relations with Russia as an opportunity for mutually beneficial trade and cooperation, much as they were prior to 2006, and place the Nord Stream II pipeline within this context. And if this admittedly more optimistic forecast does not come to fruition, Europe has other options, not only to secure gas on the global market but to continue to deepen its embrace of renewables energies. If Gazprom is willing to invest in and build Nord Stream II, Europe should not fear a deepening of gas relations with Russia, whose primary objective at this point is to retain market share amidst the flood of new gas coming online.
Related