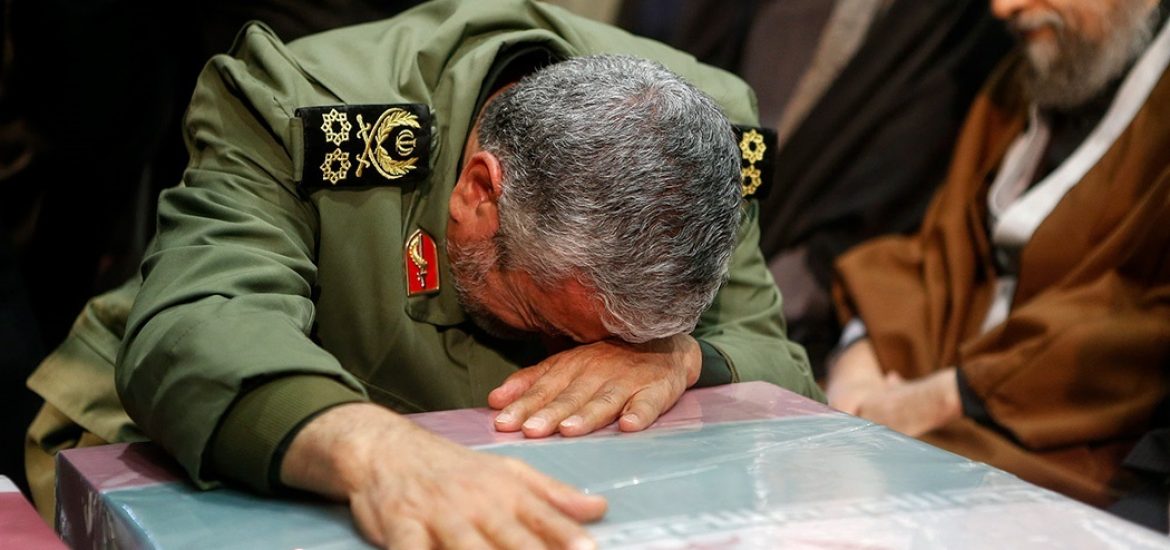 The 2020s started with a geopolitical bang, as U.S. President Donald Trump launched a reckless drone strike against Qasem Soleimani, assassinating Iran's top military commander. Previous U.S. presidents had considered the move, but feared the consequences of such an audacious escalation.
Iran is anything but reckless. On Wednesday, it retaliated by launching missile strikes against two Iraqi military bases in Western Iraq where U.S. troops are housed. It is now anyone's guess how Trump will respond, but objective observers would call this a reasonable reprisal that technically constitutes "revenge" but harmed no American soldiers and therefore allows Trump an exit from further escalation. Many had speculated in the wake of Soleimani's assassination that Iran would hit energy targets in Saudi Arabia or the UAE. In September, Iranian drones struck Saudi Arabia's Abqaiq processing facility, taking 5 million barrels per day of oil off the market for several days.
Hitting energy targets, however, will be both ineffective and only provide a short-term blow that does not advance Iran's long-term strategy: ejecting the United States from Iraq and the region more broadly. Tehran has a powerful arsenal of offshore weapons in the form of drones and cyber to unleash staggered, multi-front attacks on U.S. targets, but it will be careful to avoid full-scale war. The United States' long-term strategy, meanwhile, is to end Iranian influence in the region. This war will likely drone on, so to speak, as it has for four decades. It will have little impact on energy, something no one would have imagined five years ago.
Drones and energy targets
I argued in June 2019, after Iran reportedly mined a Japanese oil tanker in the Persian Gulf, that we were replaying the 1984-88 Tanker War. This analogy still holds, as the United States and Iran are in open warfare once again over oil and power. But tankers are no longer the central means of production; drones are.
Drones became prominent in the Middle East in the late 2000s as a way to conduct targeted strikes without committing troops. While the United States led the way in deploying them, Iran and others caught up in the 2010s. These weapons make Iran's options nearly limitless in attacking oil installations, and the United States and its allies cannot defend against them everywhere. The Abqaiq attack and the strikes against Saudi oil pipelines in May 2019 laid plain this dynamic.
Drones, cyber weapons, and even fake news have made it extremely difficult to assign attribution in this war. The Japanese, for instance, disputed the claim that a mine blew up their tanker, blaming it instead on a "flying object" and implying that the United States used drones as a false flag operation to create a larger conflict in the Gulf. Different media narratives only add to this "attribution problem."
Much to lose
The main reason that Iran is unlikely to attack oil installations in the Gulf is that such attacks are ineffective. Abqaiq caused little enduring damage, after all. Taking more oil off the market is also incommensurate in symbolism or substance to Soleimani's assassination. Even Wednesday's missile strikes fall short in this regard. Furthermore, U.S. military targets in the region are difficult to attack because they are so well fortified.
Disruptions of oil in the Gulf, let alone a closure of the Strait of Hormuz, would also undermine Iran's few international partners, most notably China, which is Iran's largest buyer of oil, pre- and post-sanctions. In August 2019, China received 56.5% of its oil imports from the Persian Gulf.
I argued in September 2018 that Washington might be trying to bait Iran into such a closure – or that it would close the strait itself and blame Iran. Either case would erase Iran's international credibility, end any hope of sanctions relief from Europe, and cause a massive supply crisis for China that it would be powerless to resolve. It could well bring down the regime in Tehran. Russia also would not support Iran targeting Gulf oil in light of its closer ties with OPEC since 2016.
The world, meanwhile, continues to be well supplied with oil, a key development of the last five years. This week, oil companies Apache (U.S.) and Total (France) made a large oil discovery in Suriname. Exxon Mobil recently hit oil in Guyana next door. Brazil could also bring on new supplies this decade, and Argentina has started producing shale. All these plays face questions. But new supplies from the Western Hemisphere will buffer disruptions in the Middle East and continue to depress the value of its oil in the near term.
Battle for the Gulf
The Gulf still matters from an energy perspective because of its vast, cheap reserves of oil and its location at the crossroads of the global trade of such commodities. The United States is therefore unlikely to leave. China and Russia have already signaled their willingness to fill the vacuum of a U.S. departure from Iraq.
Iran may still have a surprise up its sleeve. Its deep connections in Latin America could prompt an attack there or within the United States itself. Yet targets on the other side of the Atlantic are obviously more difficult to execute. Iran allegedly bungled an attempt to assassinate the Saudi ambassador to the United States in 2011. Executing an attack on U.S. soil, moreover, would certainly unleash all-out war, which Tehran wants to avoid.
During the Tanker War, Washington's primary worry was securing oil supplies from the Persian Gulf. Iran may well strike oil targets, but such attacks won't move markets and are not of symbolic value. Today, oil from the Gulf keeps Beijing up at night, not Washington.
Photo credit: wikipedia.
Related