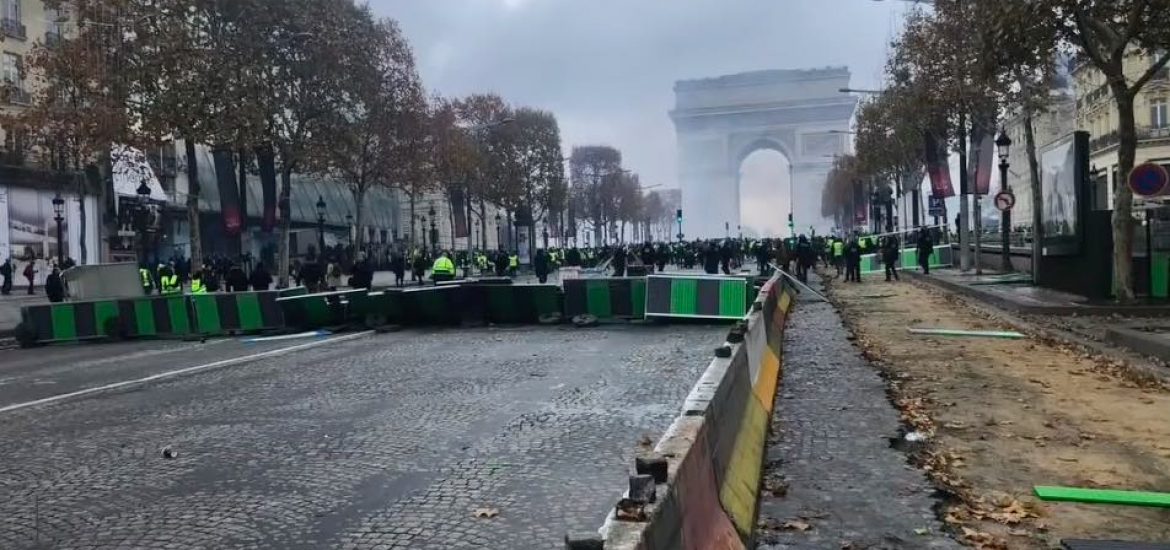 Fuel tax rises will go ahead despite a fortnight of protests, French President Emmanuel Macron told the nation, adding that "fuel taxes will adapt to price fluctuations".
As he tried to address the anger of the gilets jaunes (yellow jacket) protests, Macron said he would not reverse the tax despite two weeks of blocked roads over fuel tax hikes.
Anger over planned hikes in "green taxes" on diesel and petrol has developed into a wider protest against basic living costs, high taxes and a sense of abandonment in non-metropolitan France.
The embattled president said a public consultation on the ecological transition policy "would become applicable everywhere in the country" and "gilets jaunes spokespeople could assist and suggest solutions".
Two people have died and more than 600 injured during the 12 days of unrest.
France is due to boost a carbon tax of three cents per litre of petrol and six cents per litre on diesel in January.
In a concession, Macron said the authorities could review fuel tax rates each quarter to take into account global fuel prices.
France would also close all coal power stations by 2022, along with a number of nuclear plants, the 40-year-old said.
Often accused of being aloof, Macron said he understood the anger of rural France but insisted he would not "give in to those who wanted the destruction of the republic".
He said there was a "paradox" where the public wanted to cut taxes while keeping generous welfare.
"You can't be one day for the environment and the next against the rise of fuel prices … today there was also an environmental alarm," he added.
The president reiterated his desire to reduce nuclear energy to 50 per cent in 2035.
The centrist said four to six nuclear reactors would be closed before 2030 but only Fessenheim near Mulhouse in northeast France on the German border would closed before the end of his current presidential term.
Macron said France had the "collective capacity" to "turn anger into solutions".
The government is encouraging car sharing, the use of public transport instead of driving, the manufacturing of electric cars and better building insulation.
Macron wants the closure of all four of France's remaining coal-fired power plants and the investment of billions into renewable energy.
Ecology minister François de Rugy met protest representatives yesterday (Tuesday).
The scale of the protests has taken President Emmanuel Macron by surprise. Picture credit: YouTube
Related