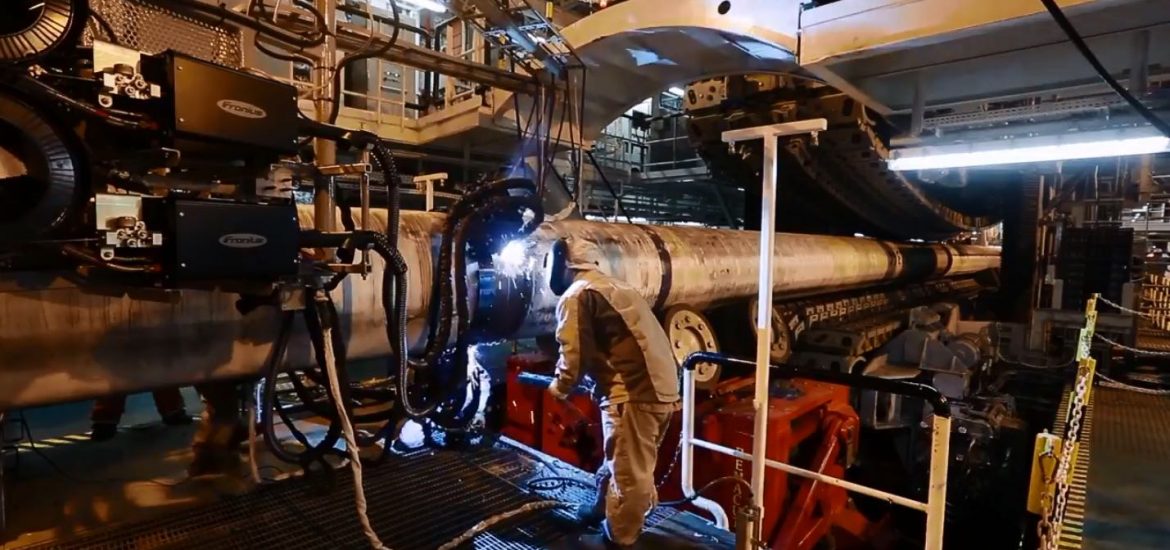 The Nord Stream 2 pipeline consortium has asked a tribunal of private arbiters to determine whether the European Union has breached the Energy Charter Treaty.
Previous settlements under the treaty have reached billions of euros.
By amending the EU's Gas Directive, Nord Stream 2 says the EU has breached its obligations under the legally binding treaty originally signed in 1991.
The Vyborg to Lubmin pipeline is due to supply Germany with gas from Russia under the Baltic Sea. 
A Nord Stream 2 operating company spokesman said an arbitration notice had been served and the firm was looking to have its case heard at an arbitration court outside of the bloc.
"Nord Stream 2 has decided to ask the arbitral tribunal to determine that the EU is in breach of its international law commitments under the Energy CharterTreaty and to make orders requiring the EU to discontinue its breach," he said.
The Swiss-based consortium said the amended directive discriminated against Nord Stream 2 because of a pledge not to take such discriminatory action while breaching the bloc's general obligation to guarantee fair and equitable treatment for investors.
Nord Stream 2 said its €9.5-billion investment was committed and nearly half the pipeline was laid before the EU rules came into force in May this year.
Critics of Nord Stream 2 argue that Russia's 40-per-cent share of European gas supplies is dangerously high.
The European Commission, under pressure from Poland and the Baltic states, tabled an amendment to the EU Gas Directive in November 2017 to single out the controversial pipeline.
The amendments relating to third-party access, tariff regulation, ownership unbundling and transparency do not mention Nord Stream 2. But they clearly dominated the project that is designed to transport gas from Russia's gas export monopoly, Gazprom, the world's largest natural-gas exporter.  
Nord Stream 2 was due to begin operations later this year – before Gazprom's transit deal with Ukraine expires – but permitting issues about passing through Danish territory mean the opening could be delayed to mid-2020 or beyond.
Oil and gas output remains a key earner, accounting for about 40 per cent of state revenues. 
"These cases prove that the Energy Charter Treaty impedes the EU and its member states from complying with the Paris [climate] agreement," said Lora Verheecke of Friends of the Earth Europe.
"The Energy Charter Treaty is a clear and present danger to the urgently needed fossil fuel phase-out."
Gazprom has invested heavily in Nord Stream 2. Picture credit: YouTube
Related