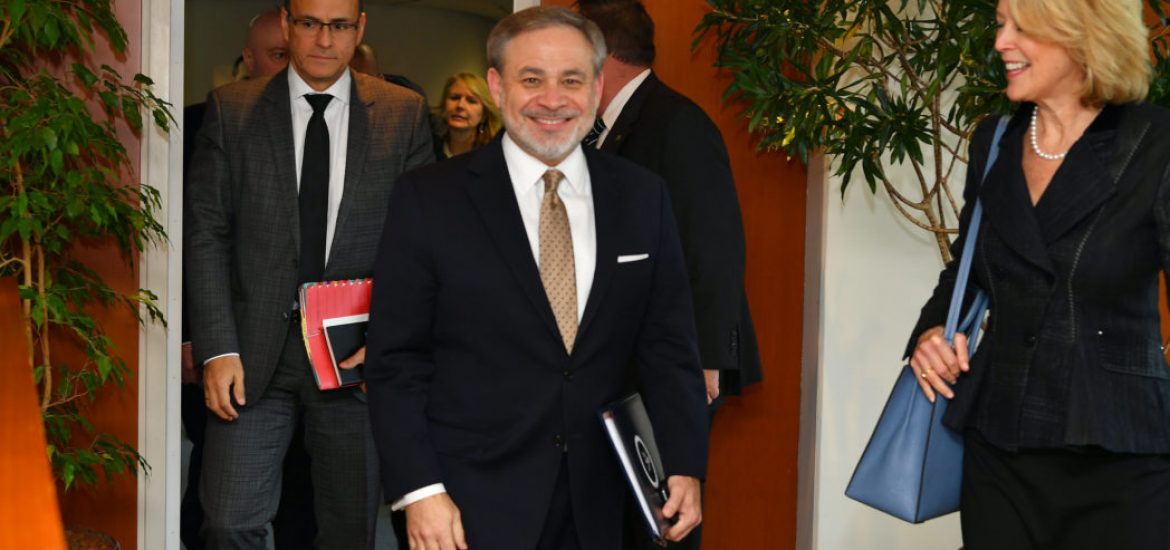 US Energy Secretary Rick Perry has resigned after it was confirmed Donald Trump had asked him to work with his personal lawyer, Rudy Giuliani, over alleged Ukrainian corruption. 
Trump said he had nominated Dan Brouillette (pictured), deputy secretary of energy, to replace Perry.
He was one of the latest cabinet members to become entangled in the impeachment inquiry and was subpoenaed this month by House Democrats in the impeachment probe. 
Perry was sent a subpoena asking him to provide documents on a Ukrainian state-owned energy company. He is also being asked about his role in the controversial phone call between Trump and Ukrainian President Volodymyr Zelensky in July.
Trump said Perry, a former governor of Texas, set up the call on July 25 in which the tycoon turned populist asked Zelensky to investigate Joe Biden, the former vice president and his son, Hunter, who was employed by a Ukrainian gas firm.
Perry, who represented the US at Zelensky's inauguration in May, has denied any wrongdoing.
Perry said his decision to resign was not related to his role in Ukraine.
Two Florida-based tycoons linked to Giuliani and the Ukraine probe have been charged with federal campaign finance violations. Lev Parnas and Igor Fruman were arrested last week on an international flight with one-way tickets at Dulles Airport, according to Geoffrey Berman, a New-York based US attorney. 
They are alleged to be trying to force out a Ukrainian gas firm's chief executive to enable a replacement who would allow exclusive deals to benefit corporate entities controlled by Trump allies.
Perry held meetings in Ukraine and Poland this week to ease the way for US LNG to be shipped to the Polish Baltic coast and piped to Ukraine.
Brouillette, a former soldier from San Antonio in Texas, was a vice president of Ford Motors, leading domestic policy. 
Brouillette says he backs Trump's call for US dominance of the energy markets and supports "all of the above" policies that promote nuclear, solar and wind energy along with coal, natural gas and oil. 
He has visited Japan, former Soviet states, Qatar and Israel promoting US LNG, which is extracted using the environmentally ruinous process of fracking.
"When it comes to exporting LNG, the United States is open for business," Brouillette told Europeans during a visit last year.
He also worked as an assistant energy secretary under George W Bush and as a Louisiana state energy regulator.
 Dan Brouillette, centre. Picture credit: Flickr 
Related