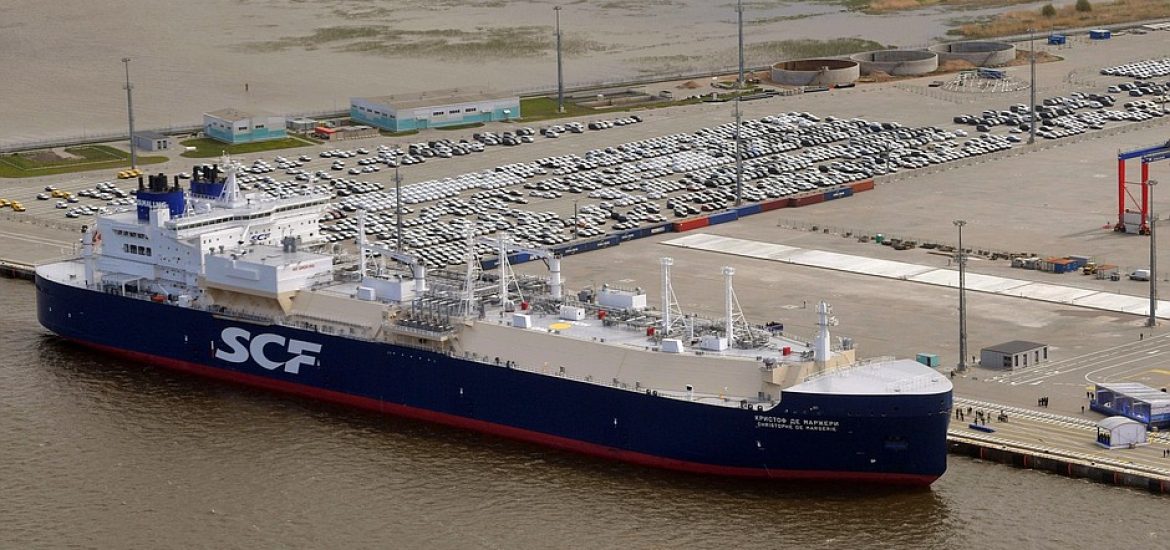 A vessel that may be carrying liquefied natural gas (LNG) from Russia's new Yamal gas port could be heading to the US, in contravention of Washington's sanctions, according to S&P Global Platts and Thomson Reuters shipping data.
Backing from the Russian government, France's Total and Chinese state financiers, CNPC and the Silk Road Fund, enabled construction of Yamal's first LNG train to finish last year, and the plant exported its first commercial cargo last month.
The tanker Christophe De Margerie (pictured) picked up cargo from Novatek PAO's Yamal terminal, Russia's second LNG export depot, on December 9.
The Christophe de Margerie is an icebreaker commissioned specifically to serve at Yamal in the north Siberian Arctic. It was named after Total's former CEO, who died in a plane crash in Moscow in 2014.
The vessel dropped off the gas at the UK National Grid's Isle of Grain LNG installation near London on December 28, it was reported.
It had been suggested the shipment could be used in the UK following a price spike after a shutdown of the Forties North Sea pipeline last month.
French multinational Engie's Gaselys LNG tanker picked up gas from the UK depot on December 30 and is expected to arrive in Boston on January 22.
It is alleged that a proportion of the fuel on the Gaselys could be from Yamal.
The vessel's final destination might change.
The US is a net exporter of LNG because of hydraulic fracturing of shale deposits, meaning reloaded import cargoes are rare.
But the Boston deep freeze and heavy winter heating demand have raised gas prices to the highest levels in recent years.
Meanwhile, the US is gearing up to export LNG.
Cheniere Energy's liquefaction plant at Sabine Pass, Louisiana, is increasing LNG production for export in order to take advantage of the normally low domestic price and easy availability of US gas.
Another Cheniere terminal at Corpus Christi is under construction and a Dominion site at Cove Point, Maryland, is set to begin exports soon.
Carol Churchill, a spokeswoman for Engie, told Reuters: "This transaction is compliant with all US trade laws.
"Given the exceptionally cold temperatures and resulting high gas demand in the US Northeast, Engie purchased this spot cargo to supplement our other contracted supplies from Trinidad," Churchill added.
The US imposed sanctions against Novatek in July 2014 in response to the seizure of the Crimean peninsula from Ukraine.
Novatek is the largest independent Russian gas supplier.
The Christophe de Margerie. Picture credit: Kremlin
Related