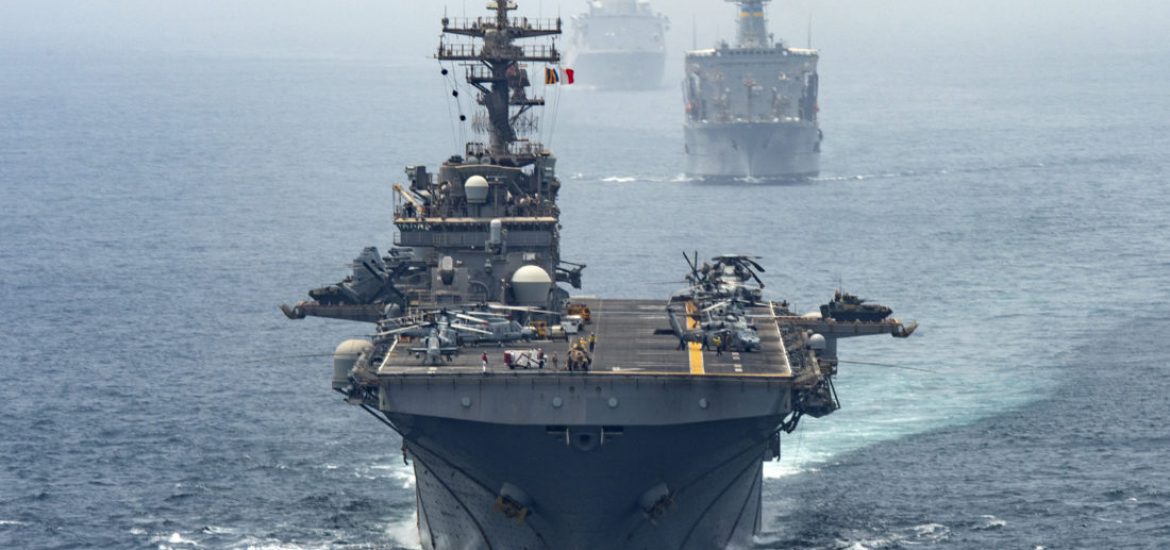 The French defence minister, Florence Parly, has criticised the US over the "unanswered" attacks on Persian Gulf oil supplies.
Parly condemned Donald Trump's breaching of the multinational 2015 nuclear deal with world powers that led to the re-imposition of heavy sanctions on Iran.
She told the annual Manama Dialogue in Bahrain that Paris would continue to talk to Tehran. She said France, which maintains a naval base in Abu Dhabi, would push for a European-run maritime security force in the Gulf, based in Bahrain to protect shipping in the strait.
It would be separate from US forces, she said.
The Strait of Hormuz is 34km wide and around 18.5 million barrels of oil passes through it each day. Around 20 per cent of the world's oil travels through what the US Energy Information Administration calls the planet's "most important oil transit chokepoint". More than 90 per cent of Saudi oil exports travel through the strait along with oil from Kuwait, Qatar, Bahrain, Iran, Iraq and the UAE.
"We've seen deliberate, gradual US disengagement," Parly told the International Institute for Strategic Studies event. "It had been on the cards for a while but it became clear when fighter jets remained on the tarmac in 2013 after the Syrian chemical attacks or later, after the downing of a US UAV and the bombing of Saudi oil facilities.
"With the cornerstone moving, the edifice has started shaking," the minister said.
The volatile region has seen the suspected mining of oil tankers near the Strait of Hormuz. The US blames Iran for the attacks but the Iranian authorities deny involvement.
Iran has shot down a US military drone and seized several oil tankers.
In September, attacks with drones and cruise missiles on Saudi oil infrastructure halved the Saudi crude oil production. Iran also denied responsibility.
"When the mining of ships went unanswered, a drone got shot. When that, in turn, went unanswered, major oil facilities were bombed," Parly told the event. "This is dangerous, even for those who think they gain. Because bold is never far from daring and daring never far from reckless."
Saudi Arabia's foreign minister Adel al-Jubeir told the same event that the US was not withdrawing from the oil-rich region.
"We believe the US is a very dependable ally and has been for the past seven decades," the minister of state told delegates.
"There is a desire in the US historically to try to retreat from the international scene, but that desire is not is reflected in America's posture."
Jubeir said the Saudi authorities were still investigating the September oil strikes to ensure there was no doubt about who deployed the drones and missiles.
"We have said all along we don't want war, so to jump into war very quickly is not a rational position."
Cyrus Vance, the former US secretary of state, called the Strait of Hormuz "the jugular vein of the west". Picture credit: US military 
Related