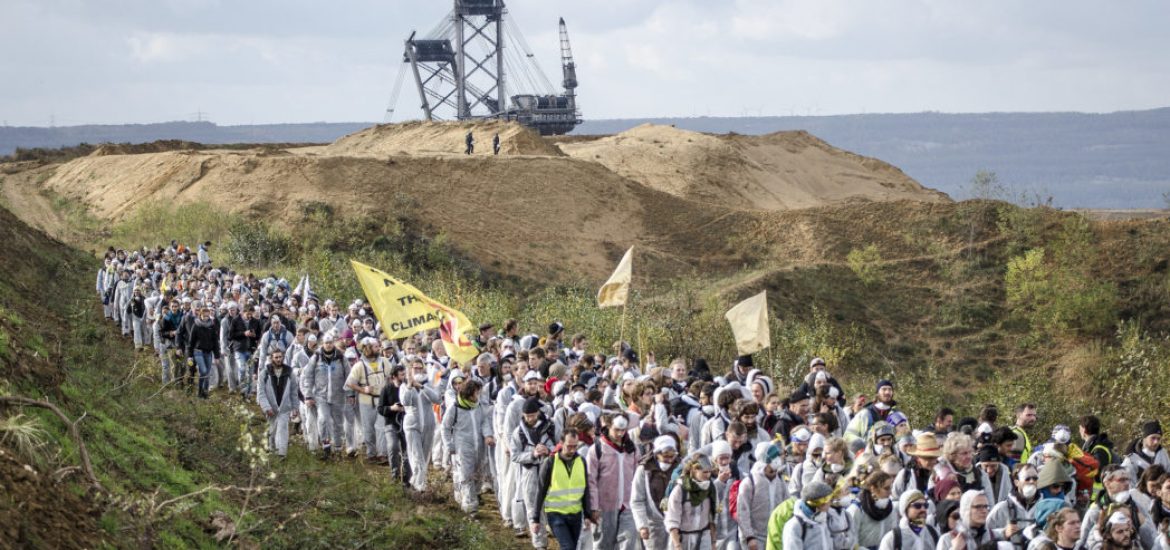 The police in western Germany say they are close to clearing the last remaining treehouses from the endangered Hambach forest so energy giant RWE can clear what is left of the ancient woodland.
Yesterday (Sunday) the authorities said they cleared 77 treehouses so Germany's largest power firm can extend its open-cast coal mine and dig out more of the most heavily polluting and least efficient fossil fuel, lignite.
In a collection of treehouses called Gaul, a female protester known as Ghost told the media: "We are living in the treetops, so they cannot reach us. They cannot clear the forest when it is full of people. Over there is a huge open cast pit. It's been getting bigger for 40 years.
"Now they even want to clear this last remaining woodland so that they can haul the lignite out of the ground beneath. But we don't need lignite any longer, we're in the midst of an energy revolution. We are not using violence, just sitting here. We are just in the trees and we hope to stay. But we don't use violence."
Environmentalists have been living in Hambach forest between Cologne and Aachen for around six years to stop RWE extending one of the largest opencast mines in Europe.
Police began forcing the protesters out about three weeks ago.
RWE, which owns the woodland, said it wanted to begin cutting down trees in mid-October and that expanding the Hambach mine would meet Germany's immediate electricity needs.
RWE chief executive Rolf Martin Schmitz reportedly said there was no chance of keeping what was left of the 12,000-year-old forest.
"There's no possibility of leaving the forest standing," he told the German media. saying it was "technically impossible".
"We need the ground beneath the remaining forest in order to keep the embankments stable," he added.
The Green Party has criticised RWE, saying Schmitz was "indifferent to the opposition of thousands of citizens," and not interested in "reaching a compromise in the dispute over Hambach forest".
Schmitz said the federal government failed to deal with "criminal" protesters who were endangering the livelihood of the 5,000 Hambach mine staff.
German Chancellor Angela Merkel's decision in 2011 in the wake of the Fukushima nuclear disaster in Japan to phase out nuclear power by 2022 has increased Germany's reliance on coal, and low-grade, filthy lignite in particular.
Merkel established a panel to establish a strategy to phase out coal with findings expected by the end of the year.
Some members of the so-called coal commission have called on RWE to delay logging until recommendations are made.
Hambach forest protesters last November. Picture credit: Flickr
Related