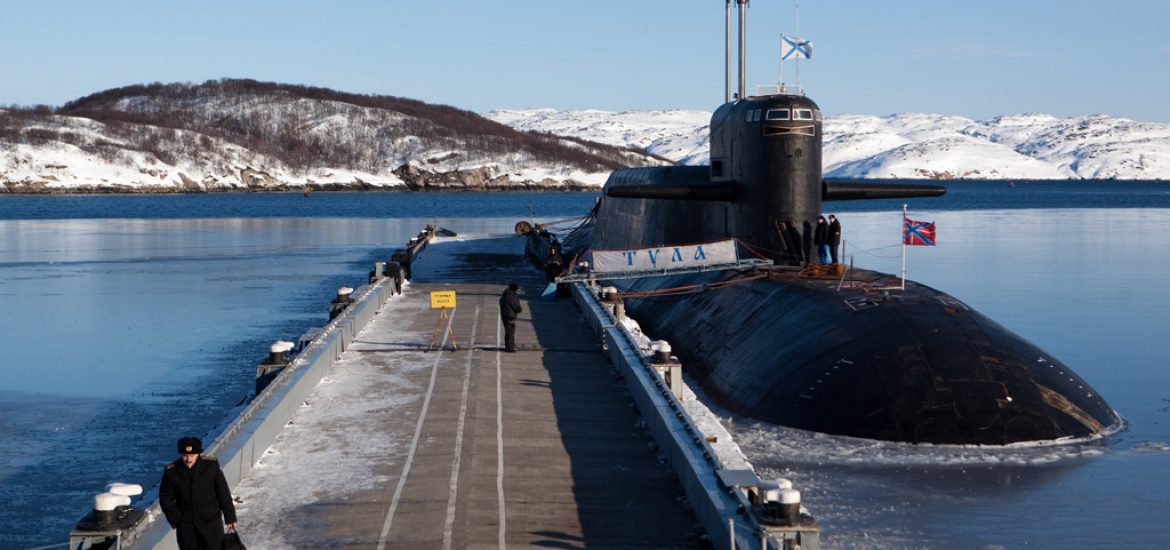 The Arctic Ocean, which is estimated to contain billions of barrels of oil and trillions of cubic feet of natural gas, accounting for 16-26 per cent of the Earth's untapped reserves, is fast being subjected to Russian expansionism.
A Russian mission has started drilling deep into the Arctic seabed using unmanned submarines and underwater robots, which are unaffected by the sub-50°C temperatures.
The 182m-long Belgorod, the largest nuclear submarine ever built, according to Moscow, will carry out underwater surveys and lay underwater communication cables. It will launch the new fleet of smaller, unmanned submarines.
With the ocean up to 5km deep and surface ice, the Arctic is probably the hardest place in the world to drill for oil.
The development of the major new Zvezda shipyard in the Arctic Circle is also part of Moscow's expansion into the frozen north.
Oil and natural gas accounted for about 68 per cent of Russia's exports in 2013.
Russia currently extracts around 5.5 million tonnes of oil annually from existing oil fields in the Arctic, but further exploration has until now been restricted by thick ice.
To consolidate Russia's grip on Arctic resources, President Vladimir Putin this month announced the nationalisation of oil shipping along the lengthy northern coast.
"This step will allow us to boost the volumes of marine shipments, it will strengthen the position of national shipping companies and create additional opportunities for renewal of the fleet," Putin said last week.
The region offers the strategically important Northern Sea Route, the shortest shipping route from Europe to the Pacific Ocean.
The distance from St Petersburg to Vladivostok along the route is around 14,000km, compared to over 23,000km through the Suez Canal.
Putin announced this month that only vessels under the Russian flag would receive exclusive rights to transport fuel along the route. The State Duma, Russia's lower house, is currently debating the legislation.
As part of Russia's Arctic ambitions, Project Iceberg is an ambitious plan to tackle the region's extreme conditions as it tries to keep ahead of wealthy countries with competing claims: Denmark, Norway, the US and Canada.
In August 2007, the Kremlin sent two Russian mini-submarines 4,200m below the North Pole to plant a rust-proof titanium flag on the seabed to underline its territorial ambitions.
To consolidate territorial claims, Russia is building Arctic military bases, opening several earlier this year.
Russian military expansion has extended in tandem with oil exploration. Picture credit: Wikimedia
Related