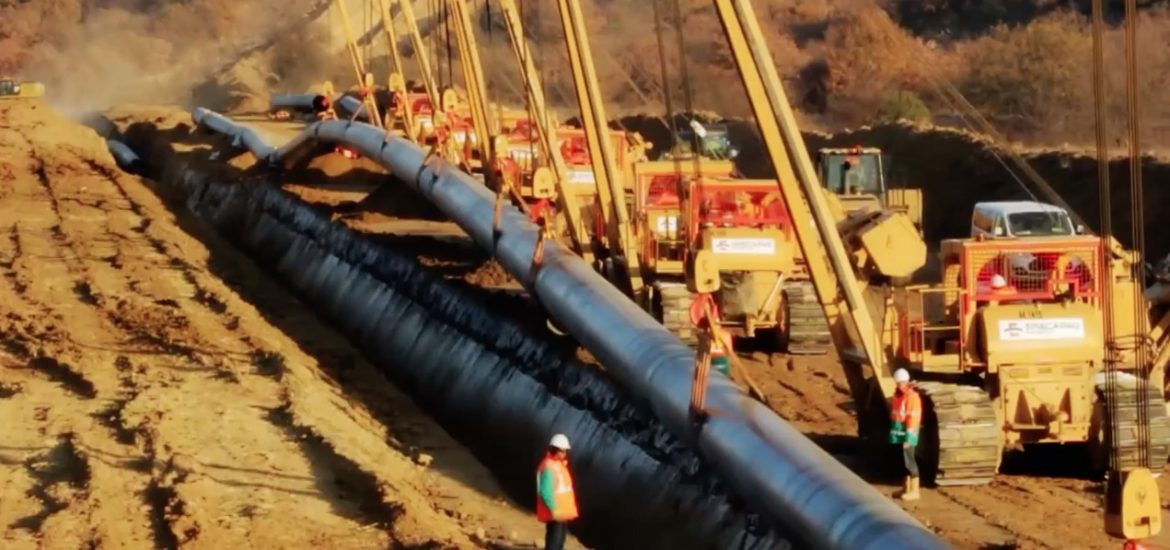 Around 82 per cent of the Trans-Adriatic Pipeline (TAP) has been completed, according to the project's consortium that is bringing Azeri gas to Europe.
"The TAP pipeline construction is well underway. About 82 per cent of the project is completed and we are well on track and on time to start operations in 2020," the TAP consortium stated. 
The €4.5-billion pipeline is a part of the Southern Gas Corridor, which is one of the priority energy projects for the European Union in its attempt to diversify away from Russian supplies. 
It runs from Azerbaijan's extensive Shah Deniz Stage 2 gas field, west to Italy, which imports around 80 per cent of its energy.
The pipeline is due to connect to the Trans-Anatolian Natural Gas Pipeline (Tanap) on the Turkish-Greek border, run through Greece, Albania, under the Adriatic Sea and then come ashore in southern Italy. 
The 878km project has 550km in Greece, 215km in Albania, 105km under the Adriatic Sea and just 8km in  Italy. 
TAP's shareholders are BP with 20 per cent, Socar with 20 per cent, Snam with 20 per cent, Fluxys at 19 per cent, Enagás 16 per cent and Axpo 5 per cent. 
Further east, Turkey and Turkmenistan have discussed a Trans-Caspian gas pipeline and the supply of Turkmenistan's gas through Tanap. 
Turkish Foreign Minister Mevlut Cavusoglu has met his counterpart from Turkmenistan, Rashid Meredov, and the pair reportedly signed a programme of co-operation between the ministries of foreign affairs until 2020.
Tanap has been laid from the Georgia-Turkey border to Turkey's frontier with Greece.
It is expected to have a 16 billion cubic metres (bcm) annual capacity with about 6 bcm going to Turkey, and the remaining fuel being piped to the Balkans and the rest of Europe. The gas is due to start flowing to Europe in early 2020.
Tanap's share distribution is Southern Gas Corridor with 51 per cent, Socar Turkey Enerji with 7 per cent, Botas at 30 per cent and BP owning 12 per cent.
Turkmenistan was also holding talks with the European Commission, said presidential spokesman Yagshygeldy Kakayev, according to the media in the repressive state. 
He told the Abu Dhabi International Petroleum Conference: "We are considering an export route to Europe and are actively negotiating with the European Commission and other transit countries on this issue." 
He said talks were held in October in Brussels with the commission's vice-president, Maros Sefcovic.  
The project to lay a 300km gas pipeline under the Caspian Sea to Azerbaijan is seen as the best option for the delivery of Turkmen gas to the European market. 
The Trans-Adriatic Pipeline is apparently nearing completion. Picture credit: YouTube 
Related