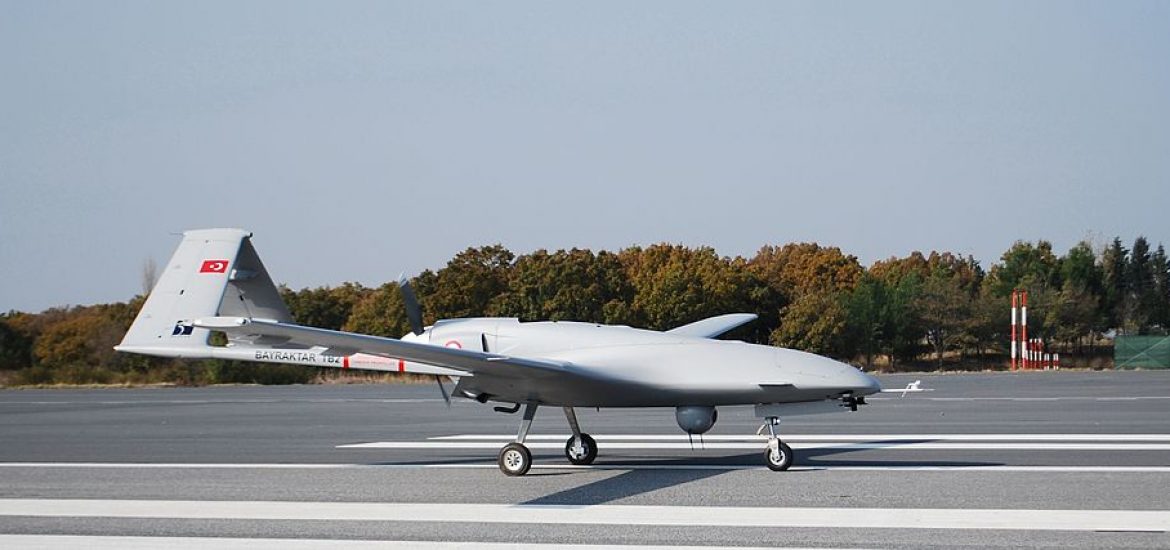 A Turkish military drone has been deployed at a northern Cypriot base to boost controversial gas exploration operations around the divided island.
The Bayraktar TB2 drone (pictured) landed in Geçitkale airport in Famagusta and was immediately deployed on its first mission over the Mediterranean, according to Turkey's news agencies.
A Turkish military spokesman said the drone would escort Turkey's drill-ships, the Fatih and Yavuz , despite heavy international criticism of the operation. 
Kudret Ozersay, the foreign affairs chief for Turkish Cyprus, said only unarmed drones would be used and there was "no need" for armed aircraft.
The pariah administration's transport minister, Tolga Atakan, said Turkish drones were partly in response to the acquisition of Israeli drones by Cyprus last month to monitor its exclusive economic zone (EEZ).
Last week Mevlut Çavusoglu, the foreign minister of Turkey, said military force might be used to block drilling in waters around the island. 
Turkey says its drilling operations are taking place inside its continental shelf and thus comply with international law.
The European Union has labelled the Turkish move as illegal and imposed sanctions.
Observers are hoping the Turkish operation fails to discover gas as this would make it far more difficult for Ankara to de-escalate the dispute. 
Cyprus, Greece and Israel are all exploring for gas in the eastern Mediterranean.  
In July the East Mediterranean Gas Forum (EMGF) was launched by Cyprus, Egypt, Greece, Jordan, Italy and Palestine. Turkey was excluded. 
The US Geological Survey estimates that the deposits could run into trillions of cubic metres of gas in the region, alongside millions of barrels of oil.
In November Turkey and Libya's UN-recognised Government of National Accord (GNA) signed an agreement on maritime boundaries in the region that ignored Cyprus.
The memorandum of understanding looks to protect Tripoli and Ankara against any "illegal" encroachments by other nations.
Turkey's populist president, Recep Tayyip Erdogan, said he was "ready to provide all kinds of support to Libya" and he met GNA leader Fayez al-Sarraj in Istanbul at the weekend.
Turkey's Libyan deal extends its supposed EEZ to border that of Libya, cutting off Israel, Egypt, Cyprus and Palestine from Greece and Italy. 
Erdogan's ambitious EEZ might threaten planned gas pipelines, linking the eastern Mediterranean with the lucrative European market.
Egypt has objected to the agreement and Greece has expelled its Libyan ambassador, saying the deal implies that Turkey has rights over the waters around Crete.
"This agreement was compiled in bad faith," said Greek government spokesman Stelios Petsas. "The sea zones of Turkey and Libya do not meet, and nor is there a sea border between the two states."
The Bayraktar TB2 drone. Picture credit: Wikimedia 
Related