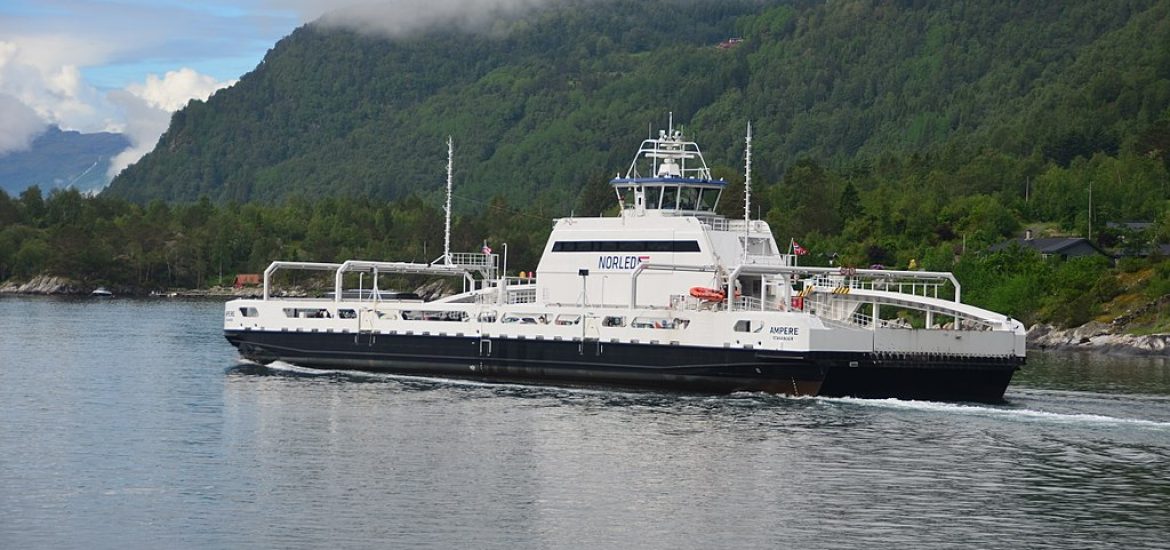 The operators of the first all-electric ferry in Norway claim it cuts emission by 95 per cent and costs by 80 per cent compared to conventional boats.
The Ampere (pictured) came into operation back in May 2015 with the aim to reduce nitrogen oxide and carbon dioxide emissions and noise pollution.
A partnership between ferry operator Norled, Fjellstrand Shipyard, Siemens and Corvus Energy developed the 1 megawatt-hour (MWh) battery capacity.
A second ship, Elektra, went into operation last summer.
There is now a reported backlog of 53 additional ferries, which are seen as the ideal mode of transport to develop battery technology.
Ferries often travel only short distances and stay for relatively long periods at the same ports, where used batteries can be recharged. Buoyancy also makes the weight of a battery less critical to efficiency.
Large all-electric container "Tesla ships" are due to be launched this autumn and a new all-electric cargo ship with a 2.4 MWh battery pack recently launched in China.
Work started last year to convert the Swedish HH Ferries Group's two ferries, the Tycho Brahe and the Aurora, from diesel to battery. They operate a 4km route between Helsingborg in Sweden and the Danish port of Helsingör.
The ships have a length of 238 metres long and weigh 8,414 tonnes, carrying around 7.4 million passengers and 1.9 million vehicles annually.
ABB has installed giant robotic arms at the docks to operate the charger.
Elsewhere, Asia's first new electric ferry entered service in Taiwan's southwestern city of Kaohsiung this week with the authorities estimating it will cut carbon emissions by 170 tonnes and save about 65,000 litres of diesel a year
The electric ferry, which is 25.2 metres long and capable of carrying 150 passengers and 46 scooters, has 80 batteries and can sail for four hours at a maximum speed of 9 knots.
In Seattle, the state ferry is converting its "gas hogs" to hybrid-electric engines.
Washington State Department of Transport has fallen behind on its greenhouse-gas targets with the three biggest boats burning 26 per cent of the ferry system's diesel consumption.
It said converting the boats would cost about US$35 million each with another US$7 million needed to rework the terminal and the cost of bringing utility hook-ups to the shore. Those costs have been estimated from US$2 million to US$10 million.
Converting one Jumbo Mark II class vessel would save 1.8 million gallons of fuel annually and converting all three could save more than 5 million gallons a year, the authorities estimated.
The Ampere. Picture credit: Wikimedia 
Related