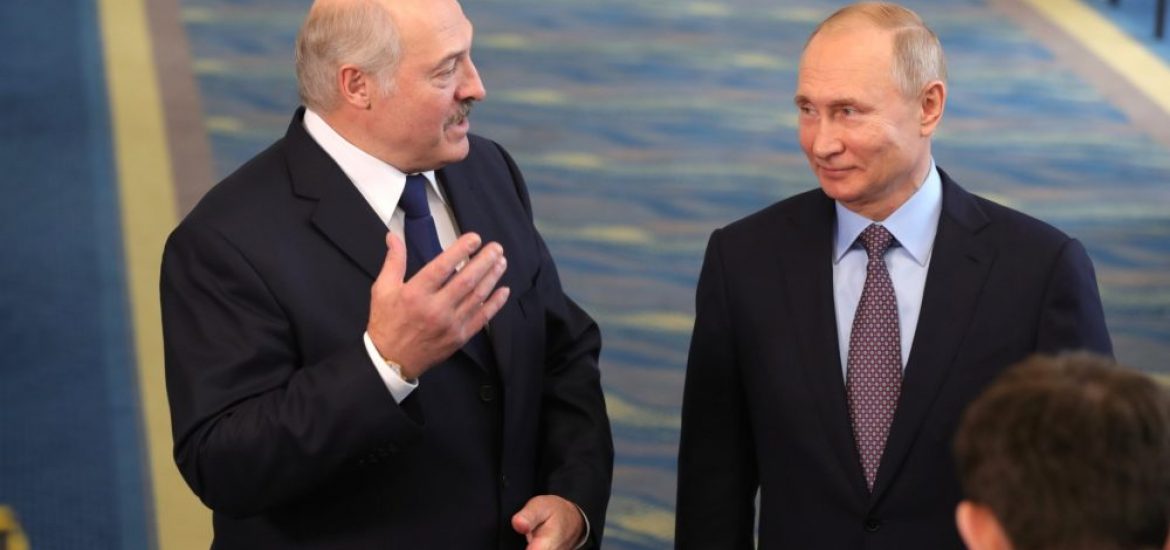 Presidential talks were held between Russia and Belarus yesterday (Saturday) to discuss closer ties, sparking protests in Minsk, the Belarusian capital.
The neighbours reportedly approached an agreement over their differences on oil and gas supplies, Russia's economy minister, Maxim Oreshkin said after bilateral talks.
The meeting marked the 20th anniversary of the Treaty on the Creation of a Union State of Russia and Belarus.
"A lot of progress has been made, even on oil and gas. The positions have come significantly closer," said Oreshkin.
An estimated 1,000 people protested to say any closer integration with Moscow could undermine post-Soviet independence. 
Demonstrators shouted, "No to integration" and "Belarus to Europe". 
Russian President Vladimir Putin received his Belarusian counterpart, Alexander Lukashenko, in Sochi. 
Putin said equal opportunities were provided to Russians and Belarusians in housing, employment, medical care and social assistance.
The dictatorial Lukashenko relies on cheap Russian energy supplies and loans to maintain the Soviet-style economy.
Another presidential meeting is due to be held in St Petersburg on December 20.
Russia and Belarus signed a union agreement in 1997 that established tight political, economic and military cooperation without establishing one nation.
Belarus says it will lose hundreds of millions in dollars per year from changes to Russia's tax policy and has asked Moscow for compensation. Russia says Belorussian subsidies cost its finance ministry billions in lost income.
Russia recently increased energy prices to Belarus and cut subsidies. Russia has said its former Soviet colony should accept closer economic ties in exchange for cheap energy.
Ahead of talks in Sochi, Lukashenko called on Putin to continue fuel imports at domestic Russian prices.
"We just want equal conditions, nothing else," Lukashenko said.
There are claims that Putin could see a union with Belarus as justification to rule a new, united state after his term ends in 2024.
"The Kremlin no longer wants to pay for rhetoric and is starting to demand political concessions from Minsk ahead of 2024, in a hint at the new state and the new job for Putin," said Valery Karbalevich, an observer in Minsk.
The opposition to Lukashenko, who has been in power since 1994, fear a loss of post-Soviet independence.
"Politicians are playing with Belarusian sovereignty like in a card game, and we will keep protesting as long as a threat to our independence remains," said Pavel Severinets, the organiser of Saturday's protest.
Russian President Vladimir Putin and his Belarusian counterpart, Alexander Lukashenko. Picture credit: Kremlin
Related