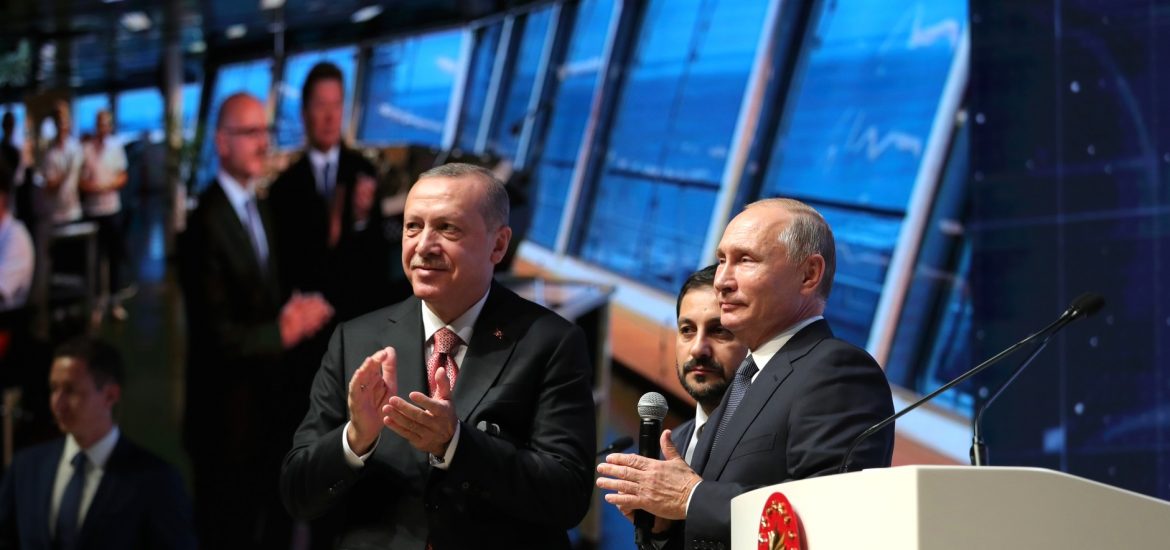 Russian President Vladimir Putin and his Turkish counterpart, Recep Tayyip Erdogan, have opened their Black Sea TurkStream gas pipeline. 
President Aleksandar Vucic of Serbia and Bulgaria's prime minister, Boyko Borissov, joined Erdogan and Putin in turning a symbolic valve to connect the Russkaya compressor station in the Russian coastal city of Anapa to the terminal to the west in Kiyikoy in European Turkey.
Erdogan, hailing Putin as a "true friend", called the TurkStream pipeline a "project of historic importance" for bilateral relations, saying that being on opposite sides in the Libyan and Syrian civil wars had not derailed common interests.
Putin said the project symbolised "interaction and co-operation for the benefit of our people and the people of all Europe, the whole world [despite] efforts at obstruction", in an apparent reference to US sanctions.
TurkStream is eventually due to annually deliver 31.5 billion cubic metres (bcm) of gas, half of it to Turkey with the rest heading west to Bulgaria, Greece, North Macedonia, Hungary and Serbia. 
In Bulgaria, the pipeline, which branches south to Greece and North Macedonia, was turned on this week. A western branch to Hungary and Serbia is due to open this year.
Russia stopped gas exports to the Balkans during the bitter 2008-09 winter.
Weakening Russia's grip on gas supplies is the rival Southern Gas Corridor from Azerbaijan's Caspian Shah Deniz gas field. It runs through Turkey to Greece, Albania and Italy. Its annual capacity is due to reach 120 bcm, almost triple TurkStream's capacity.
Energy has been an area of increased cooperation between Erdogan and Putin since the diplomatic low point after the shooting down of a Russian fighter jet by a Turkish F-16 warplane near the Syrian border in 2016. 
Dr Dimitar Bechev of the Atlantic Council said TurkStream increased Erdogan's regional influence.
"TurkStream isn't a game-changer for Russia; it's the same gas going to Turkey and the Balkans, just by a different route than before. Turkstream is big for Turkey: it turns it from a consumer to transit country and gives it leverage with both the EU and Russia," Bechev said.
"Yet Turkey is reducing its dependence on Gazprom at the same time. There is Tanap [the trans-Anatolian pipeline carrying Azerbaijani gas] but also cheap liquified natural gas from Algeria, Qatar and even the US. The devil is in the detail: who offers the best price and whether there is a take-or-pay clause in the contract. Contracts with Russia are also up for renegotiation in the coming years."
Picture credit: Kremlin
Related