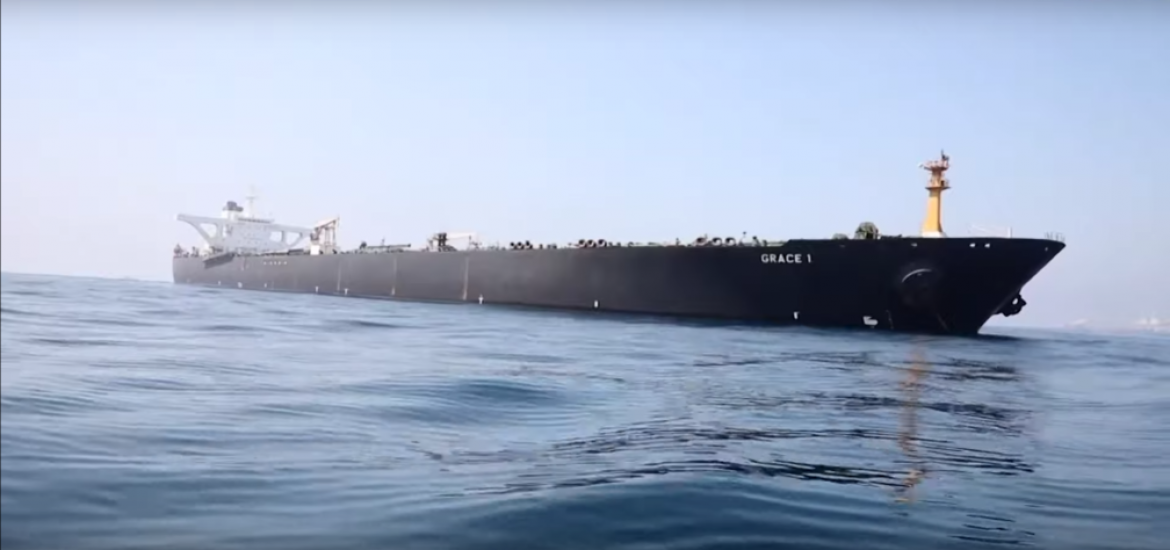 The US Justice Department has issued a warrant for the seizure of Grace 1 (pictured), the Iranian oil tanker that was detained in Gibraltar. 
The US authorities are saying the vessel and the 2.1 million barrels of oil on board are subject to forfeiture.
The Department of Justice cited violations of the International Emergency Economic Powers Act, bank fraud, money laundering and terrorism laws.
Washington is also targeting US$995,000 in an account at an unnamed US bank linked to Paradise Global Trading, which the US claims is associated with businesses that work with Iran's Islamic Revolutionary Guard Corps. 
The US designates the branch of the Iranian armed forces as a foreign terrorist organisation.
A Gibraltar judge on Thursday allowed the release of the supertanker despite earlier US legal attempts to extend its seizure.
A last-minute legal attempt by the US to keep the tanker in Gibraltar was rejected by the judge in the tiny British-run enclave.
Gibraltar's administration said it had received assurances from Tehran that the Grace 1 would not head to Syria.
The disputed enclave's chief minister Fabian Picardo said: "We have deprived the Assad regime in Syria of more than US$140-million worth of crude oil."
Picardo told the BBC that the vessel would probably be able to leave over the weekend.
AFP reported that the vessel was awaiting the arrival of a new crew before it could leave Gibraltar.
Richard Wilkinson, a lawyer for the Grace 1 crew who were released from detention on Thursday, said the Indian captain had asked his Iranian employers to replace him.
"He doesn't want to stay in command of the ship, he wants to go home, because he wasn't happy to go back and pick up the broken pieces," said Wilkinson.
"But he's a professional skipper and needs to wait for a new crew to do a proper handover." The lawyer said the tanker had been due to receive repairs in Gibraltar before it was seized.
The vessel was detained in Gibraltar by UK Royal Marines on July 4 on suspicion of violating EU sanctions by transporting oil to the Syrian regime of President Bashar al-Assad, which is supported by Iran.
Two weeks after Grace 1 was detained, Iran seized the British-flagged tanker Stena Impero in the busy Strait of Hormuz.
Tehran said the ship violated "international maritime rules" but it was widely seen as an act of retaliation. The vessel and its crew are not expected to be released until the Grace 1 leaves Gibraltar.
The Grace 1. Picture credit: YouTube
Related