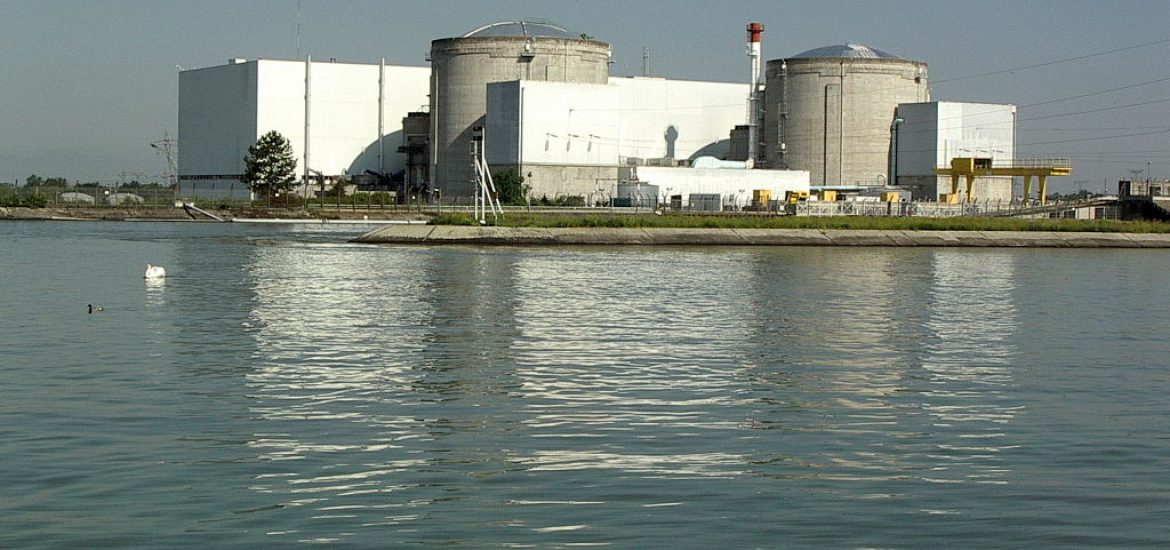 Nuclear power is still one of the world's largest sources of carbon-free electricity but it needs plentiful water to operate.
Europe's heatwave, which has caused wildfires in Greece and Sweden, droughts in central and northern Europe and killed off grass across the UK, is forcing nuclear stations to shut or scale back operations. France's state-run EDF shut four reactors at three power stations on Saturday. 
EDF said it halted a reactor at Fessenheim (pictured) – the country's oldest nuclear power plant – in eastern France, in order to stop it from overheating an adjacent river.
The firm shut down three other power plants near the Rhine and Rhone for similar reasons earlier this week.
Swedish producer Vattenfall shut one of two reactors at a site last week, and Finland, Germany and Switzerland have cut back on the amount of power they produce.
Thermal power stations, such as nuclear or coal, use steam to turn turbines by converting heat energy into electricity. In the process, the steam's temperature falls, so it can no longer be used to turn the turbine. 
To raise its temperature back up, the steam needs to be condensed into water, because liquids can absorb heat better than gases. 
Condensation uses cooling water from rivers, lakes or sea, which is then returned at a temperature that is safe for wildlife.
Overheated water can result in mass fish die-offs, like those reported in Germany this week.
Gas-powered plants also use cooling water but require less cooling than coal or nuclear. 
Europe's heatwave has already increased water temperatures. 
A drought in Switzerland has left herds of cattle stranded without water. The country's helicopter association and air force have been transporting tens of thousands of gallons of water every week to sustain them.
Regulations protecting wildlife mean that the usual water sources drawn on by nuclear sites cannot currently be used for cooling, leading to shutdowns. 
Heatwaves forced nuclear shutdowns or reductions across Europe in 2003, 2006 and 2015.
A study from the University of Oxford said climate change had more than doubled the likelihood of the current heat wave.
"The logic that climate change will do this is inescapable – the world is becoming warmer and so heatwaves like this are becoming more common," said one of the report's authors, Dr Friederike Otto of the Environmental Change Institute at the University of Oxford.
"What was once regarded as unusually warm weather will become commonplace – in some cases, it already has," he added.
Fessenheim. Picture credit: Wikimedia 
Related