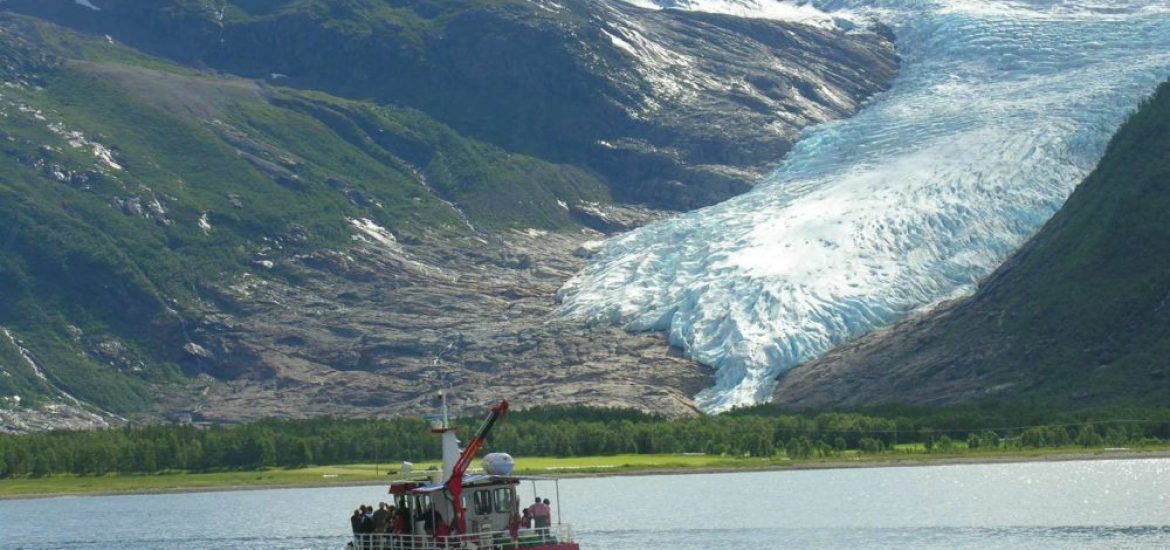 The Norwegian architectural firm that designed Europe's first underwater restaurant has released designs for an energy-positive hotel in the Arctic Circle.
Architectural firm Snøhetta and its Norwegian partner Vitar have proposed the Svart ring-shaped hotel aims to provide with panoramic views while keeping its environmental footprint to a minimum.
Designed as a circular extension of the Holandsfjord shoreline, it would be the first hotel built to the Powerhouse standard to prove that energy-positive buildings were viable in frozen northern Norway.
The Powerhouse standard stipulates that a structure must generate enough power during 60 years of operation to offset the energy used to produce its building materials, the construction itself, its operation, for waste disposal and, theoretically, its demolition.
Snøhetta's architects studied how solar radiation bounces around the site's mountainous scenery, where the Svartisen glacier approaches the waters of the Holandsfjorden fjord (pictured).
Referencing the forms of fishing summer homes as well as fish-drying structures, crossing supports create a two-tiered configuration with a minimal footprint.
A circular design was chosen with the rooftop covered in solar panels produced using hydropower to reduce the carbon footprint of the construction.
"Nature in the Arctic is fragile and pristine," said Snøhetta project manager Zenul Khan. "We have to respect the beauty of the location and not ruin what makes Svartisen an attraction in the first place."
Snøhetta said unbroken summer sun in the Arctic would mean higher yield over a year than would be harvested further south. During the summer while the sun is high in the sky, crafted terraces would keep the facade cool. During the winter, with the sun closer to the horizon, large windows would take in maximum light to create warmth. Geothermal pumps would provide heat in the winter, the firm claimed.
The hotel, with views of the fjord and mountain, "floats" above a summer boardwalk, which would also allow paddlers to explore the water below.
"Building in such a precious environment comes with some clear obligations in terms of preserving the natural beauty and the fauna and flora of the site," said Snøhetta founder Kjetil Trædal Thorsen. "It was important for us to design a sustainable building that will leave a minimal environmental footprint on this beautiful northern nature. Building an energy positive and low-impact hotel is an essential factor to create a sustainable tourist destination respecting the unique features of the plot; the rare plant species, the clean waters and the blue ice of the Svartisen glacier."
Holandsfjord. Picture credit: All Free Photos
Related