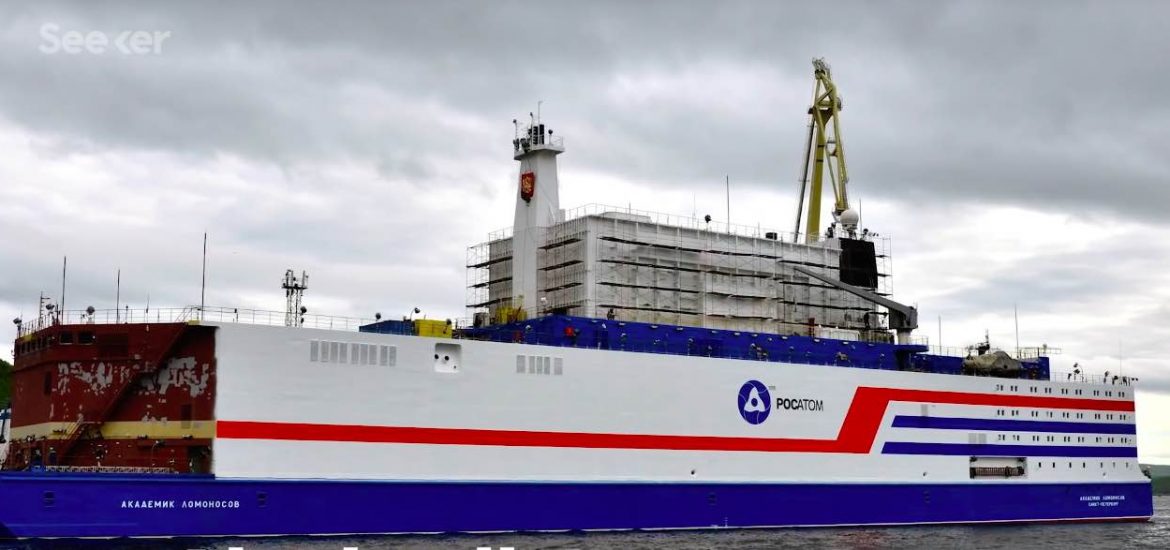 This month, the Akademik Lomonosov will be towed 5,000km to the Chukotka region of eastern Russia near Alaska to provide steam heat and later electricity to the gold-mining port of Pevek as Russia brings nuclear power to the mineral-rich Arctic.
About 2 million Russians reside near the Arctic coast in settlements that are often reachable only by plane or ship and only in certain weather conditions. The region generates as much as 20 per cent of Russia's GDP and is key for Russian plans to exploit Arctic oil and gas as Siberian reserves deplete. 
Its two reactors use low-enriched uranium and are capable of producing a combined 70MW of electricity, which the state-run nuclear corporation, Rosatom, estimates is enough for 100,000 homes. 
Rosatom says the plant, which is the length of one-and-a-half football pitches, is a solution to electricity needs in Africa and Asia.
The "nuclear Titanic", with its once rusty hull repainted in the white, red and blue of the Russian flag, took more than a decade to build at high cost.
It includes a gym, pool and bar (without alcohol) for crew members. 
Greenpeace, which unfurled a "no to floating Chernobyl" banner next to the power station in 2017, questions the wisdom of sending a giant nuclear barge into some of the harshest and most remote conditions on Earth.
"This rig can't be torn out of moorings, even with a 9-point tsunami, and we've even considered that if it does go inland, there is a backup system that can keep the reactor cooling for 24 hours without an electricity supply," said Dmitry Alekseenko, deputy director of the Akademik Lomonosov. 
In case of an accident and a reactor shutdown, the authorities said the ice-cold water beneath the reactor could be used as coolant until help arrived.
The hope is that the plant can be replicated.  Rosatom hopes to sell customised floating nuclear power stations around the world. It said it signed a project development agreement to explore the possibility of building a floating plant for Sudan and other countries.
The idea is not new: the US military used a small nuclear reactor on a ship in the Panama Canal for almost a decade in the 1960s. The US energy company PSE&G commissioned a floating plant off the New Jersey coast but the project was halted in the 1970s after opposition from residents and environmental concerns.
Picture credit: YouTube 
Related