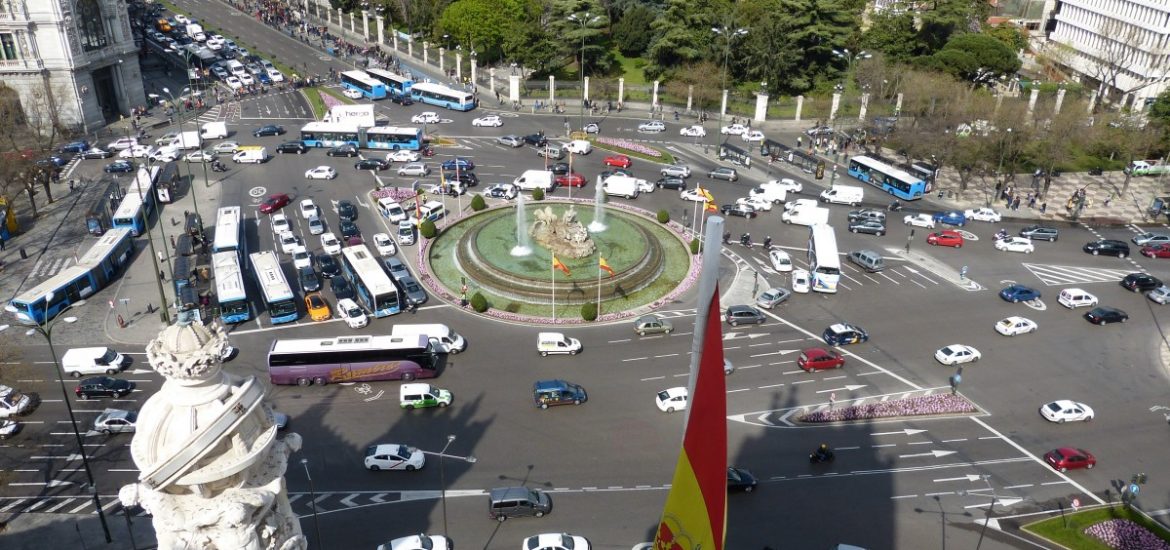 Madrid is hoping to improve its air quality by banning some cars from entering central areas of the city. 
Madrid's Socialist mayor Manuela Carmena has made 472 hectares within the city centre off-limits to some cars not belonging to residents or used for public transport.
Congestion and older or diesel vehicles, when combined with a frequently windless, dry climate, have contributed to the high levels of nitrogen dioxide in Madrid that have violated European regulations since 2010.
Now only other vehicles with an environmental label are allowed to enter. 
Unregistered drivers entering the controlled zone face a fine of €90.
The move is also to help reduce noise and encourage cycling.
Madrid City Council estimates that the project will affect about 20 per cent of the cars that enter the city centre.
The European Commission is backing Madrid's policy for public health reasons which aims to reduce pollution by 40 per cent in the area, matching the limit required by Brussels' Air Quality Directive.
Ines Sabanes, the environment and mobility boss at Madrid City Council, said the city would press ahead with further anti-pollution measures.
"We can't afford it, neither can the city nor can the health of the planet," she said.
Hybrid cars with an "eco-label" are permitted to drive freely in central Madrid and use designated car parks without time restrictions.
However, diesels manufactured before 2006 and petrol vehicles dating before 2000 will not receive a permit and can only enter if they are registered in advance and have access to a private parking space.
After 2020 these vehicles will be excluded from the zone.
Residents can drive freely at any time once registered, but they can only park on their street.
The European Environment Agency (EEA) and the commission last year reported that air-quality levels fell to the "very poor" category for PM2.5 levels, found in vehicle and industrial emissions.
Elsewhere, Paris is banning cars built prior to 1997 from entering the centre during weekdays between 8am and 8pm and diesel vehicles registered before 2001 while offering generous subsidies for other forms of transport. 
Paris also plans to pedestrianise the centre. 
In London, most vehicles operating within the congestion charge zone in central London have to pay £11.50 (€13) per day midweek. 
Stockholm and Gothenburg in Sweden also have a system of congestion taxes. If a car is registered within Sweden, the payment is automatic and a receipt is sent to the owner of the car.
The Swedish Transport Agency invoices foreigners. Milan has a congestion charge with cameras that detect a vehicle entering the city centre and matches the car with the tariff.
Madrid is finally addressing its congestion woes. Picture credit: PXHere 
Related