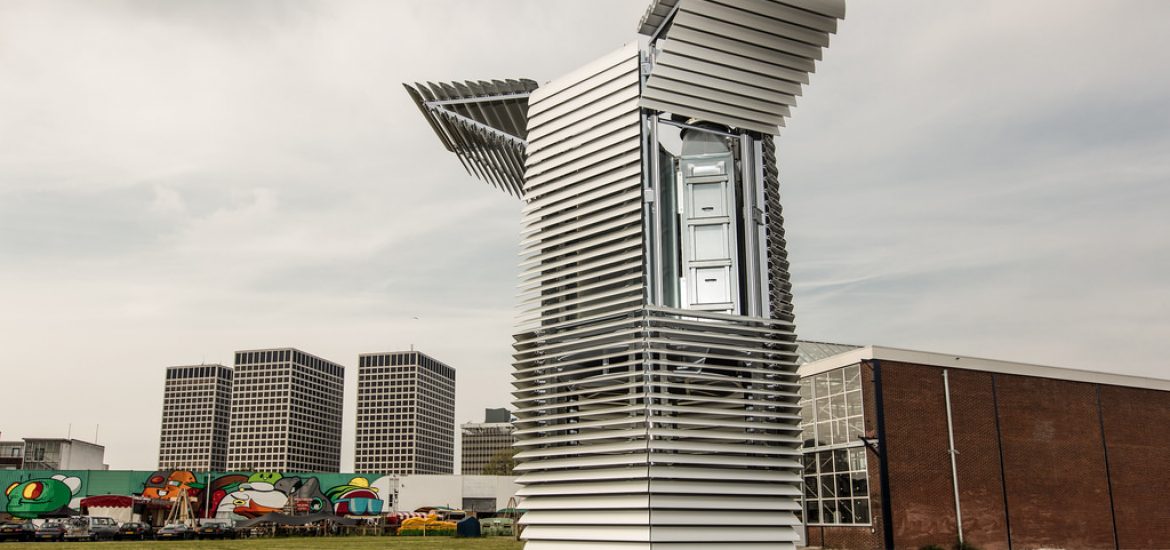 In Krakow, southern Poland's architectural gem, air pollution can reach six times safe levels.
Like most former communist countries, Poland is largely dependent on polluting coal to meet its energy needs.
Poland wants to lower the share of coal in its energy production to a still-massive 60 per cent in 2030 and around 50 per cent in 2050.
To address pollution worries, Dutch designer Daan Roosegaarde created an 8-metre-tall air purifier (pictured) called the Smog-Free Tower in 2015 and is installing one at Jordana Park in Krakow until mid-April.
The tower sucks up smog from the top and releases filtered air through its six-sided vents. Roosegaarde said it could clean more than 30,000 cubic metres of air per hour and used no more power than a domestic water boiler.
His Studio Roosegaarde company called the protrusion the world's first "smog vacuum cleaner".
The first machine was unveiled in September 2015 in Rotterdam and in 2016 Roosegaarde teamed up with China's Ministry of Environmental Protection to visit four Chinese cities to help clean the air.
Roosegaarde says the purifier was designed to be used in public parks and will probably be moved around Poland.
He said: "By charging the Smog-Free Tower with a small positive current, an electrode will send positive ions into the air. These ions will attach themselves to fine dust particles. A negatively charged surface – the counter electrode – will then draw the positive ions in, together with the fine dust particles. The fine dust that would normally harm us, is collected together with the ions and stored inside of the tower. This technology manages to capture ultra-fine smog particles which regular filter systems fail to do."
In a different approach to addressing pollution woes, Poland will make a decision this year on whether to build its first nuclear power station in a bid to cut carbon emissions and coal dependence, according to energy min.
"Our energy security is and will be in the long perspective based on coal … Here a revolution is impossible, but we are ensuring evolutionary change," Tchorzewski told the Powerpoll conference.
State-run PGE, Poland's largest power producer, is leading the project.
The decision was expected in 2017 but financial issues appear to be blocking progress.
"I think that in the nearest future there will be an answer to the challenge which I consider indispensable – whether or not the construction of nuclear power plant units will start," Tchorzewski told the industry event.
"These are the decisions to be taken this year, definitely in the first half of it," the minister said.
The Smog-Free Project in Rotterdam. Picture credit: Flickr
Related