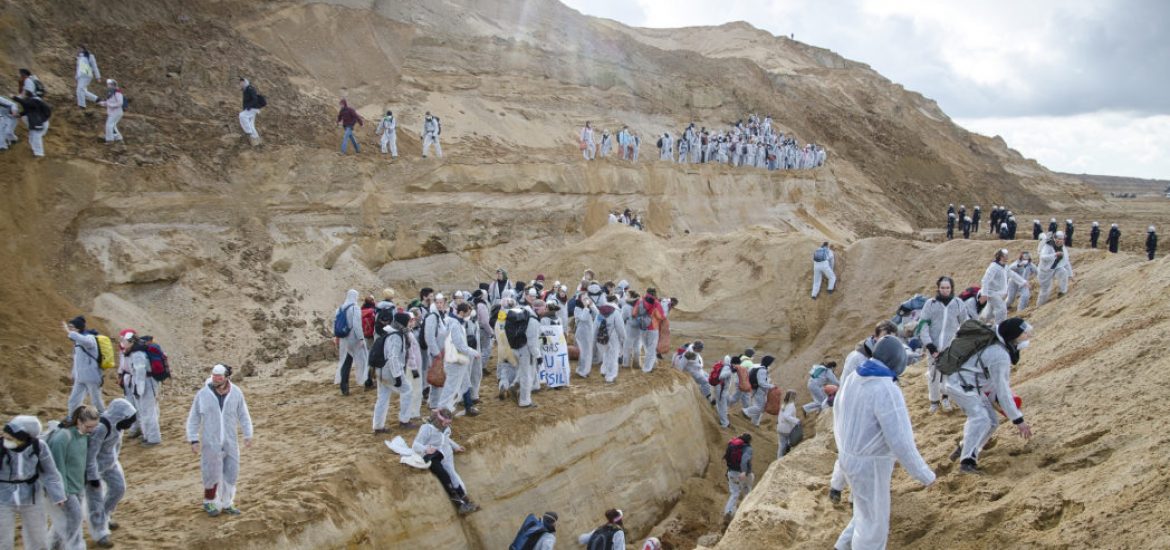 Around 4,000 protesters have marched on western Germany's Hambach forest as police arrested activists trying to prevent RWE extending its opencast lignite mine (pictured).
Some activists put the number of protesters yesterday (Sunday) at 9,000.
Police said they had detained 34 environmental activists hidden in trees and tunnels at the North Rhine-Westphalia state forest. 
Meanwhile, environmentalists were heartened by a Der Spiegel report yesterday that said a government-appointed energy committee was reassessing the issue. 
The committee is due to present its plans for phasing out coal energy by the end of 2018. 
Greenpeace said evacuations should stop until the commission reports its findings. "Perhaps the Hambach forest will no longer have to be cleared," said Martin Kaiser, the environmental group's managing director in Germany and a member of the committee.
Activists aim to highlight the disparity between German pledges to reduce emissions and uphold its commitments to the 2015 Paris climate agreement and the dependence of its only significant fossil-fuel resource, lignite.
Protesters chained themselves to trees or refused to leave the 70-odd treehouses in an attempt to stop the expansion of Europe's largest coal mine, which is between Cologne and Aachen. 
RWE has expanded the coal mine until it now covers more than 90 per cent of what was the ancient forest, which once stretched over nearly 4,050 hectares.
The beech and oak Hambach forest has been occupied since 2012 but the authorities last week ordered the site to be cleared, saying the treehouses lacked proper fire exits and access routes for emergency vehicles. 
The authorities were ordered to remove the treehouses in order "to protect the bodies and lives of their dwellers", the city of Kerpen announced.
The Aachen police said protesters had built barricades, some of which they set on fire, and emptied their toilets from the treehouses on to the police below.
RWE, Germany's largest energy firm, owns the ancient forest and plans to begin clearing half its remaining 200 hectares from mid-October to extract more of the most polluting fossil fuel. 
The power giant said clearing was necessary to meet German energy needs. Coal provides an estimated 40 per cent of national energy, partly because Chancellor Angela Merkel in 2011 decided to abandon nuclear power after Japan's Fukushima disaster. 
Protesters invade Hambach last year. Picture credit: Flickr 
Related