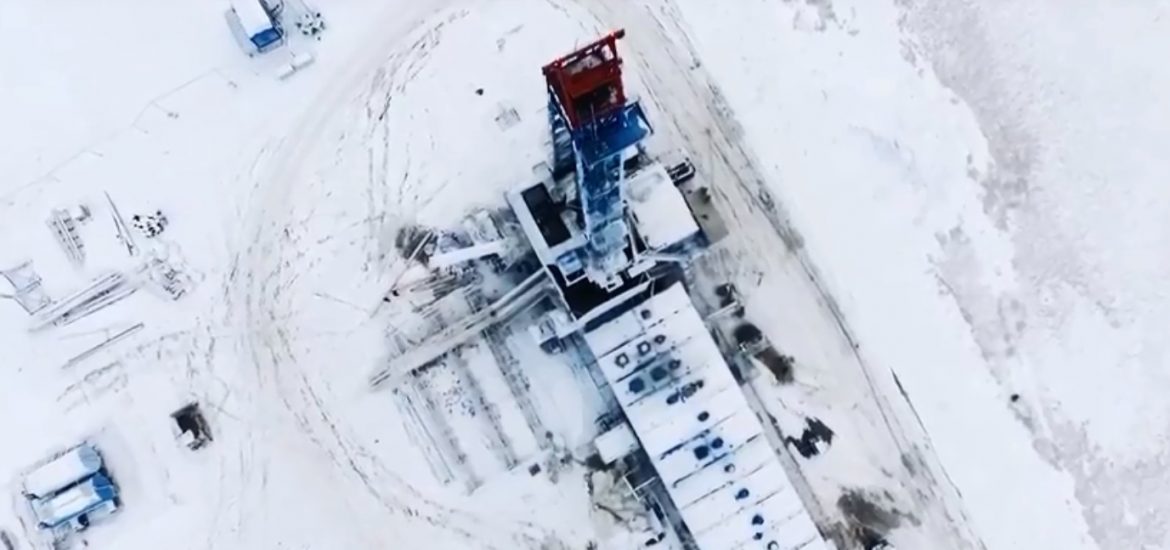 Scientific researchers say they have found a new way to extract methane from permafrost gas-hydrates which could increase the amount of methane available and cut harmful emissions.
A team from Skoltech University in Russia and Heriot-Watt University in Scotland reported in Scientific Reports that replacing methane in hydrates with flue gas from fuel combustion was more efficient than the current method of recovering methane.
The Russian Arctic is seeing increasing levels of exploitation of recently discovered oil and gas fields. 
Russia is offering heavy tax cuts to energy firms willing to extract fossil fuels from recently discovered reserves, which have been revealed by melting Arctic ice.
But one problem facing energy firms is the formation of gas hydrates in frozen rock mass. 
Clear and odourless methane is flammable and is a powerful greenhouse gas. In a 100-year time span, methane traps about 28 times more heat than carbon dioxide. But the gas is short-lived, lasting about nine years before turning into carbon dioxide, water and ozone, which can cause respiratory illness in humans and harm crops.
Gas hydrates are ice-like crystalline formations made by water and gas molecules, which is often methane. 
They form in the Arctic in frozen rock mass, triggering methane leaks.
Their accumulations cause spontaneous methane emissions on the Arctic coast and shelf.
Flue gas contained greenhouse gas which can be locked in permafrost and reduce emissions, making gas hydrates a potential carbon sink, the team said.
Methane is especially dangerous, as it can warm the planet 86 times as much as carbon dioxide over 20 years in the atmosphere. 
Methane can raise the acidity of water and kill sea life as it breaks down.  
A Russian study found the thawing of underwater permafrost has doubled in the last 30 years, reaching 18cm a year.
Frozen soil lies under two-thirds of Russian territory and a large proportion of the Arctic Ocean. It has been thawing as the Arctic warms at least double the speed of the rest of the planet, damaging buildings and pipelines, potentially releasing diseases and emitting greenhouse gases. 
"Our approach not only helps extract methane and prevent its free release into the atmosphere but also reduces carbon-dioxide emissions," said Evgeny Chuvilin of Skoltech's Centre for Hydrocarbon Recovery. "I would say our method offers a double dividend in terms of environmental safety."
Flue gas consists of several gases produced in coal-powered plants, metal refineries and other furnaces and produced by fuel combustion. 
It also contains carbon monoxide, nitrogen, sulphur dioxide and water vapour.
The team said they used a hydrate formed by the carbon dioxide in the flue gas to replace the natural methane hydrate. The researchers said the method allowed them to capture around 82 per cent of the flue gases' carbon dioxide. 
"In comparison with potential methods such as thermal stimulation, depressurisation, chemical inhibitor injection, carbon dioxide or carbon dioxide-mixed gases (eg flue gas) injection is more environmentally friendly because of the potential to capture carbon dioxide simultaneously with methane recovery," the paper said.
A 2019 International Energy Agency's (IEA) World Energy Outlook report said the world's coal mines emit around 40 million tonnes of methane each year. 
Russia is the world's third-biggest hard coal exporter and Europe's largest foreign supplier, meeting 45 per cent of European import demand in 2018.
Levels of methane have risen by an estimated 250 per cent since the 19th century. 
About 56 per cent of human-caused methane comes from livestock, rice farming and food waste decomposing in anaerobic conditions like landfill sites which creates methane.
Picture credit: YouTube
Related