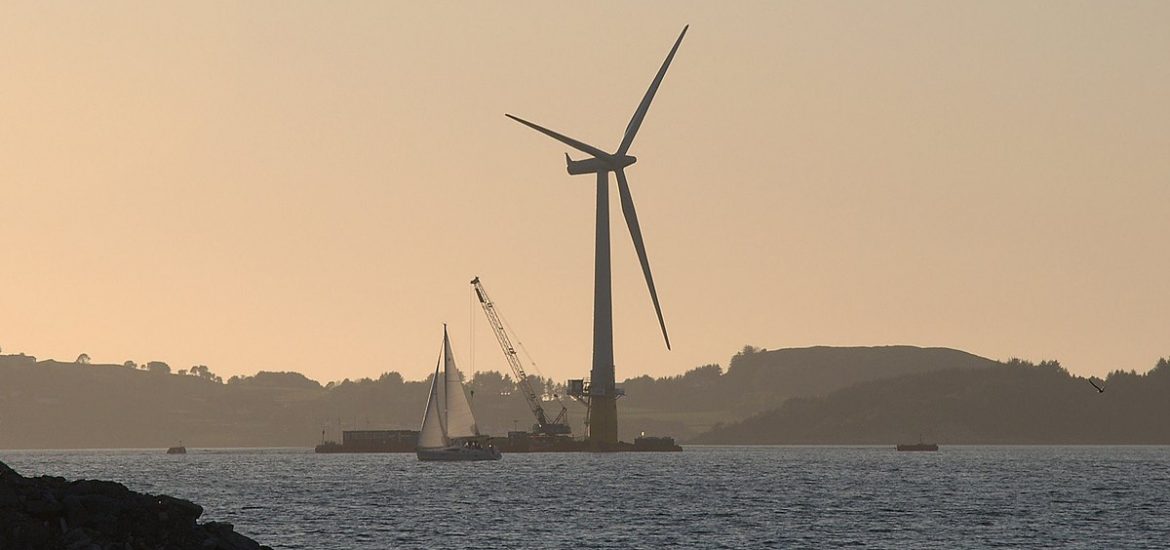 The US Department of Energy says it will spend up to US$28 million on designing a future generation of lightweight floating offshore wind turbines as it looks to copy the landmark Norwegian-UK Hywind project (pictured).
Offshore wind potential was mostly in water too deep for traditional offshore wind turbines, which were fixed to the sea floor, the DOE said.
National offshore wind energy potential is estimated to be the equivalent to 1 trillion cubic feet of natural gas, but "nearly 60 per cent of that wind energy, the equivalent of the entire US annual electricity consumption, blows over waters more than 200 feet deep [60 metres], an area that cannot be economically accessed", the DOE's Advanced Research Projects Agency-Energy programme reported.
Turbines installed on seafloor foundations on the outer continental shelf "are currently designed to be large and heavy to replicate more familiar onshore wind turbine dynamics, maintain stability and survive storms", the report said. "However, this approach fundamentally limits how inexpensive [floating turbines] can ever become.
The department said it was looking to bring together the disciplines of engineering, sciences and technology to design lighter, more powerful floating turbines.
"The United States has 13,000 miles of shoreline, which is a huge opportunity to lead the world in capitalising offshore wind," said the energy secretary, Rick Perry
The world's first floating wind turbine project is the hugely successful Hywind Scotland, pioneered by Norway's Equinor that came online in 2017.
Near Peterhead in Aberdeenshire, Hywind has a 30MW capacity and can generate around 135GWh of renewable electricity annually, enough to power 20,000 Scottish households.
Up to 80 per cent of the world's potential offshore wind resource is in deep waters unsuitable for traditional bottom-fixed installations. Equinor says floating offshore wind farms will follow a similar downward cost trajectory to conventional offshore wind projects.
It hopes to make Hywind the "most cost-competitive" renewable energy concept by 2030 when it will cost around €40-€60 per MWh.
The lowest current price per MWh set by an offshore wind project is €63.
US developers are looking to make offshore wind power practical in the deep water of the Gulf of Maine and off the Pacific coast.
The DOE report said the current technology was "too massive and expensive for practical deployment". It advocated maximising the rotor-area-to-weight ratio while maintaining or boosting efficiency through computer data and lab-based experiments.
The US is looking to seek inspiration from Scotland's innovative Hywind project. Picture credit: Wikimedia
Related