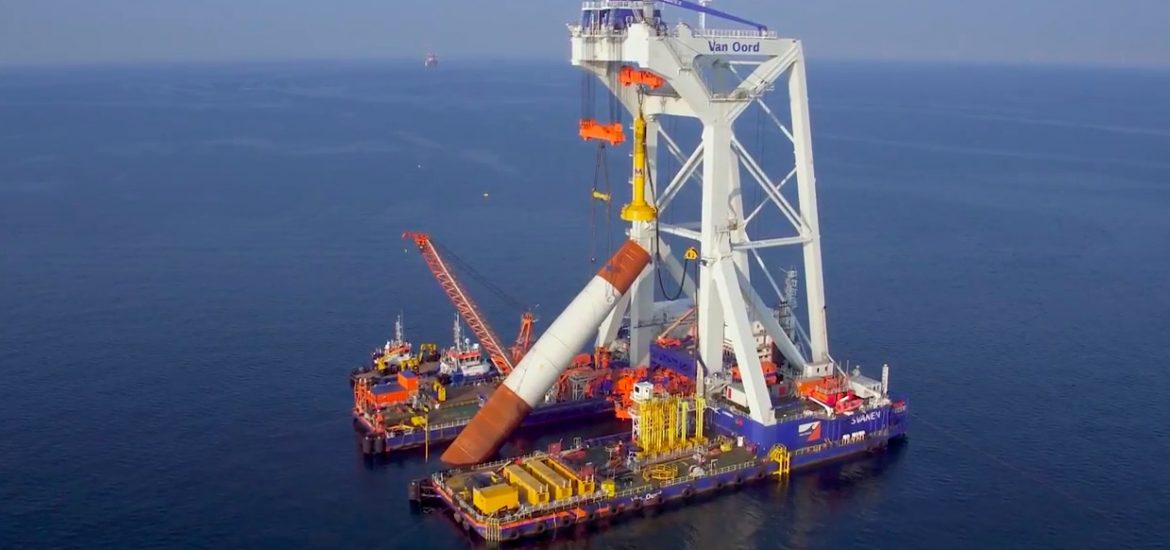 The world's largest operational offshore wind farm has opened on the west coast of England in Cumbria, 20km from the island of Walney in Barrow in Furness with 87 turbines, each of which is around twice the height of Big Ben at about 190 metres. 
Across 145 square kilometres, the equivalent of around 20,000 football pitches, the site has a reported capacity of 659 megawatts. 
The Danish-led and funded scheme can power around 600,000 homes, overtaking the London Array off the Kent coast in the Thames estuary as the world's largest offshore site. 
Amid domestic political turmoil surrounding the ongoing Brexit crisis, the Global Wind Energy Council said Britain was the world's largest offshore wind market, hosting 36 per cent of globally installed offshore wind capacity. 
Construction started in 2015 with the Danish energy firm Orsted and investment from two pension funds in Denmark.
The blades were manufactured by Siemens Gamesa and MHI Vestas in Hull and the Isle of Wight, and other manufacturing was carried out in the UK, Orsted said. It has created around 250 jobs in Barrow to operate the site. 
Forty 8MW MHI Vestas turbines are 195m tall are the largest wind turbines in operation globally. Orsted said they had been optimised to generate as much as 8.25MW each.
Matthew Wright, managing director Orsted UK, said: "The UK is the global leader in offshore wind and Walney Extension showcases the industry's incredible success story.
"The project, completed on time and within budget, also marks another important step towards Orsted's vision of a world that runs entirely on green energy.
"The northwest region plays an important role in our UK offshore wind operations and our aim is to make a lasting and positive impact. 
"We want to ensure that the community becomes an integral part of the renewable energy revolution that's happening along its coastline."
Orsted said it supported the Barrow community with a £15-million community fund and a "skills fund" to promote education, support students and increase jobs in Stem (science, technology, engineering and maths) with apprenticeships in wind energy.
Energy and clean growth minister Claire Perry MP, said: "Record-breaking engineering landmarks like this huge offshore wind farm help us consolidate our global leadership position, break records for generating renewable energy and create thousands of high-quality jobs.
"As part of our modern industrial strategy we've set out a further £557 million of funding for new renewable projects, helping to tackle climate change and deliver clean growth to economies."
Walney Extension under construction. Picture credit: YouTube 
Related