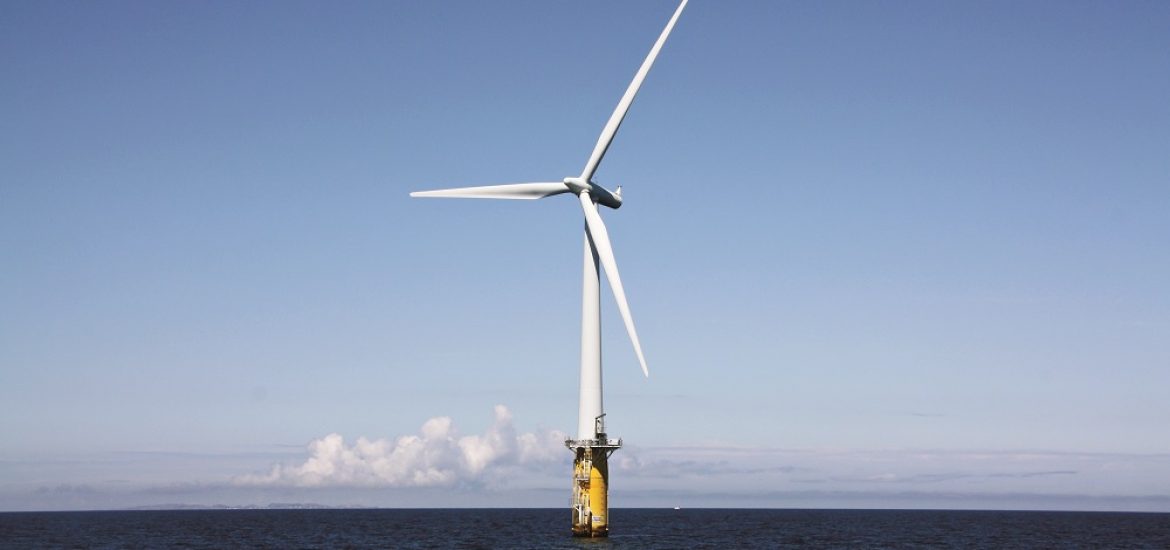 As the overwhelming success of the ambitious Norwegian-backed 30-megawatt (MW) Hywind project (pictured) off the Scottish coast is being celebrated, British ministers have been warned that they risk abandoning leadership of the promising new form of offshore wind power because of cuts in subsidies.
At least two proposed floating wind farms in the North Sea off Peterhead in Aberdeenshire will not go ahead, industry leaders warn, unless a subsidy scheme due to expire in October is extended.
Norway state-run Statoil reported that Hywind achieved 65-per-cent capacity from November to January and weathered two heavy storms.
By contrast the United States' wind fleet recorded an average capacity factor of about 37 per cent last year, meaning that it was running at 100-per-cent efficiency for only 37 per cent of the time.
Some of the world's largest offshore wind farms are already in operation or under construction around the UK but they all involve turbine towers fixed to the seabed.
The wind sector said a long-term opportunity existed in floating turbines, anchored to the seabed by cables, which could be used in deeper and windier areas further offshore.
The first-floating wind farm of Hywind off Aberdeenshire, operated by Statoil, began operating last October.
The Norwegian energy firm now plans to deploy an onshore 1MW/hour lithium-ion battery, Batwind, at end of the year to evaluate the potential for energy storage to complement the offshore wind technology.
Three offshore projects have a combined planned investment of £425 million, of which the 60MW Forthwind and 10MW Dounreay Tri projects will not be generating electricity in time to meet an October 2018 deadline to qualify for Renewables Obligation Certificates subsidies.
RenewableUK, which represents the UK wind sector, is calling for an extension. "Without this first group of projects we will not be able to build UK expertise and that would be a huge lost opportunity," said Maf Smith of the NGO.
Embattled UK Prime Minister Theresa May has said she wants to make UK energy costs the lowest in Europe and is looking to cut investment.
But the wind industry says renewable technology needs support to achieve economies of scale to bring down consumer costs.
Smith said floating offshore wind drew on similar skills to North Sea oil and gas extraction, allowing existing jobs and expertise to be used as reserves declined.
He argued that UK design and engineering could be exported as 80 per cent of offshore wind resources globally were in deep water on steeply shelving coastlines and unsuitable for conventional turbines as a result.
Hywind Scotland. Picture credit: Flickr
Related