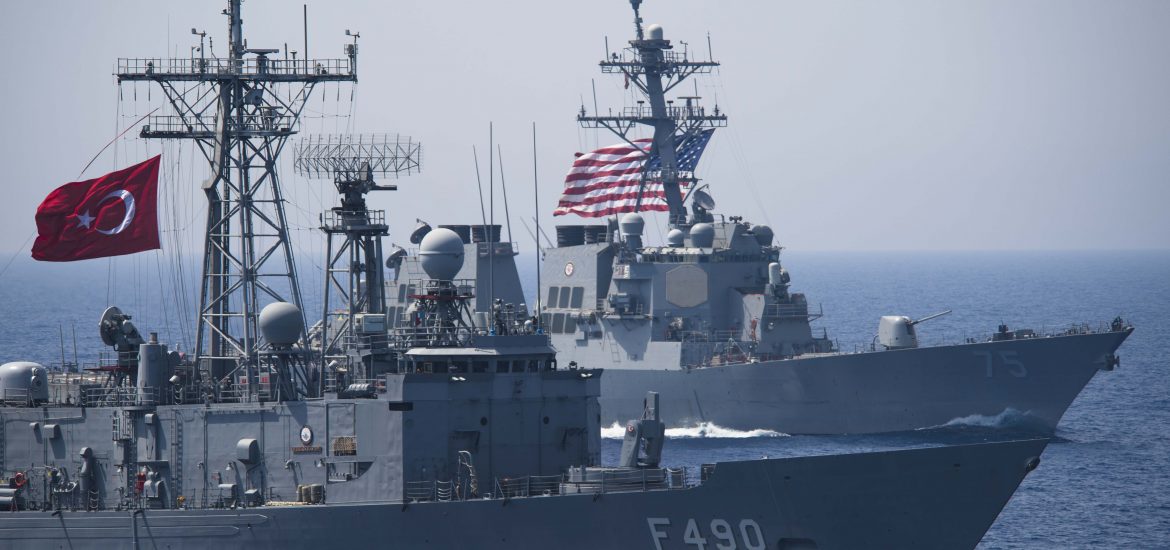 Commerce has spawned rivalries across the eastern Mediterranean for millennia. Hydrocarbons might be the last major commercial reason to sustain them.
Greek-Turkish rivalry was beginning to seem a thing of the past until companies discovered massive deposits of natural gas in Greek Cypriot waters. When the government in Nicosia invited Italian major ENI to explore in 2014, a new round of gunboat diplomacy has ensued reminiscent of Greek-Turkish tensions over oil exploration in the Aegean in the 1970s and 1980s.
Both Greece and Turkey see energy – and the potential to produce its own hydrocarbons in particular – as a historically justified national interest. Greeks believes the islands are theirs as are the rights to explore for hydrocarbons. Turks argue that British power gave the islands to Greece, including Cyprus, which lies just off its southern coast. More concretely, both countries lack domestic oil and gas resources and outlay billions on imports.
Gas, however, has the potential to be different. Unlike oil, it is not critical to military power, its revenues are less significant, and its development requires higher levels of capital expenditure. History need not repeat itself, and the solution is obvious – Greek and Turkish Cypriots should develop the resources jointly and share revenues equitably. But rivalry appears likely to continue to stymie development.
Aegean oil spats
By the middle of the twentieth century, Greece controlled most of the Aegean islands thanks to British diplomatic backing. After the Second World War, however, Greece and Turkey both fell under the U.S. aegis, first through the Truman Doctrine in 1947 and then through their inclusion in NATO in 1952, bringing equity to bilateral relations.
The rivalry, however, continued especially over Cyprus, and oil fueled it. Greece began exploring for oil in 1970 and made a discovery in November 1973 off Thasos. Greek Brigadier General Dimitros Ioannides told U.S. Ambassador to Greece Henry J. Tasca in private in January 1974:
To suggestions that Greece give Turkey some oil rights in the Aegean, the answer is no. If Turkey has Aegean oil rights, so does Bulgaria, Yugoslavia, and perhaps other countries. The Aegean is Greek.
In May 1974, Turkey sent a seismic ship and 32 warships to the area, escalating tensions and helping precipitate the invasion of Cyprus two months later. The British-led and American-backed Central Treaty Organization, or CENTO, effectively ended.
Oil-related tensions surfaced again in 1976, when Turkey sent a seismic ship to the area. After a show of force from the Greek navy, the issue was diverted to the UN, and the two countries agreed to cease oil exploration. Greece once more moved to explore in the Aegean in 1987, triggering another naval escalation by both sides, before the U.S. and NATO forced the two countries to stand down.
In addition to U.S. diplomatic pressure, both sides appear to have realized that developing oil in the Aegean is too difficult to cooperate on.
Gunboat diplomacy 12.0
The gas era is now running into a similar standoff. Turkey has sent warships to disrupt or dissuade companies from developing Cyprus gas since 2014. The most recent episode in February 2018, Turkish vessels blockaded ENI's Saipem 12000 drilling ship, which thereafter abandoned the area.
ENI is sure to try again. Eastern Mediterranean gas – located so close to Europe – includes fields off Israel, Lebanon and Egypt and offers a bonanza. ENI's resolve has only grown since its 2015 discovery of the supergiant Zohr gas field off Egypt.
Yet Turkish resistance will continue to stand in the way for two reasons. First, its ability to project naval force will be a deciding factor. Western, Russian, or other outside powers are not going to get involved in a naval conflict to protect the rights of private companies to produce gas. This has never happened for oil. Second, the actions of Western companies in the oil era – most notably in how Britain wrestled the Mosul province and its enormous oil fields from Turkey after the First World War – still resonate with Turkish people. No Turkish government will allow it to happen again.
Turkey might want to tread carefully to avoid an open break with Europe, but it has also learned a lesson about the geopolitics of hydrocarbons in the eastern Mediterranean: force works.
U.S. Plot?
Turkey also knows that Western powers will not fight for this gas. When the U.S. navy increased its eastern Mediterranean in early March, Turkey publicly worried that Washington would apply force to allow ExxonMobil and Qatar Petroleum to explore its joint block off Cyprus. Not only would this policy have been ineffective, it has no precedent: private U.S. oil and gas companies do not determine U.S. foreign policy, despite popular imagination. (Another U.S. company, Nobel Energy, also has a block.) Furthermore, the United States and Qatar are Turkish allies.
Officially the United States supports the win-win scenario envisioned by non-Cypriots: freedom to explore in territorial waters and an equitable sharing of resources for the island's inhabitants. It is worth underscoring how different the U.S. viewpoint is now compared to the Cold War oil spats in the Aegean. Its approach is more hands-off, making no dictates about the situation to either Greece or Turkey, and actually supports the development of the gas. The stakes of oil were too high, both commercial revenues and strategic power; leaving Aegean oil alone was the best policy for all sides.
Gas is different. It requires long-term commitments and large investments from all partners. The more people with stakes in its development, the better. Gas is not a strategic commodity to the same extent as oil. It powers economic growth and supplies heating, but is not essential to military power.
We are all in the same boat
Can Greece and Turkey transcend their historic mistrust? The past performance record on hydrocarbons makes it seem unlikely. Fossil fuels are zero-sum commodities, and neither side seems willing to let the other win.
The massive shame, of course, is that while the oil era is disappearing, the gas era is now in full swing. Europe is eager for non-Russian imports, and the windfall of revenues for Cypriots, Greek and Turkish, would be life-changing if they could be distributed equitably. The race is on to supply Europe and Asia with gas as a bridge fuel from coal to renewables in the coming decades. Even Saudi Arabia announced a partnership last week to develop shale gas with Halliburton.
Greece and Turkey could both immediately harness Mediterranean gas to transit away from generating dirty coal for power and increase their profile in the international energy system. It is time for the politics of an island to cease blocking the development of something that is positive for its residents, the region, and the world. Otherwise, the gas boat will be missed.
Related