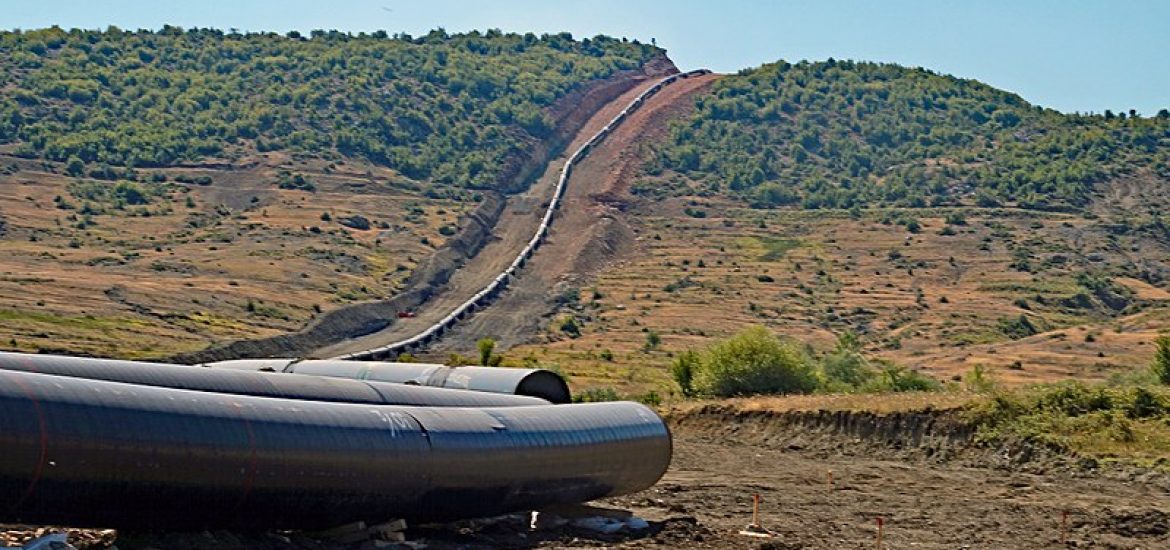 Spring is a time of new beginnings. For those hoping Europe can curb its Russian gas habit, the earlier-than-planned inauguration of the Trans-Anatolian Pipeline (TANAP) offers one. On April 25, Turkey's President Erdogan announced that TANAP would be completed in mid-June, ahead of schedule.
TANAP is a central piece of the long-sought Southern Gas Corridor. Its coming completion means gas from Azerbaijan's Shah Deniz II field will be sold to both Georgia and Turkey this year. Then, after the Trans-Adriatic Pipeline (TAP) is completed, Europe will begin importing 10 billion cubic meters per annum (bcma), slated for 2020. Turkey will import 6 bcma.
The Southern Gas Corridor adds to Europe's and the world's gas-supply security by providing yet another gas-transit route. For a commodity that is as strategic as gas, diversified supplies and transit routes help states avoid disruptions like those experienced in 2006, 2009, and 2012.
But how much will the project help Europe curtail its dependence on Russian gas? Not much, at least in the short term. TANAP's volumes pale in comparison with Russian pipeline imports and liquefied natural gas (LNG) from the United States and its allies. The pipeline does, however, offer the chance for larger volumes to join it later and represents a bold strategy that fortune has favored with past gas pipelines: if you build them, customers usually come.
A long road to Europe
The Southern Corridor has been nearly three decades in the making. Following the dissolution of the Soviet Union in 1991, a scramble to produce hydrocarbons and build pipelines from landlocked, newly independent, and hydrocarbon-rich Central Asian states ensued. This Caspian Derby brought China, Russia, the EU, the United States and international oil companies into the region in force.
The main object of Europe's desire was to build new, non-Russian gas-import pipelines. The first project, Nabucco, emerged in 2002 to transit Azeri gas from Turkey up through Bulgaria, Romania, Hungary, Austria and Germany. After the 2006 Ukraine-Russia gas dispute and brief disruption of European supplies, the Southern Corridor took on more urgency.
The 2008 European Commission's Second Strategic Energy Review galvanized momentum for TANAP, the leg through Turkey, and the South Caucasus Pipeline (SCP), one in Azerbaijan and Georgia. In 2013, the Shah Deniz consortium preferred a different route from Turkey, namely across Greece and Albania before landing in southern Italy: the TAP. Nearly 16 years later, Turkey is on the verge of receiving Shah Deniz gas, while Europe will have to wait another two years.
A new gas world
The market, of course, has changed dramatically during this time. In the second half of the 2000s and first half of the 2010s, gas prices were mostly oil-indexed and therefore high like oil prices. Customers were also mostly tied to long-term, take-or-pay contracts that had designation clauses, prohibiting the resale of gas elsewhere. Most importantly, Europe was limited to a few major suppliers – Russia, Qatar, and North Africa – prompting fears that a gas version of the Organization of the Petroleum Exporting Countries could form.
Yet gas prices have not only fallen alongside oil prices since 2014, but they have also been increasingly decoupled from them. While we still haven't reached a truly global gas market, the commodity is increasingly available on spot markets thanks to the boom in LNG exports from the United States, Australia, Canada, and others.
Despite all this, Europe's imports of Russian gas reached a record high in 2017 of 194.4 bcm. The Southern Gas Corridor will only supply 10 bcma in 2020. Reducing Russian imports by even 10% matters, but it won't immediately change the game.
A world investment 
Europe and Asia have both invested in the Southern Corridor, whose total cost is estimated at $41.5 billion. In February 2018, the European Investment Bank issued a $1.5-billion loan to TAP to assure its completion. The European Bank for Reconstruction and Development, World Bank, Asian Infrastructure Investment Bank (AIIB), and Asian Development Bank have all financed the project in some form, from developing the Shah Deniz II field in Azerbaijan to constructing TANAP and TAP.
Global consumers, therefore, have attached political importance to the project. Azerbaijan was able to build an oil pipeline through Turkey in 2006, the Baku-Tbilisi-Ceyhan Pipeline, so that it could send oil either through Russia or Georgia and Turkey. The Southern Gas Corridor allows it to have the same choice with gas – Azerbaijan already sends gas through Russia.
Turkey trumpets TANAP as another project in its energy-transit portfolio, which includes bringing oil from Iraqi Kurdistan and Azerbaijan by pipeline and Black Sea oil (Russia, Azerbaijan, and Kazakhstan) through the Turkish Straits. President Erdogan even moved up TANAP's inauguration date in advance of the snap elections called for June 24, saying the pipeline "will be good news…for the world."
Europeans may have political disagreements with both Azerbaijan and Turkey, but the strategic and commercial benefits for all partners outweigh such concerns.
Long-term upside 
Russia is three-quarters finished building the $55-billion Power of Siberia gas pipeline from eastern Siberia to northeast China. It will take years of gas sales, which are slated to start in December 2019, for Moscow to recoup this investment. But the strategic potential of opening the Asian market makes the project alluring in the long term.
TANAP should be viewed through this lens for two reasons. First, the pipeline was designed to tie in future volumes, with increases in capacity set to allow for 24 bcm by 2023 and 31 bcm by 2026. The Second Strategic Energy Review identified Egypt, eastern Mediterranean countries, Iran, Iraqi Kurdistan, Kazakhstan, Turkmenistan, and Uzbekistan as possible participants. Of the above, Iraqi Kurdistan is a distinct possibility. Talks have been ongoing for years about sending gas to Turkey through a pipeline that parallels the already existing Kirkuk-Ceyhan oil pipeline. Rosneft even made commitments to the project last year. Future volumes give the Southern Corridor notable upside.
Second, in today's global gas market, gas exporters must compete for market share and perhaps even create new customers altogether by building new pipelines. The Soviet Union followed this strategy during the Cold War, and Putin's Russia has repeated it since 2006 with Nord Stream and Power of Siberia. Very few constructed gas pipelines go unused.
Europe's biggest dreams for the Caspian Derby have not materialized as they have for China. The 55-bcma Central Asia-China gas pipeline from Turkmenistan through Uzbekistan and Kazakhstan dramatically enhanced China's gas-supply security. Still, Europe has taken an important step by creating the circumstances for expanding imports of gas from the Caspian and Middle East and for winning new customers.
Related