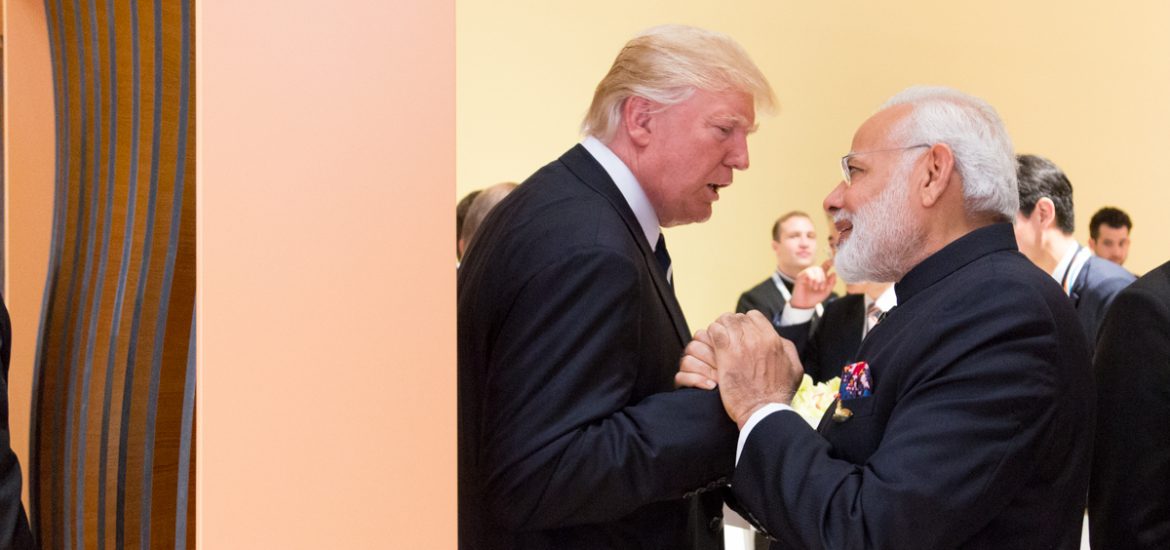 Energy underpins the grand strategies of world powers. China's Belt and Road initiative builds commercial ties abroad to secure hydrocarbon imports and markets into which it can sell (among other things) renewable energy technologies. Russia constructs oil and gas pipelines to deliver hydrocarbons and ensure a steady flow of revenues. The Trump Administration's inchoate Indo-Pacific strategy is no different.
It is still unclear what the Indo-Pacific means. Trump first used the term instead of Asia-Pacific after Indian Prime Minister Mondi visited Washington in July 2017. He repeated the phrase during his November 2017 trip to Asia. The U.S. Department of Defense has embraced the term in 2018 in meeting with Asian leaders.
The strategy is an attempt to build alliances to contain China, the main challenger to the U.S.-led liberal democratic order, by enjoining India as a partner. (The name change, after all, puts India front and center.) It fills the void left by Trump's abandonment of the Trans-Pacific Partnership (TPP), a free trade agreement negotiated by President Obama with several Asian countries, Canada, and Mexico. It also seeks to harness energy diplomacy, underscored by the U.S.-India Strategic Energy Partnership signed in April 2018, to create new business opportunities in a massive energy market, check China's dominance in renewables, and enable U.S. exports of gas and maybe even coal.
Market opportunities
America and India are the world's two largest democracies and natural allies. There are millions of Indians living in the United States, and millions of Americans visit India every year. It is surprising that it took so long for India to become a centerpiece of U.S.-led alliances in Asia.
This was due mostly to the vagaries of the Cold War and the War on Terror. Prioritizing the containment of the Soviet Union on every front, the United States privileged Pakistan over India, not ignoring the latter but certainly not addressing its concerns. The Soviet invasion of Afghanistan in 1980 amplified this dynamic. Then, after the Cold War, Pakistan became a central piece in the U.S. fight against Al Qaeda. Now, however, managing China's rise has taken priority, making an Indian alliance more valuable.
But this is no longer about U.S. alliance preferences; it is about getting a piece of India's inexorable rise into a global economic power. Trump understood this early, welcoming Modi to Washington in July 2017. This was somewhat unexpected, as Trump had railed against India as hurting the U.S. economy and taking jobs from Americans during his campaign.
India is already a global leader in several industries, including education, food, pharmaceuticals, and steel. Its annual GDP has barely dipped below 5% since 2009 and has spiked to 10% on occasion. It is universally deemed "the next China" for a reason. Last December, the Director of the International Energy Agency (IEA) Fatih Birol likened India's increased power requirements by 2040 that India needs to adding another Europe by 2040 to meet domestic demand.
Solar allies
In addition to India's massive market, the country will also be the battleground between fossil fuels and renewables. The extent to which India embraces the latter will be central to the global fight to corral climate change. It is also a matter of national interest: India was recently named the world's most vulnerable country to climate change according to an HSBC report.
The country's most immediate concern is sustaining economic growth, but it must strike a balance between supplying energy to do so and limiting emissions. It will use an all-of-the-above approach of renewables, coal, nuclear, and gas for the time being. But what will be the ratio of these sources in its energy mix by the late 2020s?
The Indo-Pacific strategy will help India meet its energy goals and fight competition from China, whose position as the world leader in renewables is an object of envy in New Delhi. By leveraging its more favorable political relationships with Western capitals and capital, India can catch up to China and lead in clean energy. The International Energy Agency says that China will account for 40% of global renewable capacity growth by 2022, whereas the United States and India will account for another 27%.
Nowhere is the competition more fierce than in solar. India, already the world's third-largest producer of solar, evinces concern about China dumping cheap solar equipment on its market. It aimed to install 175 gigawatts (GW) of new renewable capacity by 2022, of which 100 GW would be solar. Then, earlier this month, it announced that it would push this to 225 GW. The United States and EU have already imposed tariffs on Chinese solar manufacturers, and India is happy to side against China on this issue. Both the United States and China, meanwhile, want to join the International Solar Alliance to gain an edge in this global competition for the world's cheapest energy source.
U.S.-Indian energy diplomacy
In addition to commercial opportunities and a solar alliance, there are other areas for U.S.-Indian energy ties. Gas in the form of U.S. LNG imports will help India reduce its use of coal for base load power. The first shipment of U.S. LNG arrived in March 2018, less than a year after its first shipment of U.S. oil arrived. India feeds Trump's desire for so-called energy dominance, which means producing and exporting as much oil and gas as possible.
Nuclear is also being given consideration to meet India's energy goals. In April, U.S. Secretary of Energy Rick Perry visited India to champion partnerships with U.S. company Westinghouse. Finally, India's voracious demand for coal – the fuel is 80% of its installed capacity – could even marginally resuscitate U.S. coal exports.
Energy partnership between the United States and India is not new, and Trump is not the first U.S. president to place emphasis on the relationship. Obama made sincere efforts to revive U.S.-Indian relations and launched the Partnership to Advance Clean Energy (PACE) in 2009 to developing clean energy technologies.
The Trump Administration has already expanded the scope of energy partnership under the U.S.-India Strategic Energy Partnership. Oil and gas are the headliners, but energy efficiency, renewables, and coal are additional areas of cooperation.
Trump is intent on ripping up existing trade deals and getting "better" ones for U.S. business abroad. In doing so, he is creating new space for energy diplomacy to underpin U.S. grand strategy. The irony, however, is that Trump, having promised his voters more domestic jobs and rising wages, is likely to leave them holding the bag.
Related