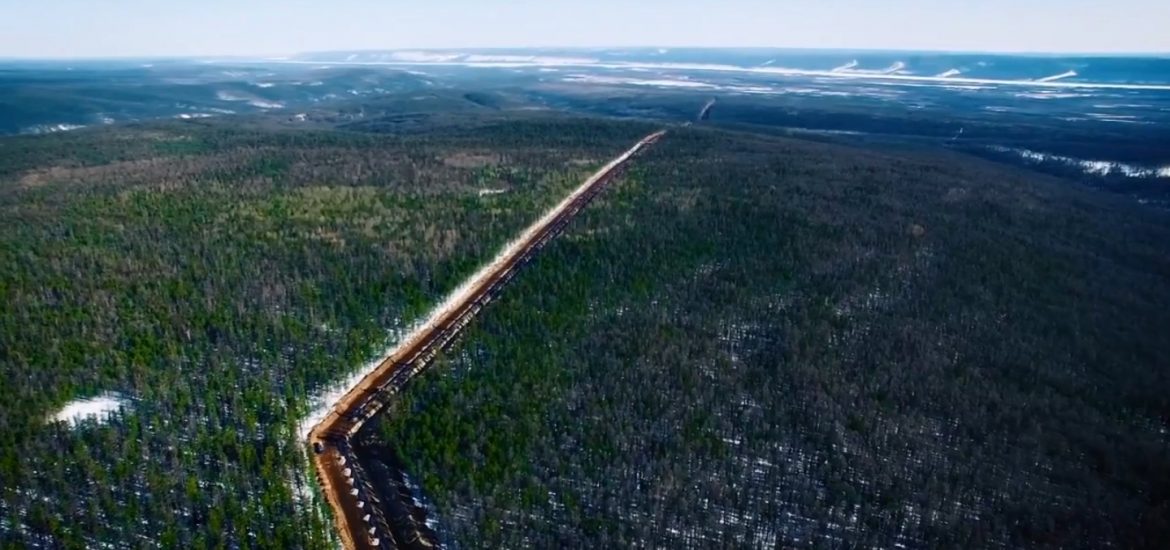 To streamline one of Russia's most ambitious export projects, Alexei Miller, Gazprom CEO, and Wang Yilin, chairman of China's state-run CNPC (China National Petroleum Corporation) board, met yesterday (Monday) in Beijing to discuss gas cooperation and the giant Power of Siberia pipeline. 
In 2018, Gazprom said it planned to invest almost US$3.5 billion in the pipeline project compared to US$2.6 billion last year, the Kremlin mouthpiece Tass reported. 
The project was going according to schedule, with the linear pipeline from the Chayandinskoye field to the Chinese border 84.4 per cent or over 1,820km completed, it was claimed. 
Pipe-pulling operations to China were finished in the second tunnel under the River Amur in the cross-border section, Gazprom said. 
Power of Siberia is the longest and least controversial of the three major pipelines Gazprom is building. Nord Stream 2 to Germany under Baltic Sea is proving particularly divisive within Nato members. 
Eastern Siberia purportedly contains almost 4.5 trillion cubic metres in proven, recoverable gas reserves, but these reserves remain mostly unexploited because of a lack of infrastructure. 
Russia's Far Eastern federal district, two-thirds the size of China, has a population of only 6.3 million. Siberia is rich in oil, gas, hydropower, timber and minerals, but it is thought Moscow fears its vulnerability to Chinese encroachment. 
The Kremlin apparently believes Siberian development and population growth are vital but unaffordable.
The Beijing meeting purportedly looked at underground gas storage, promotion of gas as a vehicle fuel and gas-fired power generation.
Miller and Wang signed a deal on the introduction of regulations on the terms and mechanisms of mutual recognition of testing results for the products of common interest for both companies.
The Power of Siberia pipeline is being seen as unlikely to offer benefit for other gas producers because of state-run Gazprom's monopoly over exports.
In 2014, Gazprom and CNPC signed the 30-year Siberian pipeline agreement, to deliver 38 billion cubic metres per year for US$400 billion. 
In 2015, they signed a memorandum of understanding for the pipeline with a deal on underground gas storage and gas-fired power generation in China coming the next year. 
According to the document, gas supplies will commence in December 2019.
Gazprom's Siberian pipeline is longer than its other projects but avoids the Baltic and Black seas. Picture credit: YouTube
Related