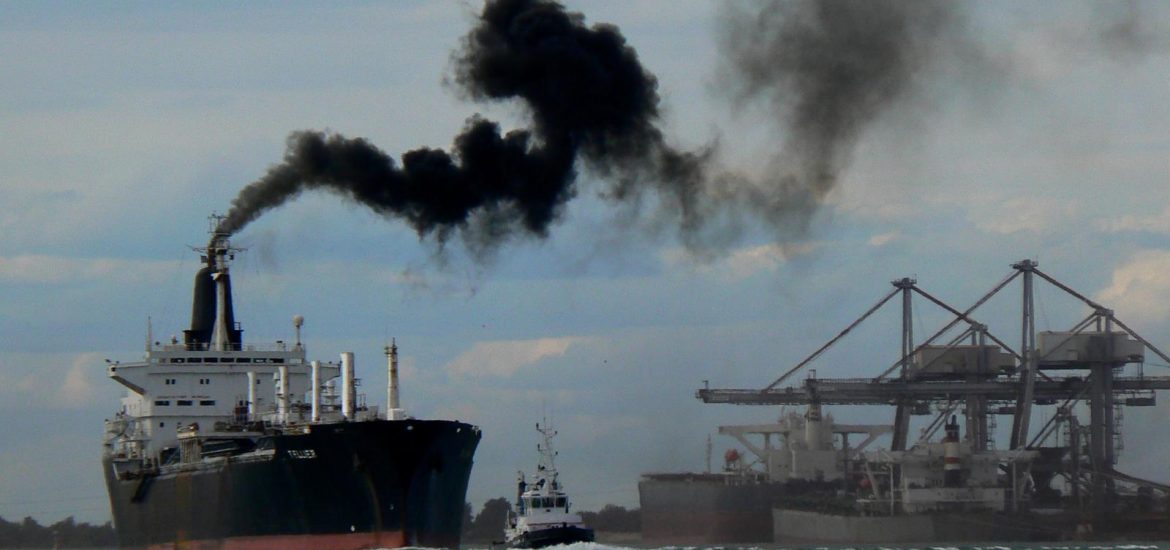 Shipping drives the global economy and nurtures the fossil fuel-dominated global energy system. Oil-powered ships account for over 80% of global trade by volume and 70% by value. It is strange, then, how little attention ships' greenhouse gas (GHG) emissions have received from the global community.
The urgency of climate change, however, is finally changing this. The International Maritime Organization (IMO), the UN agency responsible for regulating shipping, announced in October 2017 that it would require all ships to cap their sulphur emissions at 0.5% by 2020. They previously capped them at 3.5%.
This is a big deal. Shipping emissions make up only 2.5% of global emissions, but are expected to rise by 50% to 250% by 2050. In response, the shipping and oil industries are scrambling to move from heavy fuel oil (HFO) to lower sulphur diesel or equip their vessels with scrubbers that eliminate sulphur oxides from HFO. IMO 2020 is essentially placing a price on carbon for shippers.
It is hard to predict whether it will dent global eagerness to trade fossil fuels but it certainty adds volatility to two already volatile and environmental havoc-wrecking industries. It could even stimulate shipping to use alternative fuels, including liquefied natural gas (LNG), biofuels or synthetic fuels.
Peer pressure works
International trade and shipping have always been closely correlated. Previous trade booms occurred with ships that could circumnavigate the globe beginning in the fifteenth century, coal-fired ships in the second half of the nineteenth century, and oil-fired ones in the twentieth.
From 2000 to 2015, shipping activity and global GDP increased by 3.8% and 3.6%, respectively.
Given shipping's importance, the IMO has been reluctant to slow down the global party, especially after the global financial crisis. It did little on its own except to improve fuel-efficiency standards with the Energy Efficiency Design Index in 2011.
One of the central problems in addressing climate is that citizens do not see or experience the fossil fuel industry directly. Pipelines have become the most conspicuous targets of activists because they are somewhat visible. Bunker fuels and ships, on the other hand, remain largely out of sight. Paris, it seems, shined light on the IMO's inaction in aligning with the goal of limiting emissions to 1.5°C.
Much like Paris, though, the question of enforcement remains. Detection technology has dramatically improved. Drones and other aircraft can deploy sniffer technology, and Denmark, home to global shipping leader Maersk, plans to be a stern enforcer of IMO 2020. Drones can more easily monitor coastlines and confined spaces. They cannot, however, span the global seas looking for violators.
Fines for violations also vary by country and, in some, are small enough that shippers may simply risk getting caught using HFO. Denmark has a maximum fine of €50,498, less than 10% of Belgium's €6,000,000. The U.S. fines companies $25,000 per day, but is doing more by incentivizing and protecting whistle blowers through the Act to Prevent Pollution from Ships (APPS).
Volatility added tax
The shipping industry is notoriously volatile. High oil-price environments stimulate high demand for ships, but overcapacity and debt always follow price collapses. This happened in 1970-1 when Syria closed a pipeline bringing oil from Saudi Arabia to the Mediterranean. It also occurred during the 1973-4 oil-price shock.
Most recently, ship-owners over-invested during the 2011-14 period, when oil prices stayed over $100 per barrel. When price plummeted, demand for tankers evaporated, crushing many with debt. Rising costs for bunker fuels is another blow. One reason the IMO was slow to act after 2014 was concern about a slumping shipping industry.
IMO 2020 is undoubtedly an additional tax on shippers. Yet we should be careful to disentangle the natural volatility of the industry from the need for long-overdue regulation on cheap HFO. The oil market and global economy are both healthy enough to swallow this pill now.
Scrubbers or alternative fuels
Most ship-owners are turning to scrubbers so they can continue to use HFO from bunkers. Up-front installation costs may be as high as $8 million, but financing is forthcoming from many banks that agree sustainable shipping is fundamental to global trade. Moreover, the spread between buying lower sulphur fuel, whose price will likely rise, and HFO could create big savings down the road for those who invest now in scrubbers. The only problem remains is that not all ships can be fitted in time for 2020.
Instead of palliative scrubbers, though, could IMO unlock the use of alternative fuels in the industry? Some ships already run on engines powered by LNG, synthetic fuels and biofuels.
At this stage, none of these is both widely available and clean. LNG fits the former characteristic but not the latter. The reverse is true for synthetic and biofuels. Japan, a global leader in shipbuilding, offers some signal of leadership in this area, targeting zero-emission fuel options and using LNG as a bridge to meeting the IMO's goals for 2050 to cut global GHG emissions by 50%.
IMO 2020 and global inequality
Shipping acutely demonstrates that conundrum of sacrificing short-term economic growth for long-term climate goals.
Shipping has propelled China's rise, and increased global trade allows developing countries to catch up economically. Trump's trade wars alone have yet to make a meaningful dent in global trade flows, but if he succeeds, it will be developing countries that suffer the most.
At the same time, IMO 2020 will cause the market for HFO and specifically bitumen to shrink, and help reduce global emissions. The effects of climate change are not limited to developing countries, but they are far more damaging to them.
Every policy has unintended consequences. It's no wonder that IMO 2020 will create winners and losers alike, but the opportunities are worth the risk. Shippers and oilmen will adapt to the new market conditions, and businesses will finds ways to trade – whether by footing the bill for such indirect "carbon taxes" or by switching fuels. It's clear that slashing shipping's GHG emissions cannot wait any longer.
Related