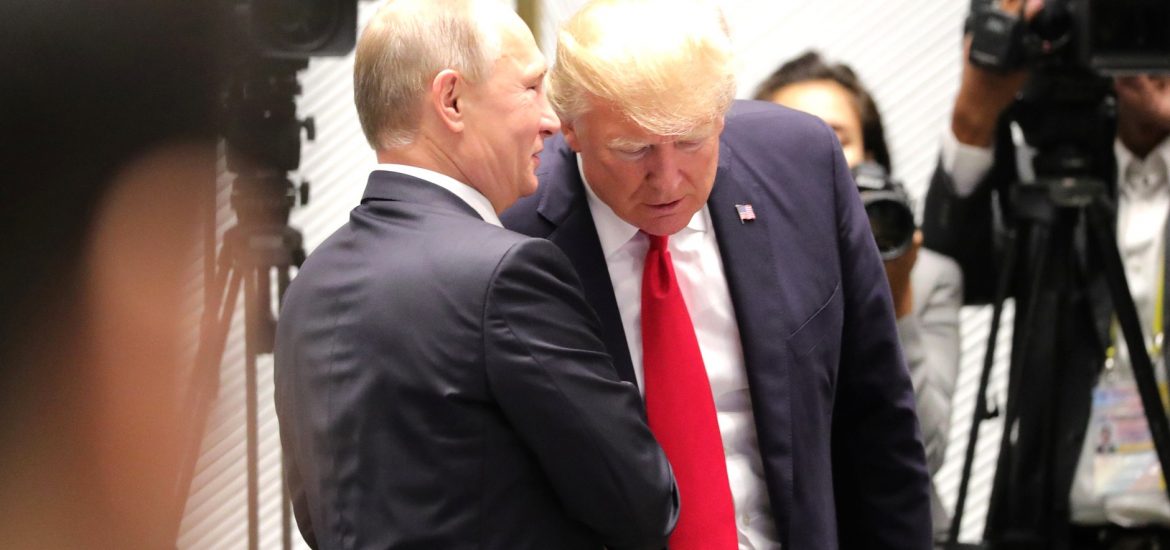 Geopolitical shifts rarely happen as swiftly and unexpectedly as U.S. President Donald Trump's decision to cede northern Syria to Turkey and abandon the United States' erstwhile Kurdish allies, the Syrian Democratic Forces (SDF), in the fight against ISIS. Russian President Vladimir Putin and Syrian President Bashar al-Assad rushed to fill the vacuum, reaching a pact with the Kurds days later. A security architecture in place for five years evaporated before our eyes.
This situation is continuing to evolve. The energy implications, however, are already impossible to reverse, even if they don't seem immediately obvious. Northern Syrian oil is of marginal significance to the world market, and small numbers of U.S. troops will remain in the northeast alongside the SDF, where the most productive oil fields are located. Yet by ceding the battlefield in northern Syria, Trump gives Putin the ability to shape, limit, and likely suppress gas flows from Russia's southern competitors. It can directly pressure its new allies, the Syrian Kurds, and, indirectly, Iraqi Kurdistan (KRI) and Turkey.
Meanwhile, it emerged last month that Trump withheld aid to Ukraine in order to pressure the government to investigate the son of Joe Biden, a potential competitor for the White House in 2020. Trump's willingness to sacrifice Ukraine's interests for his own should make Europe more than concerned. Russian-Ukraine gas-transit contracts expire at the end of this year, an ideal time for Trump to cede influence there just as he did in northern Syria.
Commanding the battlefield, freezing the flows
Since the end of the Cold War, Russia has fostered frozen conflicts on its periphery to extend its influence and create strategic buffers in Armenia, Azerbaijan, Moldova, Georgia and, most obviously, Ukraine. Frozen conflicts have the added benefit of suppressing competing gas flows to Europe either through these countries or by applying pressure on neighbors that do.
Syria is not a new frozen conflict, obviously. But Russia's command on the battlefield will allow it to bring more pressure on the KRI and Turkey. Rosneft has already used loans to enmesh itself in Erbil's politics. Though Russia is unlikely to freeze Iraqi Kurdistan-Turkey oil flows through the Kirkuk-Ceyhan Pipeline, it will crush any hopes of further developing KRI gas, especially for export to Turkey.
Turkey, on the other hand, has more flexibility and has demonstrated its interest in securing its gas future with non-Russian supplies. Over the last two years, it has dramatically increased its imports of liquefied natural gas (LNG), notably from the United States. Its pipeline portfolio, however, still tilts heavily Russian and, when the Turk Stream gas pipeline comes online – Russia started pumping its first gas into it last week – this will rise from 62% to nearly 70%. Increased storage facilities will provide greater flexibility to chose between pipelines and LNG. But Moscow's deeper presence along the Turkish border will give it greater leverage with Ankara.
For now, Washington appears, wisely, to be back peddling on harsh sanctions against Turkey. Losing two allies in one fell swoop, by punishing Turkey for something Trump green lighted, makes little sense. Trump's move, despite its incoherence and strategic shortsightedness, does improve U.S.-Turkish relations by addressing Ankara's long-held grievance against Washington for backing the SDF, which Ankara considers a terrorist group.
Putin's perfect partner
Trump's energy policies continue to strengthen Russia's energy prospects. Sanctions against Iran and Venezuela have opened up market share for U.S. and Russian exports. By championing domestic production, Trump has helped keep global balances oversupplied and prices relatively low. Russian production has risen noticeably in this context.
On climate, the United States joined Russia and Saudi Arabia as the only countries to temper concerns about carbon emissions-related climate change at the United Nations Framework Climate Change Conference (COP24) in November 2018. Extending the dominance of hydrocarbons in the global energy system is the express goal.
Trump's strategy of U.S. energy dominance has been a smashing short-term success. But U.S. shale is predicted to plateau by the mid-2020s, and there are signs that it is slowing already. Once it does, the United States will again seek supply security abroad, as it did in the 1990s and 2000s. Russia, meanwhile, will continue to rely on oil and gas revenues for nearly two-thirds of its annual budget.
Kiev concerns
The circumstances surrounding Trump's policy toward Ukraine are eerily similar and worrying. If Trump is willing to undermine Kiev for such an apparently petty reason – really, does he need Kiev's help to get this dirt? Moscow can surely supply it – maybe there is more going on.
Last Thursday, Acting White House chief of staff Mick Mulvaney said that there was a quid pro quo with Ukraine, but it didn't involve Kiev looking into the activities of Biden's son, as Trump asked for in a July phone call. Trump withheld millions in aid that the U.S. Congress had pledged earlier in the summer. Mulvaney shamelessly denied that any quid pro quo existed hours later and since. Now, we can only speculate about why Trump withheld the aid.
Ukraine's pipelines are central to Russian grand strategy. Their potential loss later this year could transform a frozen conflict into a hot war. In such a situation, Trump could once again cede influence before the U.S. Congress can correct it. This fear lies at the heart of the impeachment charges that Trump's congressional opponents will bring in the coming weeks.
On the one hand, we also shouldn't overestimate Russian strength. It annexed Crimea, but only after it lost its Kremlin-leaning client in early 2014. Syria was serving its interests fine until the war broke out in 2011. Russia had to apply military force in both areas where it was losing ground.
Yet, in northern Syria, Trump's move provided Putin a strategic win that Washington cannot unwind. Putin's command of the battlefield gives him a larger area to wield policy and restrict gas flows to Europe. We will just have to wait and see what he does with it.
Photo credit: Kremlin.
Related