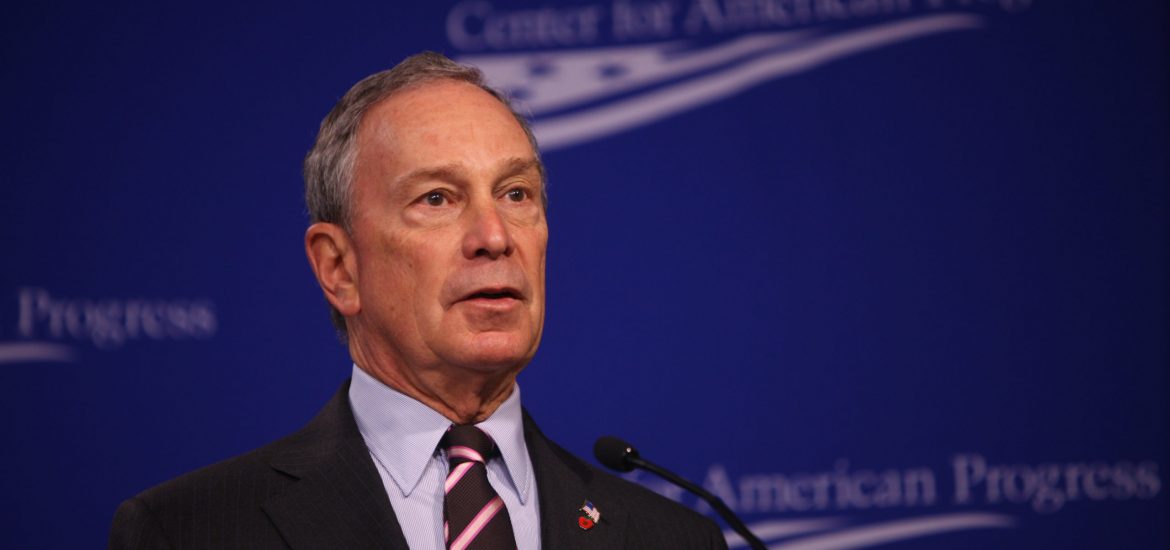 On February 3, the U.S. presidential campaign kicks off with the first Democratic Party primary in Iowa. The candidates all oppose U.S. President Donald Trump's fossil fuel-friendly policies but propose different climate plans. Bernie Sanders and Elizabeth Warren have positioned themselves as climate hawks. Joe Biden trumpets a climate bill he signed in 1987. Michael Bloomberg stands out, however, due to his past record on climate and vision for global climate policy.
His plan is less ambitious than others, and therefore far more realistic. It calls for reducing U.S. emissions by 50% by 2030 by "phasing out all carbon and health-threatening pollution in the electricity sector, ensuring 80% clean electricity by the end of his second term of office." The United States accounted for 15% of global emissions in 2018.
It is Bloomberg's potential relationship with China, however, that might matter most. China accounted for 28% of global emissions in 2018, and curtailing its coal use is fundamental to the climate challenge. Much like former U.S. President Barack Obama, Bloomberg has sought dialogue with Chinese officials and launched the New Economy Forum, held annually in China, to rival Davos and underscore the reality that decisions made in Asia will determine the future of global climate policy, among others.
Money talks
Bloomberg's past commitments to climate would require a master's thesis to enumerate, but much of it stems from his staggering personal fortune. In 2018, for instance, he wrote a $4.5-million check to cover the U.S. commitment to the Paris Climate Accord after Trump pulled the country out of it. But Bloomberg's climate activities are also borne out of conviction and experience. As mayor of New York, he crafted one of the country's first climate plans for a city in 2007. His signature work this past decade, the Beyond Coal campaign, in partnership with the Sierra Club, was responsible for 40% of U.S. coal-plant closures in the past decade.
Climate activists have failed to embrace him, partly because they strive to make climate a bottom-up movement. Poorer people, after all, will weather climate's most damaging consequences. Yet climate orthodoxy, like left-leaning orthodoxy of any kind, has never worked in Washington. The Green New Deal may rally U.S. climate activists, but business leaders and the Republican Party have predictably pilloried it as socialism.
Bloomberg is the only candidate capable of surmounting this caricature through pragmatic policies that appeal to political and business elites. It may not be how we dream of reversing climate change, but the last three decades have yielded little substantive change in U.S. policy. Only the substitution of gas for coal, thanks to the U.S. shale boom, has caused U.S. emissions to plateau. Bloomberg's wealth and vision may be the country's best hope.
Davos and China
Ahead of Davos 2020 this week, the World Economic Forum released its annual report, which included climate change among its top five economic threats. This is a welcome change, as last year was its first to consider climate change. Previous gatherings, by and large, ignored it. Bloomberg launched the New Economy Forum in December 2018 to rival Davos and to open dialogue during Trump's trade war. Set in China every year, the forum is a clear indication that Bloomberg knows that the United States has to work with China, the world leader in clean energy production, consumption, and technological development.
To be sure, Bloomberg's China ties could create entanglements that, if elected president, could undermine his politics. Critics will question, much as they have done with Trump, whether Bloomberg is acting in America's interests alone. He enraged many when he said that Chinese President Xi Jinping was "not a dictator," but this is simply the price of working with China, as the National Basketball Association and most every major multinational company knows. Why antagonize the country that holds the key to our climate future for a moment of righteousness?
Best bet against Trump?
Beating Donald Trump is the best thing that can happen for global climate policy in 2020. As a sitting president with a strong economy, Trump will be difficult to dethrone. Bloomberg may be the only person capable of getting in Trump's head, as he's smarter, more successful, and far richer. He can outspend Trump and the Republican Party during the campaign, and has pledged to unleash his financial backing for the Democratic nominee, even if it is not he. Bloomberg Media Group has troves of data, which Bloomberg began operationalizing in 2018 through Hawkfish, a digital advertising startup that will compete with Trump on social media sites.
Money, data, and vision made Bloomberg, indirectly, the single person most responsible for Trump's impeachment. In the 2018 congressional elections, he targeted 24 races, donating $5 million to the Democratic candidate. In these contests, 21 of his candidates won, and 12 were in districts that Trump carried in 2016. These victories flipped the House of Representatives to the Democrats, who then voted to impeach Trump in December 2019 for abuse of power and obstruction of Congress.
The U.S.-China rivalry will define climate, energy, and world power in the coming decades. The January 15 trade truce was but a respite before economic rivalry begins anew in 2021. The vision of the U.S. president, however, will shape its contours and substance. There's no reason that the United States and China cannot cooperate on climate while warring economically. Both are, in fact, good for global climate policy.
Photo credit: Ralph Alswang, Flickr.
Related