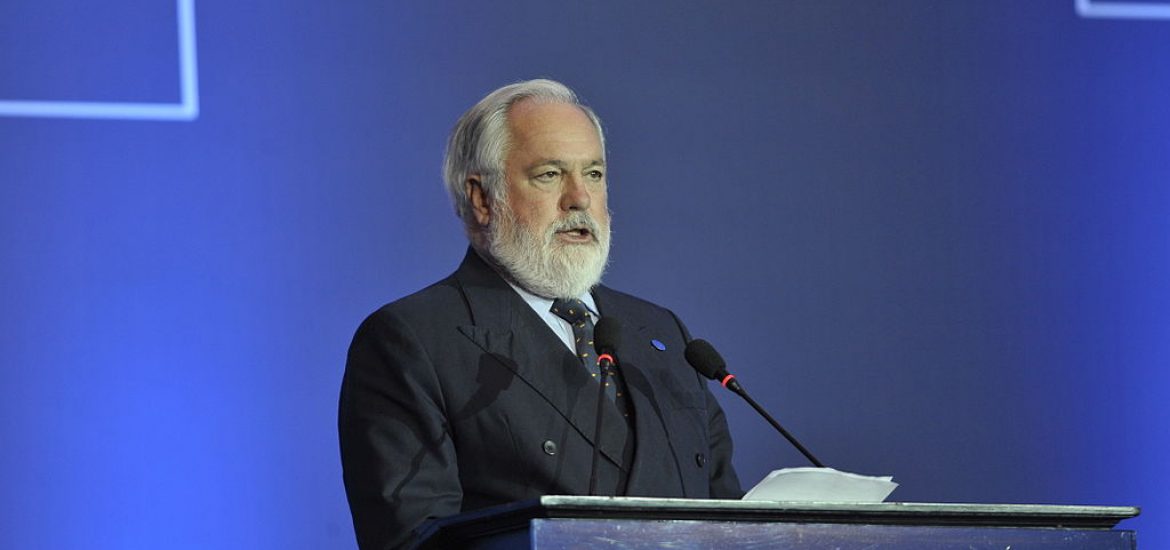 The European Commission is unveiling its strategy for a financial system to support climate and sustainable-development goals.
Asset managers and investors might be forced to consider sustainability factors when making investments under the proposals.
The commission said it intended to put forward a legislative proposal by the end of June, saying that existing EU regulations were "neither sufficiently clear nor consistent across sectors".
"As our planet increasingly faces the unpredictable consequences of climate change and resource depletion, urgent action is needed to adapt to a more sustainable model," the EU's executive branch said.
Around €180 billion of extra investment a year was needed to achieve the EU's 2030 targets agreed in the 2015 Paris climate agreement, including a 40-per-cent reduction in greenhouse-gas emissions.
The commission estimated that global financial losses from extreme weather were €117 billion in 2016, an 86-per-cent rise since 2007.
Climate and energy commissioner Miguel Arias Cañete (pictured) said: "Global investments hold the key to fighting climate change, with trillions already invested in solutions such as renewables and energy efficiency. The Paris agreement is a massive investment opportunity. How can we unlock it? Today's action plan will help Europe's financial sector position itself as a leading global destination for investments in green technologies."
The European Fund and Asset Management Association was unimpressed, saying it disagreed with the view that investors are "not systematically considering sustainability in the investment process".
The trade body said it was supportive "of the overall direction" to promote sustainable investment but making such a requirement more explicit in law would be a "tick-the-box compliance exercise". It said "consideration of sustainability objectives has to be driven by asset owners".
Andrew Howard, Schroders' sustainability boss, said the commission's plan to create an EU labelling system for green financial products could also be problematic.
Howard said: "The field has not yet reached the maturity needed to define the characteristics of sustainable investment practices or products. Attempting to do so risks shutting off the innovation and deeper understanding that many investors — ourselves included — strive to develop."
The commission plans to create a EU-wide classification system defining what is a "sustainable" investment that can be enshrined in law. It is also considering whether to ease regulatory capital charges for banks on loans for projects that can be deemed environmentally sound.
Vice President Frans Timmermans said: "Moving to a greener and more sustainable economy is good for job creation, good for people and good for the planet. Today we are making sure that the financial system works towards this goal. Our proposals will allow investors and individual citizens to make a positive choice so that their money is used more responsibly and supports sustainability."
Miguel Arias Cañete. Picture credit: Wikimedia 
Related